Fox's Minority Report looks great and plays well, too
09/17/15 09:26 AM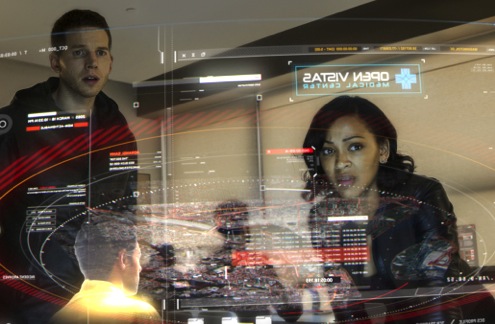 Futuristic crime-stoppers Dash and detective Lara Vega. Fox photo
Premiering:
Monday, Sept. 21st at 8 p.m. (central) on Fox
Starring:
Meagan Good, Stark Sands, Wilmer Valderrama, Nick Zano, Daniel London, Laura Regan, Li Jun Li, Zhane Hall
Produced by:
Max Borenstein, Kevin Falls, Steven Spielberg, Darryl Frank, Justin Falvey
By ED BARK
@unclebarkycom on Twitter
Production-wise, Fox's
Minority Report
looks handsomer than either Rob Lowe or John Stamos, the venerable hunks fronting the network's two new fall sitcoms.
The two leads and opening story line aren't bad either, making this continuation of the hit 2002 Steven Spielberg movie an eye-popping blend of futuristic special effects and content that's also worth watching.
Unlike CBS' upcoming
Limitless
(Sept. 22nd), there's no splashy cameo from the movie's leading man. But Bradley Cooper has a financial stake as a co-executive producer of TV's
Limitless
while
Minority Report
star Tom Cruise is completely uninvolved with the Fox reboot.
The new
Minority Report
is set in 2065, 11 years after the original. A controversial Pre-Crime initiative, in which three tightly secured Pre-Cognitives fingered murderers before they could murder, has been outlawed for reasons that aren't entirely explained. Free at last, Dash (Stark Sands), his fraternal twin brother, Arthur (Nick Zano) and their older sister, Agatha (Laura Regan) are sent to a sequestered island of no return. But you know how that goes.
Dash is the series' central Pre-Cog, and Sands plays him winningly as something of a skittish nerd who's still traumatized by his oft-grisly visions but figures he has to do something about them. His skeptical ally is homicide detective Lara Vega (Meagan Good), who's trying to make her own mark while fellow detective Will Blake (Wilmer Valderrama) strives to keep her underfoot. The show's producers have outfitted Lara in tight leather outfits that accentuate her imposing cleavage. Even in the tech-pop future, some things never get old. That also includes
The Simpsons
, still playing on a big-screen TV.
The premiere episode's intended murder victim is a former Super Bowl 87 Most Valuable Player who's now a high-wattage politician. His former team is the Washington Red Clouds. Some things change for the better.
Dash and Lara end up being a well-suited team with senses of urgency and humor. There's a nifty little sight gag after Dash repeatedly whispers to her, "I wouldn't stand there." It turns out he can see all kinds of future developments.
Minority Report
also briefly introduces Dash's comparatively haughty brother, who "only cares about himself. And everything comes with a price." Big sis Agatha is a more ethereal presence in a robe that looks like a more fashion-conscious Snuggie.
Fox is pairing
Minority Report
with an amped-up second season of
Gotham
while sending former Monday night incumbent
Sleepy Hollow
to Thursdays. It looks like a solid one-two punch of crisp, stylized cop dramas that are visually resplendent without losing sight of character development.
GRADE:
B
Email comments or questions to:
unclebarky@verizon.net