Olive Kitteridge gives HBO another Emmy-worthy gem
10/30/14 09:41 AM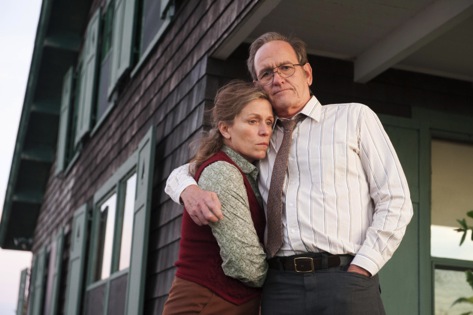 Her misery sort of loves his company. Frances McDormand and Richard Jenkins head the cast of Olive Kitteridge. HBO photo
By ED BARK
@unclebarkycom on Twitter
Likewise adapted from an acclaimed novel,
Olive Kitteridge
does what
The Leftovers
didn't. It contains itself within a four-hour miniseries -- and is better for it.
Both HBO presentations originate from small eastern towns. But the strange things happening in Crosby, Maine are grounded in groaning everyday life. No one abruptly evaporates into the hereafter or has visions of demons dancing in their heads.
Olive Kitteridge
,
premiering Sunday, Nov. 2nd at 8 p.m. (central) and continuing at the same time Monday
, also is notable for being largely faithful to the Puliizer Prize-winning Elizabeth Strout book.
The Leftovers
, which is getting a string-along second season, in contrast has veered wildly from the printed words of Tom Perrotta. For starters, the author's mild-mannered mayor, Kevin Garvey, became a haunted, high-strung, violence-prone police chief. And so on under the command of principal executive producer Damon Lindeloff of
Lost
fame -- and infamy.
Both novels end on affirming notes. HBO knows where to stop with
Olive Kitteridge
while
The Leftovers
very much risks over-serving itself with multiple detours en route to who knows what after who knows how many seasons.
Frances McDormand brilliantly plays the title role. She's a former school teacher with a thin, nurturing streak. But Olive is mostly embittered, sour and almost impossible to please. "Oh for God's sake, Henry, you can make a woman sick," she retorts when her husband asks, "You're not gonna leave me, right?"
Amiable Henry Kitteridge (a terrific supporting performance by Richard Jenkins) is the pilot light of
Olive Kitteridge
. Initially the owner of a neighborhood pharmacy, he spreads kindness and compassion without being a complete pushover or buffoon. Enduring wife "Ollie's" arsenal of sideswipes and head-on insults, Henry always errs on the bright side. He's an up-with-people person married to a blunt-spoken downer.
The miniseries basically spans 25 years, beginning with Olive preparing to end it all before backtracking a quarter-century to the time Henry gave her a heart-shaped box of candy -- which she ignored. Life is
not
a box of chocolates, although Olive does love her donuts and donut holes.
The Kitteridges have a son named Christopher (played by Devin Druid as a kid and John Gallagher, Jr. as a young man). He feels tormented as an adolescent and lashes out as an adult despite Olive's protestations that "You had a normal, happy childhood, just for the record."
The novel has numerous supporting characters, most of them filtered through the prism of Olive Kitteridge whether they were students or acquaintances of hers. "Don't be scared of your hunger," she had instructed her math students.
One of her former students, Kevin Coulson (Cory Michael Smith), has had a highly dysfunctional childhood before returning to Crosby as a psychiatrist who can't seem to fix himself. Olive tries to intercede, showing her softer side with those she once tried to mold as an unyielding classroom authoritarian. Beyond that, she has her own traumatic back story, with outward stoicism both her armor and her shield.
Not all of the book's characters can be accommodated in the miniseries, but the pivotal ones remain.
In Sunday night's first chapter, viewers are introduced to the only two people who tempted both Olive and Henry to flee their coops.
Henry befriends and mentors young, bespectacled, plain-faced Denise Thibodeau (memorably played by Zoe Kazan), who becomes his pharmacy assistant after the previous old curmudgeon drops dead. She's wide-eyed and gentle of heart, qualities that greatly appeal to Henry. "I'm gonna take care of you, Denise," he says warmly and not entirely platonically after tragedy strikes.
Meanwhile, Olive is attracted to hard-drinking, chain-smoking fellow teacher Jim O'Casey (Peter Mullan). He's "deeper" than Henry and considerably darker, too.
Bill Murray co-stars as Jack Kennison, a politically conservative recent widower who's mostly confined to Monday night's closing half-hour. Murray jogs through the role without seeming to break a sweat. He's just fine at this, but nothing more.
A constant throughout
Olive Kitteridge
is Angela O'Meara (Martha Wainwright), a generation-spanning pianist/vocalist at the town's most popular bar/restaurant. The book tells her back story. The miniseries doesn't, but Angela nonetheless leaves a lasting impression with her schmaltzy vocals and devotion to them.
McDormand is forever enshrined as dogged deputy Marge Gunderson in
Fargo
. Her portrayal of Olive Kitteridge is even more accomplished, in turns aggravating and affecting while always seeming just right. Jenkins is likewise superb as the man who truly loves her -- and not purely out of duty. What does he see in her? What does she see in him? In both cases it's more than meets the eye. Family dynamics are what they are, whether or not Olive truly deserves a husband who resolutely stands by her while also occasionally fighting back.
Directed by Lisa Cholodenko with Tom Hanks among the executive producers,
Olive Kitteridge
is certainly no Hallmark card. Norman Rockwell isn't welcome either. This is a nuanced, slowly simmering look at bent and spindled lives molded by previous bent and spindled lives. The bright spots are there, but never glowing. Self-realization is the payoff. But as in real life, it often comes too late to express to those who needed to hear it most.
GRADE:
A
Email comments or questions to:
unclebarky@verizon.net