Can the futuristic Revolution give NBC a future as well?
09/12/12 02:08 PM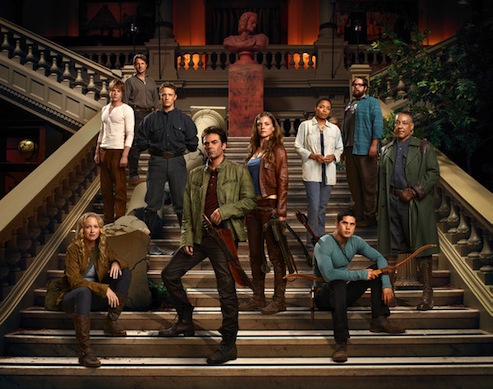 Introducing the friends/enemies of futuristic Revolution. NBC photo
Premiering:
Monday, Sept. 17th at 9 p.m. (central) on NBC
Starring:
Billy Burke, Tracy Spiridakos, Giancarlo Esposito, Graham Rogers, Anna Lise Phillips, Zak Orth, JD Pardo, Tim Guinee, Elizabeth Moss, Maria Howell
Produced by:
J. J. Abrams, Eric Kripke, Bryan Burk
By ED BARK
@unclebarkycom
Some things are too big a leap even for J. J. Abrams.
The initial pilot for his futuristic
Revolution
series had a scene in which a decayed Wrigley Field still billed the Chicago Cubs as the "2012 World Series Champions."
It was filmed before the 2012 season began. A revised version sent to TV critics wisely is absent that particular declaration. As of this writing, the Cubbies are 30.5 games out of first place and already mathematically eliminated in the National League's Central Division.
Revolution
, the most promising and expensive new series on NBC's fall schedule, is from the guy who keeps conjuring up doomsday or, at best, very foreboding scenarios.
Alias, Lost
and last season's unfortunately canceled
Alcatraz
were all under his watch. Still among the living are Abrams'
Person of Interest
and
Fringe
, the latter in its announced last season.
Still struggling to make a comeback, NBC is giving
Revolution
its best available time slot -- on Monday nights following two-hour editions of
The Voice
. The premise should be pretty well known by now. Earth suddenly goes completely without electricity in 2012, and the mastermind is not Al Gore trying to prove a point.
Before a flash forward 15 years into the future, we meet the Mathesons of Chicago. Pre-teen daughter "Charlie" is fixedly watching a Bugs Bunny cartoon with her little brother while mom Rachel (Elizabeth Mitchell from
Lost
in the recast new version) completely fails to gain her attention.
Before you can say "What's up, Doc?", Ben Matheson (Tim Guinee) bursts into the living room to declare, "We don't have much time."
"It's happening, isn't it?" says Rachel before the mass power outages and a plane crash commence. Ben obviously knows something about why and how this is happening. But viewers, of course, don't. We're then transported to a time "15 Years After the Blackout," with Ben, his two grown kids and new gal pal Maggie (Anna Lise Phillips) all down on an improvised farm without anyone saying, "Well this is just the way the Amish wanted it."
Ben's wife is said to be dead. But let's just say you don't cast
Lost
's Mitchell in
Revolution
for the purposes of a preliminary scene or two. (The revised Episode 1 subtracts a big closing twist in that respect, and is better for it.)
Revolution
really gets rolling, however, when Giancarlo Esposito rides into view as Capt. Tom Neville, a representative of "The Monroe Republic."
Esposito made a big impression as the sinister and clandestine drug kingpin Gustavo "Gus" Fring on AMC's
Breaking Bad
. He exited that series last October, falling dead with just half his face remaining.
Tom Neville may not be quite as evil, but he's still very much a smiling cobra. And he's been searching a long time for either Ben Matheson or his brother, Miles (Billy Burke segueing from a bad guy stint on
The Closer
).
Esposito takes full command of every scene he's in. Beginning with this declaration: "Here's what you need to understand. I have been searching for you for a very long time. Through mud and filth away from my home and my wife and my bed. So I'm in a mood. I'm sure you can understand that."
Those turn out to be fighting words. And
Revolution
, which has the overall look and feel of a big budget feature, delivers some consistently terrific action scenes. One, however, does border on campy. It's a too obvious homage to
Scarface
, with Burke's Miles Matheson instead of Al Pacino's Tony Montana) standing armed and dangerous at the top of a towering, ornate staircase while black clad bad guys pour in.
The other principle characters are the aforementioned grown-up Charlie and Danny (Tracy Spiridakos, Graham Rogers); a soft-bodied, semi-comical geek named Aaron (Zak Orth as the resident "Hugo" Hurley); and a hunky two-faced action figure named Nate (JD Pardo).
Monday's first episode moves along at a crisp pace, with echoes of ABC's ill-fated
Flash Forward
in its open-ended mystery of why the Earth came to stand still. Layers of "mythology" will be peeled back at a measured pace -- as they were in
Alcatraz
and are in
Fringe
.
This is, after all, what J. J. Abrams does. His latter day TV dramas, excepting NBC's short-lived,
Hart to Hart
-ish
Undercovers
, are laden with otherworldly conspiracies and resilient characters caught in the clutches of various masterminds. One can only hope that
Revolution
, unlike
Alcatraz
, will get a chance to fully reveal itself before any cancellation ax swings.
The best thing about these out-of-body serial dramas is the investment, involvement and passion they provoke. That's also the worst aspect. Because it's one thing to drop a self-contained "procedural" cop drama. But it's quite another to abruptly cut off the air supply of a series whose much-anticipated answers are short-circuited by low ratings.
Or in the case of
Revolution
, left blowin' in the wind -- in a world gone unplugged.
GRADE:
B+