Two from North Texas prevail in back-to-back finales of NBC's American Gladiators and Nashville Star
08/05/08 06:29 AM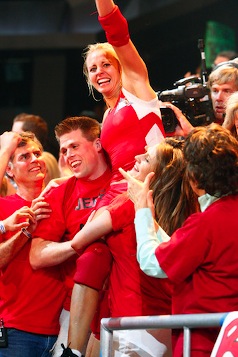 Winners Melissa Lawson of Arlington, Ally Davidson of Dallas
By ED BARK
NBC did a Texas two-step Monday night, with Arlington mom-of-five Melissa Lawson twanging to the top of
Nashville Star
after Dallas newlywed Ally Davidson became the last woman contender standing on
American Gladiators
.
The twin wins on the shows' season finales gave the state more bragging rights in the wide world of TV's reality competitions, where the champs also have included Burleson's Kellly Clarkson on Fox's first
American Idol
and ventriloquist Terry Fator of Mesquite on last summer's
America's Got Talent
.
Lawson, 32, prevailed over another Texas denizen, Gabe Garcia of Lytle, to win a recording contract with Warner Bros. and a performance slot on Aug. 12th at the Summer Olympics in Beijing, China, where she'll sing on NBC's
Today
show.
In an
Idol
-like climax, she performed a specially written debut single, "What If It All Goes Right," while confetti poured down and fellow contestants gathered onstage at Nashville's Acuff Theatre. Lawson then was joined by her husband and their five sons.
Davidson, a 24-year-old sales representative who tried out for
Gladiators
on her wedding day, out-dueled Tiffaney Florentine despite having a five-second disadvantage on the bruising show's climactic "Eliminator" obstacle course.
"The best honeymoon ever! Ever!" she exulted.
Her husband, Jeff, also made the cut and lasted until last week's
Gladiators
semi-finals. He impulsively dove into the Eliminator's splash-down pool to join her in victory. Ally won $100,000 and a brand new car before co-host Hulk Hogan bellowed, "Have a good
Gladiator
maniac night!"
Another North Texan, 19-year-old Joshua Allen of Fort Worth, will try to match Davidson and Lawson later this week. He's one of the four finalists on Fox's
So You Think You Can Dance
, which has its two-part season finale on Wednesday and Thursday before the Olympics take prime-time's center stage for the next two-and-a-half weeks.