Planet Green's Fabulous Beekman Boys makes bid to be gay Green Acres
06/15/10 01:39 PM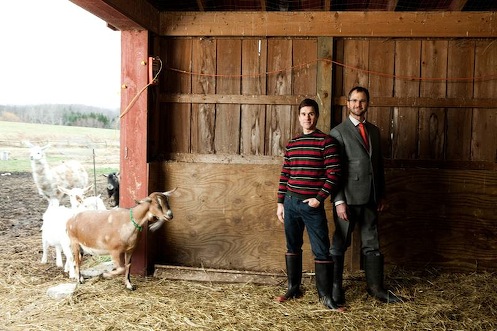 Down on their farm with Brent and Josh. Discovery photo
Premiering:
Wednesday, June 16th at 8 p.m. (central) on Planet Green, with another episode at 8:30 p.m.
Starring:
Brent Ridge, Josh Kilmer-Purcell, Farmer John
Produced by:
Jeff Hasler, Lynn Sadofsky, Randy Barbato, Fenton Bailey, Tom Campbell
By ED BARK
Beautifully shot but also more than a bit stagey, Planet Green's
The Fabulous Beekman Boys
is the saga of two rather proudly prissy gay guys navigating a long-distance relationship under uncommon circumstances.
Brent Ridge, formerly a vice president with Martha Stewart Living Omnimedia, spends the bulk of his time tending to the upstate New York Beekman estate and farm. He tends to be a taskmaster when in the company of co-owner Josh Kilmer-Purcell, a former drag queen named Aqua who's morphed into an ad exec/author. To make ends meet, Josh still spends weekdays working in New York City and weekends down on the farm doing chores at his partner's command.
"We've got a herd of goats, a llama and a whole lot of drama," Josh declares during the opening credits.
The "whole lot of drama" is key to just about any reality show's pulling power. And the still fledgling Plant Green channel, launched in June 2008, is hoping that the half-hour
Beekman Boys
series (with back-to-back episodes on opening night) will help put it on the map the way
The Shield
did for FX,
South Park
did for Comedy Central,
Queer Eye For the Straight Guy
did for Bravo, etc.
Episode 1, which also features burly, weepy Farmer John, includes a piglet chase, some llama drama and Josh's angst over Brent not making time to attend his latest book reading/signing in NYC.
"We kind of have to divide and conquer," says Brent, who's trying to make a go of it selling the farm's own goat milk soap.
"It's about a lot of dividing," Josh laments.
"Absence makes the heart grow fonder," Brent retorts.
"You got a cliche for everything?" Josh jabs.
Wednesday's premiere ends with them squabbling over commitment and whether their 10-year partnership can survive all the time they spend apart.
It's tough to feel much empathy, though. Neither man seems to be hurting for money. And their misadventures and conflicts seem all too ready made, if not altogether contrived, for the purposes of Planet Green's cameras.
Publicity materials say that Stewart and "culinary superstar" Jean Georges Vongerichten will be guesting on future episodes. Well, that's nice. And Polka Spot the llama is kinda cute, too. Still, he's no
Arnold the Pig
. Nor does
Beekman Boys
seem quite fabulous enough to bet the farm on.
GRADE:
C