Here comes Harvey Keitel in Lifetime's Fatal Honeymoon (huh?)
08/24/12 09:18 AM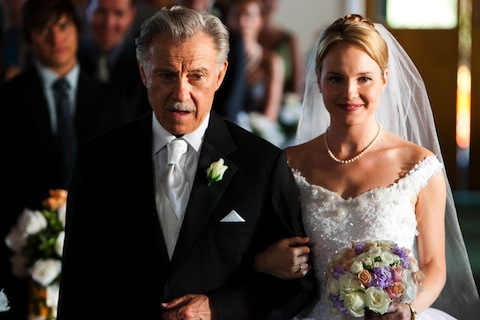 Harvey Keitel uneasily walks his daughter (Amber Clayton) to the altar in the fact-based movie Fatal Honeymoon. Lifetime photo
By ED BARK
@unclebarkycom
Not that many years ago, the chances of Harvey Keitel doing a Lifetime movie might have been less than Don Ho being voted into the Rock 'n' Roll Hall of Fame.
But times change, edgy actors get older and everybody wants to feel wanted. And Keitel at least gets the extra-special "And Harvey Keitel" treatment in Lifetime's
Fatal Honeymoon
(Saturday, Aug. 25th at 7 p.m. central)
. Brides just can't catch a break on this network.
The movie is based on the 2003 drowning death of Tina Watson, who was on an Australian honeymoon with David "Gabe" Watson. Keitel effectively plays her aggrieved, suspicious father, Tommy Thomas, in a film that disjointedly meanders back and forth without ever answering a very central question: Why on earth would a beautiful blonde sweetheart like this marry such an arrogant, hot-tempered, unfeeling lug?
Gabe (Billy Miller), a certified rescue diver, subsequently was charged with Tina's murder after she sunk to the bottom while they joined other couples in a scuba diving expedition off the Great Barrier Reef. Tina (Amber Clayton) had been a very uneasy participant and eyewitnesses felt that Gabe did very little to save her. Was he looking to cash in on her life insurance policy?
A review DVD sent to TV critics sets the stage with a police grilling of Gabe before a prototypical sequence of flashbacks and flash forwards. The first time travel -- "2 Years Earlier" it says on the screen -- depicts the initial meeting of Gabe and Tina on the University of Alabama campus.
But later in the film, a "4 Years Earlier" segment shows them making out on his couch while she wonders if he's ever going to pop the question. Maybe someone will notice this and fix it before
Fatal Honeymoon
premieres on home screens.
Keitel's Tommy understandably distrusts Gabe from the start. He's a cocksure big boor throughout the film, but Amber keeps coming back for more even though her magazine cover girl looks are hardly a barrier to meeting other men.
At one point, Gabe points to a mini-bag that supposedly has an engagement ring inside. He'll bestow it upon her when "the timing is right."
"I can't wait to tell my dad," Tina coos.
"Found a way to ruin the moment," he curtly responds.
That should have been the time to to run run run away for good. But after a brief breakup, she's oddly under his spell again and ready to walk the aisle while daddy rightly keeps smelling a skunk.
The questions surrounding her diving death made national news. So the movie sprinkles in a few glimpses of Anderson Cooper, Larry King and other CNN personalities. Odds are they don't even know they're in this thing, but the so-called
"fair use" doctrine
makes all of them fair game.
Keitel, previous co-star of enduring heavy duty films such as
Mean Streets
and
Reservoir Dogs
, supplies what little heft this film has. And he seems to be giving it all in a scene where he's first informed of his daughter's death. Keitel's visceral reaction fully conveys his character's grief. He also gets to deliver a sermon to Australian reporters after Gabe slides off the hook.
Fatal Honeymoon
otherwise is mostly a lightweight rehash that basically serves to convict Gabe Watson while reducing his deceased bride to something of a simpleton. Keitel's inclusion makes it more than a complete throwaway. But in the end, it's all very disposable.
GRADE:
C-minus