Putting Anchorwoman in its place
08/24/07 09:52 AM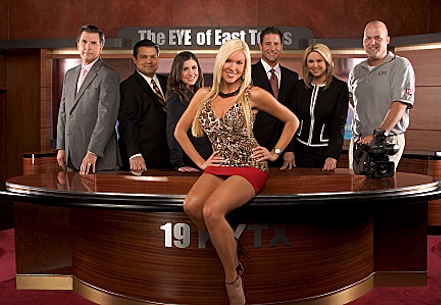 By ED BARK
So why did
Anchorwoman
fail so dismally?
Fox junked the made-in-Texas "comedy/reality hybrid" after Wednesday's opening night national ratings went well south of the border. It was a quick kill, but only the most recent one. Several months ago, Fox had a big money game show called
The Rich List
. It also went under after just one episode.
Anchorwoman
had reams of free pre-premiere publicity, though, both print and electronic. The made-for-TV hiring of model and ex-wrestling villain Lauren Jones by Tyler's KYTX-TV rubbed a lot of pundits the wrong way. Would it further soil the already badly stained reputations of many local TV newscasts?
"What were they thinking?" huffed Howard Kurtz, the veteran
Washington Post
media critic who still finds it ethically defensible to also be on CNN's payroll.
Kurtz eventually interviewed Jones and KYTX president Phil Hurley on his Sunday morning CNN program,
Reliable Sources
. He then cashed another check while others also cashed in. ABC's
Good Morning America
had three lengthy pieces on
Anchorwoman
, the last a live interview of Jones. She also parried with Bill O'Reilly on
The O'Reilly Factor
among others.
A wealth of newspaper, magazine and Internet articles likewise decried or twitted
Anchorwoman
. That's usually more than enough to get a decent opening night tune-in, but definitely not this time.
Maybe we're at the point where many viewers feel they already get enough apparently unintentional comedy within so-called serious newscasts. A D-FW reporter crawling through a doggie door is pretty hard to top. So is our very own Ted Baxter. You otherwise know him as __________ .
Or perhaps viewers increasingly are turned off by the whole tenor of their local nightly news programs. Fear-mongering and laughable consumer tips are running rampant at the expense of reporting that requires more than camping out near a police scanner or spending an hour with Dr. Youthcream.
Anchorwoman
in many respects piled on more of the same. Most viewers decided to look elsewhere before slogging through their late night newscasts in order to see what the next day's weather will be.
Unfortunately, the mega-bombing of
Anchorwoman
may not bode well for Fox's upcoming
Back to You
sitcom. It stars Kelsey Grammer and Patricia Heaton as reunited anchors at a Pittsburgh TV station. The pilot episode is sharp, funny and suitably broad in its swipes at local newscasts.
Uh-oh, that could be a fatal approach.