Funny business: Bill Engvall cut his comedy teeth in Dallas before taking a bite out of big time
06/11/08 05:50 PM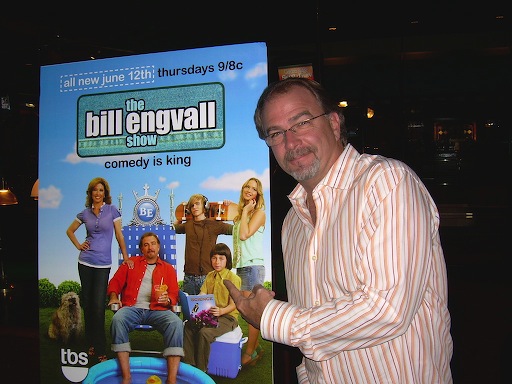 Bill Engvall: paying the bills with his name in the title. Photo: Ed Bark
By ED BARK
Bill Engvall, his TV wife and their three kids seem like dinosaurs walking an otherwise barren prime-time terrain.
Their nuclear family comedy series, returning for a second season Thursday (8 p.m. central) on TBS, is the only one of its kind unless you're counting Fox's cartoon Simpsons.
Sitcoms of any sort are in increasingly short supply on broadcast or cable networks. ABC has only one, the returning
Samantha Who?
, on its entire fall schedule. Kids, let alone married moms and dads, are scarcer than teen viewers of
60 Minutes
.
"I find myself in the position of defending doing a wholesome family show," Engvall says during a stop in Dallas, his old stomping grounds. "But I'm going to keep doing this. I've made a career out of being clean."
The Bill Engvall Show
premiered last July to the tune of 4.1 million viewers on opening night. That's a nice-sized hit by basic cable standards, giving the 50-year-old star another comfortable hammock in addition to his standup comedy act and recurring appearances with Jeff Foxworthy and Larry the Cable Guy on "Blue Collar Comedy" tours.
Engvall's family moved from Galveston to North Texas during his sophomore year in high school. He graduated from Richardson High and had planned to be a teacher before impulsively taking the stage at Dallas' Comedy Corner in 1980. He perfected his standup comedy act for four years before heading to L.A.
"I owe a great deal to Dallas, because that's where my comedy roots began," he says. "I still have friends here. I'm a huge Cowboys fan. I can't say that someday I wouldn't like to move back here."
For now he lives with his wife and two kids in Manhattan Beach. But Engvall still pines for a defining seal of approval. In his view, that would be nothing less than the cover of
D Magazine
. Honest.
"They've written little blurbs on me and stuff, but I would like to have that cover," he says. "It kind of shows that you
have
made it, and you
are
a Dallasite. There's a great deal of pride for me in being from Texas. I make no bones about it."
On
The Bill Engvall Show
he plays a somewhat befuddled family counselor named Bill Pearson. Home base is a Denver suburb, where Dad, wife Susan (Nancy Travis) and offspring Lauren, Trent and Bryan (Jennifer Lawrence, Graham Patrick Martin, Skyler Gisondo) clash over issues ranging from cleaning up the garage to the politics of parental permission.
"I don't feel there's that much dysfunctionality," Engvall says of the show. "Nancy's not playing the finger-wagging, overbearing wife and I'm not your basic, mentally challenged husband. And the kids don't run the house, like you see in most sitcoms. I have people coming up to me all the time saying, 'Thanks for bringing 'family' back to TV.' "
Viewing isn't heavy-lifting.
The Bill Engvall Show
, which co-stars
Saturday Night Live
alum Tim Meadows as a family friend/hair replacement specialist, equips its episodes with broad comedy strokes and a frequently deployed laugh track. That makes it both a formulaic throwback and a uniquely positioned novelty.
Engvall, still marveling at how far he's come, remembers buying Buckhorn beer in Dallas for $1.50 a case. He's now sipping a better brand at a Dallas restaurant while pledging allegiance to what he knows best and what still works for him.
"We're just going to deal with issues that the American family deals with," he says. "I think you can be funny and clean, and still keep it relatable."