Spike's Tut is a better than expected playground for kings and Kingsley
07/17/15 06:16 AM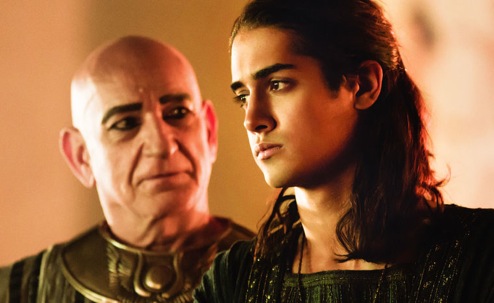 Ben Kingsley and Avan Jogia play the ruling class of Tut. Spike photo
Premiering:
Sunday, July 19th at 8 p.m. (central) and continuing at the same time on Monday and Tuesday
Starring:
Ben Kingsley, Avan Jogia, Sibylla Deen, Kylie Bunbury, Nonso Anozie, Alexander Siddig, Iddo Goldberg, Peter Gadiot
Produced by:
Joel S. Rice, Michael Prupas, David Von Ancken, Michael Vickerman, Greg Gugliota, Sharon Levy, Jeremy Elice, Angela Mancuso
By ED BARK
@unclebarkycom on Twitter
Hey, it's not all that bad. And in the coin of Spike TV's realm, that equates to being pretty good.
Weighing in at six hours and three nights,
Tut
is the young male-targeted network's first original scripted drama since 2007, when
Kill Point
came and went. Oscar-winner Ben Kingsley (
Gandhi
), wearing more eye and eyebrow liner than
Dame Edna
, serves as the
patina
amid a cast of mostly very telegenic unknowns. Principal among them is Avan Jogia as the "boy king" title character. Full name: Tutankhamun. Overriding impression: this Tut is a pretty boy
par excellence
.
Kingsley plays Grand Vizier Ay, cunning prime minister of the Egyptian empire and Tut's principal advisor/manipulator. It affords the veteran thespian ample time to sneer, glower and smile thinly while also getting some verbal meat to chew on as the plot thickens. Which it does quite nicely and sometimes even a little surprisingly.
Tut is made Pharaoh at the tender age of nine after his father, King Akhenaten, is poisoned by a supposedly trustworthy servant. His queen is the stunning Ankhesenamun (Sibylla Deen), called Ankhe for short. Problem is, she's also Tut's sister, which complicates the royal succession line. Still, that didn't particularly bother Jaime and Cersei Lannister in HBO's
Game of Thrones
.
The other beauteous woman in Tut's life is Suhad (Kylie Bunbury), initially derided as a common "beer whore" for selling him some suds during his occasional clandestine forays into town. There's a problem here, too. She's goodly but also half-Mitanni, a fierce tribe intent on overthrowing the Egyptian empire.
While Tut becomes increasingly smitten with Suhad, his sister/queen is romancing the studly Ka (Peter Gadiot), another commoner who's secretly giving Tut sword fighting lessons. But the brawniest man in town is General Horemheb (Nonso Anozie), a beefy fighting machine whose ambitions run almost as deep as the scheming Grand Vizier Ay's.
Just two more introductions. Lagus (Iddo Goldberg) is a warrior about town who initially has no use for Tut until getting to know him and becoming his trusted comrade in arms. And Alexander Siddig plays the nefarious high priest Amun, who will do anything in the name of the gods and in the interests of furthering his power . He comes complete with a nasty neck scar and likely would win a best-of-seven stare-off with Kingsley's Ay.
Spike sent the entire miniseries for review, although Episodes 2 and 3 were "rough cuts" that include some temporary music borrowed from
Game of Thrones
and printed notations such as "Add blood spatter."
There's ample blood spilled, but nothing really approaching the grotesqueries of
Game of Thrones
or Starz's
Spartacus
series. Unlike those two networks, Spike is advertiser-supported. So a little restraint is in order, as is a little rear view nudity but nothing frontal.
The plotting and counter-plotting in
Tut
are meshed with some fairly ambitious battle scenes and pulsating full-gallop chariot rides. Not everything is telegraphed, with Grand Vizier Ay in particular a fairly nuanced man of deception and feints. He also yearns to be Pharaoh, but all in due time. One must be patient, he counsels his festering illegitimate son, Nahkt (Alistair Toovey). "Opportunity," he adds. "The lifeblood of history."
Through it all, Ay's eye makeup never runs -- even after he's rebuked as a suitor by Ankhe, who terms him a "man of internal frustration" before flashing her naked body and then strutting off.
Ankhe later jealously clashes with Suhad, again exhibiting quite a way with words in telling her, "Your position, as with all women, is fleeting, at the whim of a man's cock."
It all builds to a roiling boil.
Tut
can be a hoot at times. But it's also an increasingly involving cautionary tale of power-broking and arm-twisting that makes today's fractious political climate seem like a soothing bubble bath.
The scenery, costuming, battles and young hunks and babes may well interest Spike's core audience far more than Egypt as one big body politic. But listen up, impressionable young viewers. Kingsley's Grand Vizier Ay has a timeless salient point to make as a prelude to an emotionally satisfying finish. "There is no real truth in this world," he says in a rather kindly way. "Only one's perception of it."
The perception going in was that
Tut
would be a laughable feast. My truth going out is that it plays out much better than anticipated. Rome wasn't built in a day. Nor was Egypt. Spike's return to the scripted word isn't Shakespeare. But it is a decent foundation on which to build a more respectable reputation.
GRADE:
B-minus
Email comments or questions to:
unclebarky@verizon.net