Hoping to nail it with TNT's Claws
06/07/17 02:20 PM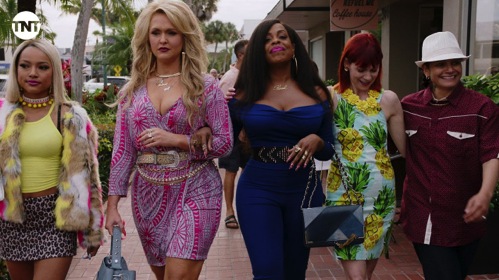 Bosomy buddies: Niecy Nash heads ensemble cast of Claws. TNT photo
Premiering:
Sunday, June 9th at 8 p.m. (central) on TNT
Starring:
Niecy Nash, Jenn Lyon, Carrie Preston, Karrueche Tran, Judy Reyes, Dean Norris, Jack Keys, Kevin Rankin, Jason Antoon, Christina Moore, Dale Dickey
Produced by:
Rashida Jones, Will McCormack, Janine Sherman Barrois, Eliot Laurence
By ED BARK
@unclebarkycom on Twitter
TNT's headlong pursuit of cable territory already claimed by FX and AMC gets another push in the right/wrong direction with
Claws
.
Seamy, steamy and at times a prototypically hot mess, the new hour-long series is touted in TNT publicity materials as "a midnight-dark, wickedly funny meditation on female badness set in a Central Florida nail salon."
Although they're basically at the mercy of diabolical men, the girl power is upfront throughout. That also goes for the plus-sized cleavage on constant display by star Niecy Nash and her principal bosom buddy, Jennifer (Jenn Lyon). Their common ground is the Nail Artisan salon, located in a poor-end-of-town shopping strip called Palmetto Plaza.
But Desna (Nash) has big plans to move on up to prime property in Sarasota after enduring a nail-bitting year of laundering money for a lucrative "Dixie Mafia" drug clinic run by "Uncle Daddy" (Dean Norris from
Breaking Bad
and
Under the Dome
). You know how this can go, though. Once you're in, the double-dealing begins. And nefarious Uncle Daddy and his oldest crum bum son, Roller (Jack Keys), aren't about to let a good thing escape their clutches.
The principal males in the
Claws
cast are vicious, inept, or in the case of Desna's live-in brother, Dean (Harold Perrineau from
Lost
), very mentally ill.
"There's nothing in this world quite as useless as a useless man," Desna proclaims early in Episode One, one of three made available for review in a 10-episode first season. The series' principal executive producer is Rashida Jones (
Parks and Recreation
), who also stars in sister station TBS'
Angie Tribeca
.
For some reason, take-charge Desna continues to date and mate with Roller, a bad-nasty knuckle dragger who makes dog poop on a shoe sole seem rarefied. Their bang-bang sex scenes stretch the outer limits of advertiser-supported basic cable, as does the language in
Claws'
opening hour. Things get somewhat tamer in the next two episodes, but the content remains notably adult -- and recurrently juvenile.
In Episode 3, for instance, this is the kind of show that tries to make a comedy segment out of a foaming-at-the-mouth epileptic seizure at the clinic. This later turns out to be not all that it seemed. But the insensitivity involved is still staggering -- even more so if you know someone who suffers from epilepsy.
The other members of Desna's nail salon crew are Polly (Carrie Preston), who's just out of jail, and "Quiet Ann" (Judy Reyes), who's demonstrably gay. Against her will -- and in the interests of a cover-up, Desna also takes on the younger, self-centered and basically brainless Virginia (Karrueche Tran). Her cover story, which unfolds at the start of Episode 3, is both cray-cray and fairly amusing.
Norris, now getting parts that Michael Chiklis might have landed a few years back, throws himself headlong into the role of Uncle Daddy, who also presides over a strip club. It's a scenery-inhaling turn, particularly at first sight in Episode One. After the considerable glory of
Breaking Bad
, here's a bald, middle-aged, heavy set character actor who's cashing in while he can. His frenetic approach to Uncle Daddy could use a sedative, but it certainly doesn't go unnoticed. "They took muh baby boy," he sobs in Episode Two before exchanging socks to the jaw with his very haggard wife, Juanda (Dale Dickey).
Nash gets her first-top-of-the marquee TV role as Desna, and goes for it with gusto as
Claws'
leading lady. Brassy and bossy, she also tries a little tenderness on occasion. And her nails indeed are something to behold.
Preston is solid in the role of the drawling, sweet-tempered Polly while Lyon's Jennifer nicely juggles her roles as both the salon's second-in-command and the wife of Big Daddy's underfoot younger son, Bryce (Kevin Rankin).
Claws
never lacks for energy, and its premise and cast composition are somewhat novel. But what it too often lacks is dexterity and texture. It's easy enough to roll with, and gets a little easier as the story takes shape and then provides a pair of non-telegraphed twists at the close of Episode 3. But the line between pulling it all together or having it all fall apart seems squiggly at best.
GRADE:
C+
Email comments or questions to:
unclebarky@verizon.net