Life is too short for A&E's Those Who Kill
02/28/14 02:47 PM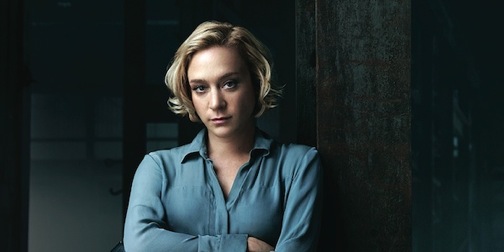 Chloe Sevigny stars as an intense, traumatized homicide detective in Those Who Kill, which originated as a Danish TV series. A&E photo
Premiering:
Monday, March 3rd at 9 p.m. (central) on A&E
Starring:
Chloe Sevigny, James D'Arcy, James Morrison, Anne Dudek, Bruce Davison, Kathy Baker
Produced by:
Glen Morgan, David Petrarca, Brian Grazer, Francie Calfo
By ED BARK
@unclebarkycom on Twitter
It's A&E's turn to cannonball into prime-time TV's serial killer pool.
The network's
Those Who Kill
also makes it a threesome of Danish crime drama imports, joining AMC's
The Killing
and FX's
The Bridge
. Alas, it's notably inferior to both, with the accomplished Chloe Sevigny (
Big Love, Boys Don't Cry
) ill-served as a Pittsburgh homicide detective with an overload of emotional baggage.
Monday's premiere, the first of 10 episodes, begins with Sevigny's character, Catherine Jensen, skulking around at night in the home of her stepfather and mother (Bruce Davison, Kathy Baker). Not that viewers are clued in to either's identity in the lone hour sent for review.
A&E publicity materials say that Jensen suspects stepdad of being a serial killer whose victims include her missing brother. But
Those Who Kill
stays mum on this throughout Episode 1. All that's known for sure is that Catherine's brother has long been missing.
The series otherwise gets quickly to the business of catching a thoroughly heinous sicko whose corpses have been buried at a de-construction site. Catherine quickly enlists the help of forensic pathologist Thomas Schaeffer (James D'Arcy), who's had a falling out with the cop shop. He's first seen discussing the particulars of Milwaukee serial killer Jeffrey Dahmer.
Thomas likewise is somewhat loopy, sometimes going to extremes to put himself within the mind of the killer. NBC's
Hannibal
, whose Season 2 launched on Friday, Feb. 28th, has a similarly equipped crime-solver who's now been framed by Dr. Lecter. But in atmosphere and out-of-body, highly visual storytelling,
Hannibal
pretty much makes
Those Who Kill
seem like a kindergarten coloring book.
The featured killer's latest prey, a young woman of course, is stripped down and then trussed up in duct tape. "There's no need to cry," he assures her. "You know why? 'Cause this is a happy story, with a happy ending."
Jensen also eventually finds herself in serious harm's way -- not once but twice. By the second time around,
Those Who Kill
has deteriorated into a very unpleasant series of events with blood-curdling screams and some patently ridiculous powers of deduction by D'Arcy's character.
Sevigny works hard at being complex, haunted, etc. while the show around her collapses into a voyeuristic mess with a denouement that makes one wonder how Catherine Jensen could possibly remain on the force beyond the opening episode.
They'll find a way, of course -- but in a series that looks as though it's going to serve no one well.
GRADE:
C-minus
Email comments or questions to:
unclebarky@verizon.net