Hall monitor: he's back in late night with the same traits as before
09/10/13 02:13 PM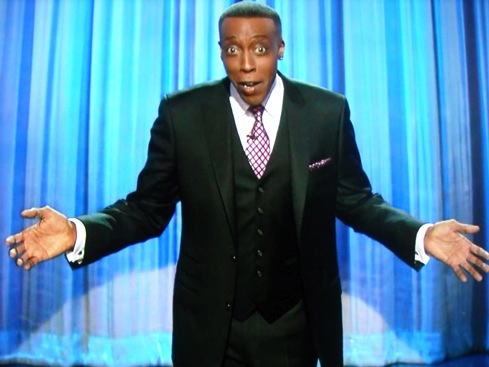 Arsenio Hall happily returned to late night TV Monday. Photo: Ed Bark
By ED BARK
@unclebarkycom on Twitter
"I'm back. And back is beautiful."
Late night comedy/talk's most famous host of color returned to home screens Monday, this time in HD amid myriad more choices -- all of them still white save for W. Kamau Bell's hybrid offering on the new FXX network.
Little has changed in that respect during the 19 years Arsenio Hall's been away. And he sometimes seems almost painfully unchanged, too. Hall still giggles more than a little too much, oozes vials of sincerity and fawns over guests to the point of calling Chris Tucker "one of the biggest comedy stars in the world."
Tucker in turn easily set a world's record for saying "It's great" during his less than scintillating time with the host, who sat not behind a desk but in a stuffed grey chair that matched the adjoining couch.
Opening nights can be rough, though. You just want to get through 'em, even when it's the second time around. And Hall got out of his starting block in solid if predictable fashion by lying on a couch in closeup and talking about how if he becomes No. 1 in the late night ratings he'll get to stay on the air forever.
Well, you just knew to whom he'd be talking. And sure enough, the camera then pulled back to show Jay Leno saying, "Yeah, good luck with that."
Hall got a huge ovation from his woof-woofing studio audience before needlessly re-introducing himself and receiving more of the same. He then cracked, "Leave it to the first black late night host to take 19 years off work. And come back here and expect my job to still be waiting for me."
So what's he been doing in the interim? An initial
Storage Wars
clip -- with a bearded Hall festering inside one of the up-for-auction units -- got that bit off to a pretty strong start. But then it began to huff and puff, with Hall repeatedly getting stabbed in an overlong
Prison Snitch
sendup before co-starring in a fake
Tunaphoon
movie that was outstripped by
Sharknado
.
Snoop Dogg then came out to contribute some very old-school rap before "The Arsenio Hall Time Capsule" got rolled out. This one likewise got off to a funny start, with Hall unearthing a jumbo cell phone from the '90s and joking, "This phone is so old it tried Siri for being a witch."
Again, though, things dragged on too long, with the audience applause getting dangerously thin before Hall pulled out a "prosthetic butt" from Paula Abdul's
Opposites Attract
video. The real-life Abdul quickly appeared to pay tribute to a hushed Hall after telling him she'll use the oversized ass to play Simon Cowell on Halloween. Ooh, hush yo' mouth, girl.
Hall merited a better opening night guest lineup than this. He did in fact make late night history while also creating a party environment and comfortable domain for those who otherwise had little recourse. Johnny Carson, on automatic pilot by then, wasn't about to dip his toe into hip-hop or other forms of young "urban" culture.
It's too bad then that old pal Eddie Murphy didn't choose to pop in. He instead was briefly shown in a new Snoop video. Nor did Bill Clinton deign to bring down the house with a walk-on. The future president's sax-playing segment on the original
Arsenio Hall Show
remains his emblematic masterstroke of the 1992 campaign.
Hall ended his return by profusely thanking those who did show up and calling Leno "a wonderful friend of mine." The second coming of
The Arsenio Hall Show
presumably will outlast Leno's forced exit, in favor of Jimmy Fallon, after NBC's Winter Olympics telecasts.
Meanwhile, Monday's re-opening is now in the time capsule, and it's somehow still good to have Arsenio Hall back. He aims to please, he's iconic in his own way and maybe he can still serve an audience that after too long has one of its own back in play. Just don't expect the kids to watch anymore.
Email comments or questions to:
unclebarky@verizon.net