HBO still not lifting the gloom with Sharp Objects
07/06/18 10:36 AM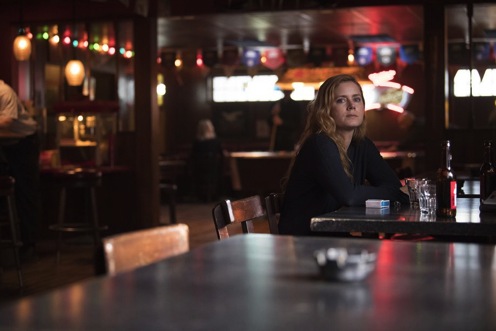 Amy Adams is seldom far from a drink in Sharp Objects. HBO photo
Premiering:
Sunday, July 8th at 8 p.m. (central)
Starring:
Amy Adams, Chris Messina, Patricia Clarkson, Eliza Scanlen, Matt Craven, Henry Czerny, Elizabeth Perkins, Taylor John Smith, Will Chase, Madison Davenport, Sophia Lillis, Lulu Wilson
Produced by:
Marti Noxon, Jason Blum, Jean-Marc Vallee, Gillian Flynn, Amy Adams, Charles Layton
By ED BARK
@unclebarkycom on Twitter
There's a bar called Cheer Up Charlies in Austin, TX. HBO needs to go there.
For now, though, the network remains firmly stuck in its spring/summer depression era with movies and limited series that are polar opposites of uplifting.
Paterno
.
Fahrenheit 451
.
The Tale
. And now,
Sharp Objects
, which begins its decidedly dreary eight-episode run on
Sunday, July 8th at 8 p.m. (central)
.
Adapted from Gillian Flynn's 2006 same-named novel, it features an effectively morose lead performance by Amy Adams, who's virtually certain to get an Emmy nomination when
Sharp Objects
becomes eligible next year.
She's cast as hard-drinking, self-cutting, fresh out of therapy Camille Preaker, a reporter for a St. Louis newspaper who's assigned to revisit a home town that became a living hell for her after sibling Marian died of a mysterious illness. They were very close, even if Camille's haughty mother, Adora (Patricia Clarkson), clearly loved Marian best.
Camille's editor, Frank Curry (Miguel Sandoval), sends her back to Wind Gap, Missouri to detail and accessorize the gruesome recent murders of two teen girls, both of whom were left with their front teeth pulled out. Frank, who's battling a serious illness, is to therapy what Freddy Krueger was to peace of mind. But Camille reluctantly heeds his orders because this "could be a damn big story if you do it right."
HBO made the first seven hours available for review, with the concluding episode promised next month in advance of its airing. Judging from what transpires (don't worry, no spoilers), it looks as though the denouement possibly could be different from that in Flynn's book. But maybe not.
The killings of Natalie Keene and, earlier, Ann Nash, have left most of Wind Gap on high alert. But Camille's nubile half-sister, Amma (Eliza Scanlen), who's the Lolita of this yarn, continues to sneak out into the night and cavort with her pals. She also has designs on Camille, who briefly moves into mom and dad's palatial spread while soon regretting it. Her ineffectual stepfather, Alan (Henry Czerny), mostly tunes out with music while wife Adora hits the bottle and Camille hits the bars when not swigging from a water bottle filled with vodka.
Sharp Objects
seems intent on setting an unbreakable TV record for consumption of straight, unadorned booze, whether the imbiber is Camille, incoming Kansas City detective Richard Willis (Chris Messina) -- with whom she meshes and clashes -- or Natalie's surviving, troubled brother John Keene (Taylor John Smith), a prime suspect in the view of some.
The veteran town sheriff, named Vickery (Matt Craven), chooses to believe that a drifter committed both murders. There's also longtime town resident Jackie (Elizabeth Perkins), a tart who's seldom sober but knows a few things.
All of this tends to plod along at an excruciatingly slow pace, with the overall misery index lightened only occasionally by the banter between Camille and Willis. Editor Curry occasionally is dropped in from afar, urging Camille, whom he calls "kiddo" or "Cubby," to stay with the story even when she's on the verge of going off the rails again.
High maintenance Mama Adora, sipping on "amaretto sours" that match her disposition, is not exactly a stabilizing force. "You never mean to do anything. And yet you cause so much hurt," she tells Camille in Episode 3. And in the following hour: "You were always so willful. Never sweet."
Adams immerses herself in the role, her first for television since playing the recurring Katy in three episodes of NBC's
The Office
. As Camille, she sat still for hours of makeup when required to bare her numerous skin etchings. And her character's vulnerabilities are stark and virtually non-stop, via both flashbacks and while newly on the prowl in unforgiving Wind Gap. In some of the rewinds, Sophia Lillis steps in to play Camille in scenes with her sister, Marian (Lulu Wilson).
One can appreciate Adams' performance, though, without buying into the overall endurance test required by
Sharp Objects
. There's no relief in sight -- for anyone, really. So HBO again is asking a lot in times when many of its subscribers might well prefer a respite instead of another plunge into an abyss.
"Please don't hate me," Camille pleads at one point. But other than Adams' performance, what's to like?
GRADE:
B-minus
Email comments or questions to:
unclebarky@verizon.net