Frequently bleeped Golden Globes need a course correction or a new network (or streamer)
01/11/16 12:37 PM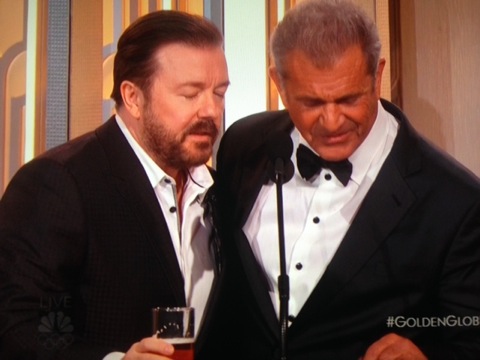 Host Ricky Gervais and Mel Gibson share one of many censored moments at Sunday night's Golden Globes awards ceremony on NBC.
Photo: Ed Bark
By ED BARK
@unclebarkycom on Twitter
A few words on Sunday night's Golden Globes -- all of them printable in this case.
No one expected a rose garden after Ricky Gervais was tabbed to host this thing for the fourth time after the Hollywood Foreign Press Association had vowed, "Never again." But this is an organization that would swim the English Channel for a free ice cream sundae. So they went back to the guy who holds them all in contempt and joked in his latest opening monologue that he uses the third "worthless" Globe he won as a sex toy.
Gervais's entire stage setter went un-bleeped, although he shared the wealth later on -- during an up-close moment with Mel Gibson -- after numerous presenters and awards recipients likewise had their tongues lashed by NBC's censors.
Others whose words were deemed unfit for a broadcast television network included Jonah Hill, Jennifer Lawrence, Amy Schumer and Jaime Alexander. Hill, who wore a bear hat tied to a central character in
The Revenant
, had his bit bleeped nearly to bits.
It got to the point where some of my TV critic colleagues wondered on Twitter whether their TV feed was faulty. No, the problem was not with viewers' sets. The presence of the unbridled Gervais -- and the usual abundance of free champagne at celebrity tables -- combined to make the 73rd Globes a messy diaper of a telecast that had even less dignity than usual. The idea of a language
faux pas
, which used to be a novelty on live television, became standard operating procedure Sunday night.
So if that's the way it's going to be, then maybe it's time for the Globes to move to a premium cable network -- such as HBO, Showtime or Starz -- or a streaming service such as Netflix, Amazon or Hulu. NBC is in business with the latter streamer, so perhaps an unexpurgated simulcast could be arranged. The money would still go into the Peacock's bank account.
The Globes have long been billed as a freewheeling meld of movie and TV stars in which anything can happen. But then when it does, a skittish NBC deadens the microphones.
Frankly, I don't give a damn who wins or who doesn't win a Golden Globe. Their overall nominating choices have gotten better over the years, even though this is still an organization that put the feature film
The Martian
in its best musical or comedy category. And it won! But if you're promoting this three-hour ding-a-ling as basically a drunken bacchanal, then give viewers an opportunity to both hear and see it in all its "splendor."
Sunday night's frequently censored broadcast gradually took on the unseemly air of a cackling three-year-old boy repeatedly pulling his pants down while mommy shielded him from view. The Hollywood Foreign Press Association has two choices. Firmly and unequivocally instruct presenters and recipients that absolutely no profanity will be allowed as long as this show airs only on NBC. Or let things further degenerate and either switch networks or provide an undiluted simulcast in addition to an edited one for the larger masses.
Sunday night's fiasco shouldn't be repeated in future years. The Golden Globes ceremony can be as infantile -- or "dignified" -- as it wants to be during the course of handing out awards that some recipients for some reason still gush over. Next time, though, give viewers an option to see it for exactly what it is.
Email comments or questions to:
unclebarky@verizon.net