Mid-season merry-go-round: House of Lies gives Showtime another batch of scoundrels
12/31/11 09:21 AM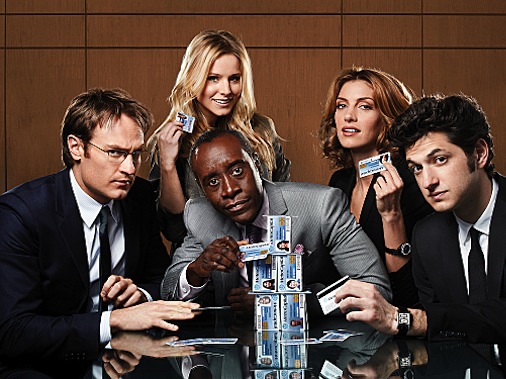 Don Cheadle (center) is the lead dog in House of Lies. Showtime photo
Premiering:
Sunday, Jan. 8th at 9 p.m. (central) on Showtime
Starring:
Don Cheadle, Kristen Bell, Ben Schwartz, Josh Lawson, Dawn Olivieri, Donis Leonard Jr., Glynn Turman
Produced by:
Matthew Carnahan, Jesika Borsiczky, Stephen Hopkins, Don Cheadle
By ED BARK
Amorality abounds in Showtime's new
House of Lies
, where the overall business plan is "screw or be screwed."
The catch-all title suggests that this could be an espionage thriller or another duplicitous royal drama in league with Showtime's
The Tudors
or
The Borgias
. Either
Dirty Rotten Scoundrels
or
Dirty Sexy Money
might have been a better fit, but those titles have already come our way in a feature film and a canceled ABC series.
So
House of Lies
it is, with Don Cheadle starring as the ruthless maestro of a team of like-minded management consultants. Premiering on Sunday, Jan. 8th, this half-hour series should fit right in with Showtime's other resident evil-doers,
Shameless
and
Californication
. They respectively have their Season 2 and Season 5 premieres on the same night.
Cheadle's character, Marty Kaan, has a surname that not coincidentally rhymes with con. And that's what he's all about -- conning corporate behemoths into paying millions of dollars for the image-enhancement services of Galweather-Stearn. It's an "adult comedy" in which basically everyone's at least a borderline scumbag.
In the premiere episode, Marty and his three fellow members of "The Pod" sell their wares to a Manhattan mega-bank named MetroCapital. Its executives are still trying to justify their big year-end bonuses after leaving thousands of commoners high and dry. Neither party cares about that. Galweather-Stearn's mission is to make MetroCapital look good while it continues to behave very badly. All in a day's work. Cha-ching.
Marty regularly talks to the camera to explain the terminology of his trade. And as rogues go, Cheadle plays the hell out of this part while dispensing expletives like candy and banging any pretty lady within arm's reach. They include his drug-addicted, needy ex-wife Monica (Dawn Olivieri), who's now also a business competitor. The blueprint is the Martin Kihn bestseller
House of Lies: How Management Consultants Steal Your Watch And Then Tell You The Time
.
Let's quickly introduce the other team members. Former
Veronica Mars
star Kristen Bell is all grown up now as Jeannie van der Hooven, who at times appears to have a semblance of a soul. Young guns Clyde Oberholt and Doug Guggenheim (Ben Schwartz, Josh Lawson) are constantly jabbing at one another while also jockeying for position.
Cheadle's Marty also has a pre-teen son, Roscoe (Donis Leonard, Jr.), who lately is into cross-dressing. His live-in grandfather, Jeremiah (Glynn Turman), minds the home front while Marty is away. And he's away a lot, flying first class, staying in the best hotels, partying hard and doing basically whatever it takes to land another big fish.
House of Lies
runs the risk of going too far too often, with Marty chasing pussy like a Doberman Pinscher. In Episode 1, he even beds the hot mom of little Roscoe's rival for the part of Sandy in a school production of
Grease
. While the play is in progress, mind you. They return just in time to catch the final scene.
Episode 2 includes a guest star appearance by Cat Deeley as herself. The
So You Think You Can Dance
host takes a passing interest in a tongue-tied Doug while they wait to board their flights in a VIP airport lounge. He ends up spilling a latte on himself. Cat pats it dry, giving Doug something of a happy ending before she takes flight. Marty and his team then fly off to Phoenix, where they get rich at the expense of a basketball team owner going through a nasty divorce proceeding.
Episode 3, subtitled "Microphallus," includes Marty's visit to a "Naughty Room" inhabited by the wife of a performance-challenged beverage company executive. Insert nude scene. Move on.
House of Lies
' excesses tend to be counter-balanced by its overall look and feel. The production values are first-rate and the storytelling is crisp. There's also a bravura recurring performance by Greg Germann (
Ally McBeal
) as a cutthroat MetroBank executive named Greg Norbert. He's in two of the first three episodes, intent on screwing Marty in a way he won't at all enjoy.
As stated earlier, it's all in a day's work for these people. The more money they have, the bigger pieces of garbage they are. And for some of us lumpens, that can be an oddly comforting thought.
GRADE:
B