HDNET's Drinking Made Easy hopes to make some viewers fall hard
10/05/10 12:09 PM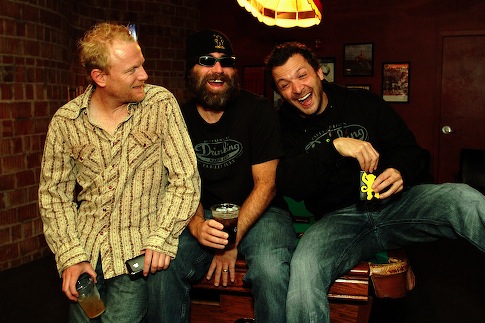 Host Zane Lamprey (right) and drinking buddies. Photo: Melissa Schilling
Premiering:
Wed., Oct. 6th at 7:30 p.m. (central) on HDNet
Starring:
Zane Lamprey, Steve McKenna, Marc Ryan
Produced by:
Zane Lamprey
By ED BARK
It's probably far better to be sloshed, plastered, pounded, hammered, three sheets to the wind or on all fours under the table to fully grasp the entertainment value of
Drinking Made Easy
.
Alas, I was only caffeinated while screening this latest original series from Dallas-based HDNet. Launching Wednesday, it's getting a full-blown 24-episode run through a wide variety of America's watering holes.
The concept is similar to Guy Fieri's
Diners, Drive-ins and Dives
, with a little
Man v. Food
thrown in when sidekick Steve McKenna fails to conquer a plate of 144 tater tots. He ends up upchucking a portion of it after being goaded into chugging an industrial-sized mug of beer. Perhaps your sides aren't splitting yet.
Episode 1 takes McKenna, host Zane Lamprey and fellow imbiber Marc Ryan on a careening tour through Arizona. Things start fairly promisingly with Lamprey's visit to an "illegal moonshiner" who wears a kerchief and sunglasses to disguise himself after the host arrives and departs with a pillowcase over his head.
"You allegedly made that?" Lamprey asks after sampling a shot.
"I allegedly made that."
"I allegedly like that."
That's funny enough for starters, but
Drinking Made Easy
later begins to groan under the weight of two failed bits. In a dull interlude, the boys play miniature golf, which each of the losers required to buy the victor a half-dozen six-packs as part of the show's weekly "Six Six-Pack Challenge."
Later on, in a not-so-big finish, they arrive in black cowboy garb at Tombstone's Big-Nosed Kate Saloon, where two of the three feign collapsing from too much alcohol before Lamprey has a showdown with Pleepleus the Monkey. Viewers are encouraged to have a drink whenever he's sighted on the show.
Lamprey is an amiable enough host who likes to screw around while helping to make offbeat drinks before drinking them. His encounters with bartenders at Aunt Chilada's and the Martini Ranch are at least moderately entertaining. But this opening episode is wildly hit and miss, sort of like a drunk who thinks he's high-larious while scatter-shooting at a urinal.
Press materials for
Drinking Made Easy
quote HDNet owner Mark Cuban extolling Lamprey as a "perfect fit for the HDNet audience." He's also the author of
Three Sheets: 6 Continents, 15 Countries, 190 Drinks and 1 Mean Hangover
and has been dubbed "the Indiana Jones of drinking" by someone who must have been under the influence.
That might well make him a veritable Ernest Hemingway among HDNet's target audience of hard-partying young males too young to remember Jimmy Carter, Johnny Winter or Pabst Blue Ribbon.
GRADE:
C-minus