New fall season: NBC merits a buyers' market for Free Agents
09/13/11 05:12 PM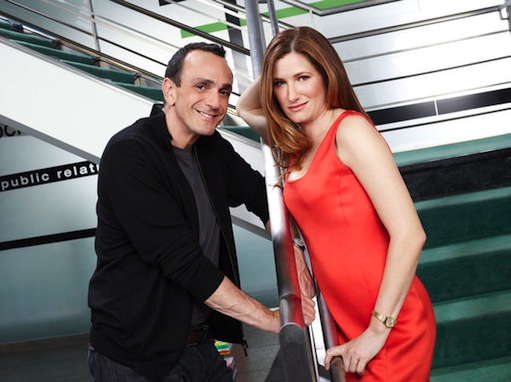 Hank Azaria & Kathryn Hahn are a winning non-couple. NBC photo
Premiering:
Wednesday, Sept. 14th at 9:30 p.m. (central) before moving to its regular 7:30 p.m. slot on the same night.
Starring:
Hank Azaria, Kathryn Hahn, Anthony Head, Mo Mandel, Al Madrigal, Natasha Leggero, Joe Lo Truglio
Produced by:
John Enbom, Todd Holland
By ED BARK
Many a new TV series -- whether comedy, drama or a mix -- begs the question of whether its principal leads will "do it." And if so, when.
Moonlighting. Cheers. Northern Exposure. Castle
. To name a select few.
NBC's
Free Agents
begins with the lights out and its two stars sighing with post-coital satisfaction. But how will they un-do this? Alex (Hank Azaria) is recently divorced and still weepily missing his kids. Helen (Kathryn Hahn) continues to mourn her dead fiancee after a year's time. His pictures are all over her apartment and even on her coffee mug. Alex and Helen otherwise share the same workplace, which makes things awkward for these two consenting adults with baggage to spare.
Be assured, though, that this is a comedy, and an altogether nicely played one at that. It's adapted from the same-named British series, which premiered in 2008 and can first be seen by American audiences on Oct. 8th, courtesy of cable's BBC America. So it's a good chance to compare and contrast if you're either a true TV junkie or a hapless TV critic. And from this view, neither series is really inferior or superior to the other.
Both versions have Anthony Head (formerly of
Buffy the Vampire Slayer
) as a big boss man named Stephen. In the British original, he heads a talent agency. On NBC it's a damage-controlling corporate public relations firm.
In both cases, Stephen likes to kick off the morning group meeting with talk of any previous night's sexual exploits. The British
Free Agents
is appreciably more verbally graphic in this respect, although the f-bombs will have to be bleeped for U.S. consumption on an advertiser-supported network. In the U.S. version, there's talk of various sexual positions, including the "reverse crab" and "The Flying Dutchman."
A few more comparisons/contrasts. Curly-topped Stephen Mangam, best known to U.S. audiences lately as a co-star of Showtime's
Episodes
, is a little bit bigger basket case than Azaria's vexed Alex. And the British Helen, played by Sharon Horgan, is more amused by Alex than Hahn's version is.
Both actresses are very winning in this role, though, with Hahn particularly good in a grocery store scene where she loads up on red wine and upbraids a clerk for asking whether she's having a party. In the British
Free Agents
, Helen is merely seen exiting a store with armloads of wine. Point goes to NBC.
The Peacock probably errs, though, in having one or two too many fast-talking workplace sub-characters. Emma (Natasha Leggero), described in publicity materials as the "spitfire" office assistant, is too pro forma lippy for starters. And Dan (Mo Mandel) is too much the prototypical bachelor on the prowl in search of a suitable "wingman." Alex is his latest designee but for only a few moments before he bails on a cat-loving blind date in favor of responding to Helen's SOS call. None of this is in the British version, at least not in the first episode.
NBC's
Free Agents
could well get lost in the shuffle on Wednesday nights, where its lead-in is the inferior new
Up All Night
. It's good enough to merit a second chance spot on the network's longstanding Thursday night comedy bloc if a quick rescue mission is required.
Despite its lead characters' fragile makeups,
Free Agents
is a niftily scripted, bracingly grownup comedy when in the hands of its two leads. Helen calls Alex an "absolute mess." He agrees in part: "I'm a mess. I'm not absolute."
Or if you prefer, the British Alex tells Helen, "I don't do 'wild,' OK. I do 'cautious.' I do 'inhibited.' "
Both bear watching.
GRADES:
B+