A hillbilly haven -- and so far a durned good drama -- in WGN America's Outsiders
01/25/16 12:55 PM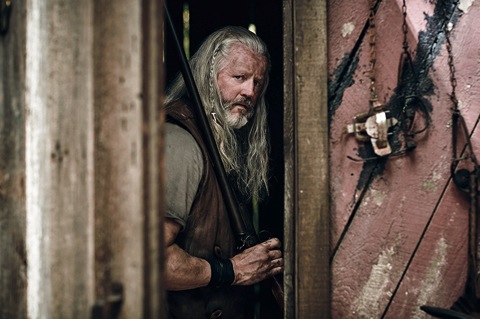 David Morse is grubby "Big Foster" in Outsiders. WGN America photo
Premiering:
Tuesday, Jan. 26th at 8 p.m. (central) on WGN America
Starring:
David Morse, Ryan Hurst, Thomas M. Wright, Gillian Alexy, Joe Anderson, Phyllis Somerville, Kyle Gallner, Christina Jackson, Francie Swift
Produced by:
Peter Mattei, Peter Tolan, Michael Wimer, Paul Giamatti, Dan Carey
By ED BARK
@unclebarkycom on Twitter
Although the timing couldn't be better, WGN America's
Outsiders
is not a dramatization of the 2016 presidential campaign starring mockups of Donald Trump, Bernie Sanders and Ted Cruz.
Rather it's the saga of unkempt, contemporary Appalachian mountain men and women who drink hard, seemingly bathe infrequently and already have built at least a psychic wall between themselves and all those Democratic and Republican varmints down below.
Early in Episode 1, one of five made available for review, a rapacious businessman refers to them as "
ree
-tard hillbilly animals" whose Shay Mountain habitat suddenly has been found to be endowed with rich deposits of coal. Therefore they must be evicted in the name of jobs and big profits. But haunted, bedraggled looking Sheriff Wade Houghton (Thomas M. Wright) warns one and all that they have no idea what they'd be going up against.
This is a firmly grounded and compelling drama that's both ripe for lampooning on
Saturday Night Live
and rich in story possibilities. Its us-against-them template holds solid over the first five episodes, even if some of the foot-stomping, alcohol-fueled parties atop ol' smoky are unintentionally comical. As is an old lady's declaration, "Pit fight at the quarter moon!" in Episode 2. It turns out to be an all-terrain vehicle joust between a prodigal "traveler" returned home (Joe Anderson as Asa) and a son (Ryan Hurst as Lil Foster Farrell) who very much wants to please his tyrannical daddy.
The lead character of Big Foster Farrell is played by David Morse, who many TV seasons ago used to be such a nice young man as Dr. Jack Morrison on
St. Elsewhere
. In later years, Morse has mostly played bearded mystics or grubby villains. In
Outsiders
he sports a bowling ball-sized pot belly, stringy hair and a beard big enough to hide the remnants of several possum dinners.
Most of the motley Shay Mountain clan could easily segue into guest shots on the History network's
Vikings
. Instead of ships, though, they favor beat-up, open air transportation. And when they need provisions for the semi-annual brewing of "Farrell wine" (knee-buckling moonshine), they simply ride right into a town grocery store and pillage it in full view of customers and clerks.
The aforementioned prodigal son is comparatively refined. Asa spent a decade away from Shay Mountain, even learning how to read while among "The Losties," as they're called. But the price of re-admission is six months in a cage, a sentence that he's nearly completed. Still, Big Foster blames Asa for visiting a new batch of troubles upon the Farrells. But his mama, known to all as Lady Ray (Phyllis Somerville), is more sympathetic as the wheelchair-confined tribe elder and leader. All that book larnin' could be put to good use, she feels.
Another key mountaintop character, G'Winveer (Gillian Alexy), previously had relations with Asa but now is living with Lil Foster. There's also sensitive Hasil (Kyle Gallner), who fancies a down-below, African-American store clerk named Sally-Ann (Christina Jackson). Representing the coal mining interests is the very willful Haylie (Francie Swift), who will stop at nothing when it comes to driving the Farrells off of their long held perch. "These people shit outdoors," she scoffs in Episode 5 when it's suggested that at least one of the Farrells might be techno-savvy.
But the most compelling character in
Outsiders
is the aforementioned Sheriff Houghton, who's devoted to his young son but not at the expense of giving up the alcohol and pills to which he's become addicted. Thomas W. Wright plays this role perfectly. His reluctance to invade the Farrells' turf is borne of previous experiences that he's been unable to shake.
The accomplished executive producers of
Outsiders
include Peter Tolan (
Rescue Me
) and Paul Giamatti, currently starring opposite Damian Lewis in Showtime's
Billions
. WGN America is still striving to make its mark with series such as the comparatively inferior
Salem
and the much better executed atomic bomb drama
Manhattan
.
Outsiders
is the network's first non-period piece, although some of its main characters do seem a little prehistoric. Even Asa can really tie one on, as Episode 5 illustrates during a prolonged, drunken demolition derby during which he and Big Foster do some serious harm to the mining company's heavy construction equipment.
There will be 13 episodes in Season One, which bears watching as the two forces escalate their collision course. "May those devils down there know this!" Lady Ray booms in Tuesday's opening episode. "This is our land and this is our blood! And we will never leave this mountain!"
She means it. And the producers of
Outsiders
also hope their series will set for a spell. So far it's earning its keep.
GRADE:
B+
Email comments or questions to:
unclebarky@verizon.net