Survey says: Celebrity Family Feud is kinda cringe-worthy
06/23/08 04:17 PM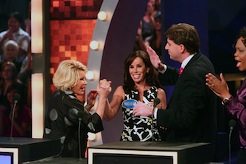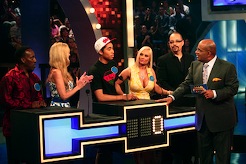 It's the Rivers clan vs. Ice T's posse during opening night play.
Premiering:
Tuesday, June 24th at 7 p.m. (central) on NBC
Hosted by:
Al Roker, with 24 celebrity family teams
Produced by:
Gaby Johnston, Toby Gorman
By ED BARK
It's still not too late to retitle it
Celebrity Family Lewd
.
Ice T and his notably buxom wife, Coco, push that particular button in the opening minutes of NBC's
Celebrity Family Feud
, premiering Tuesday, June 24th.
She's spilling out of a low-cut yellow dress and host Al Roker immediately takes notice.
"You don't buy a Ferrari and then drive it around with the car cover on it," Ice T theorizes. True, says Roker. As long as nobody is allowed to check under the hood.
Coco gets a big kick out of that one before Ice T and Joan Rivers square off for the first round of a charity competition pitting his crew against hers.
"Name something that's slippery and hard to hold onto," Roker challenges.
Ice T responds with a word that's bleeped from a review DVD sent by NBC. Roker then does the old one-two double take before telling Ice T, "I need this job."
No you don't. Not really.
Today
already pays plenty.
Things settle down a bit after that, although Wayne Newton's elderly mother-in-law later shouts out "boobs!" during the night's second battle between the Newtons and Raven-Symone's family.
Still later, a member of one of the winning teams says "a hooker" in answer to "Name something an older woman buys for her boy toy."
NBC has moved
Celebrity Family Feud
up a week from its original premiere date to take on the premiere of ABC's
Wipeout
, which leads into the network's unveiling of
I Survived A Japanese Game Show
.
Neither of these summertime dollops was made available for review, but promotional clips from the shows leave no doubt that each gleefully trades in fall-down-go-boom contestant humiliation.
Wipeout
has them tumbling into putrid-looking mud-water.
Japanese Game Show
coats them in various other goops. Are we having fun yet?
At least
Celebrity Family Feud
is for charity. And Tuesday's potential beneficiaries include the American Red Cross, the USO and Guide Dogs for the Blind.
Roker presides amiably if sometimes awkwardly, with a good number of the families of course headed up by the stars of NBC Universal properties. So if you haven't already seen enough of Christopher Knight on NBC's ongoing
Celebrity Circus
, you can catch the former
Brady Bunch
kid and company taking on an
American Chopper
contingent in a future
Feud
.
Meanwhile, "name something you'd never want to see your father wearing."
Thankfully, Ice T isn't a part of that particular game.
Grade:
C