Monaco's still the first, no matter how she fares in DWTS "All-Star" extravaganza
09/21/12 09:04 AM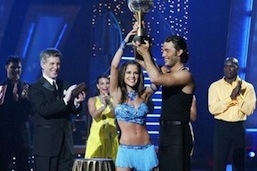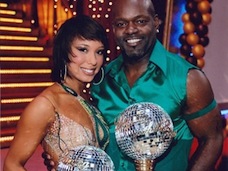 Inaugural winner Kelly Monaco and Edition 3 champ Emmitt Smith.
ABC photos
By ED BARK
@unclebarkycom
There can only be one first-time winner of anything. And in the hoof and puff annals of
Dancing with the Stars
, soap star and former
Playboy
centerfold Kelly Monaco remains firmly in possession of the show's inaugural Mirror Ball trophy.
"Yes, I still have it. It's displayed in a case," Monaco says in a telephone interview. "I'm proud of it and I worked very hard for it."
ABC wasn't at all certain this would work when six celebrities and their designated pro partners first took the
DWTS
stage on June 1, 2005.
Monaco, paired with Alec Mazo, danced against boxer Evander Holyfield, model/actress Rachel Hunter, former boy band member Joey McIntyre, Trista Sutter of
The Bachelor
and actor John O'Hurley.
O'Hurley looked like a certain winner, but Monaco prevailed in a controversial upset. ABC reacted by staging a two-couple rematch between Monaca and O'Hurley. This time he won their "Dance-Off." There hasn't been another one.
"I mean, it didn't seem fair," Monaco says. "But we did it for charity so I would do it again in a heartbeat. I know what it's like to win and I know what it's like to lose. I still have a good time."
O'Hurley isn't among the seven
DWTS
luminaries returning for the Monday, Sept. 24th launch of the show's first "All-Star" competition. But Monaco is, along with new partner Valentin Chmerkovskiy (preening Max's brother). The other previous winners hoping to do it again are Emmitt Smith (Edition 3); Apolo Anton Ohno (Edition 4); Shawn Johnson (Edition 8); Drew Lachey (Edition 2); and Helio Castroneves (Edition 5).
They'll be joined by previous "fan favorites" Kirstie Alley, Joey Fatone, Bristol Palin, Pamela Anderson, Giles Marini, Melissa Rycroft and Sabrina Bryan.
Another past winner, Brooke Burke from Edition 7, is now the show's co-host with Tom Bergeron.
A closer look at the
DWTS
scorecard shows that seven of the 14 previous winners are athletes, including the most recent champ, Green Bay Packers receiver Donald Driver. Jocks also have been the runners-up on four occasions.
"I think they probably have a bigger fan base, too," Monaco says, even though she still has a weekday TV window as Samantha McCall on ABC's
General Hospital
. "Everybody watches football and the Olympics. I can't compete against Emmitt Smith. He has two things to offer . . . I think I'm probably a longshot."
Smith is re-teamed with Cheryl Burke, the savvy
DWTS
tigress who also took Lachey to the winner's circle. She also has four other top three finishes, but couldn't work miracles after getting stuck with former House Majority Leader Tom DeLay in Edition 9. He ended up quitting due to injury.
Monaco's partner, Valentin Chmerkovskiy, didn't join
DWTS
until Edition 13. She praises him as a world champion dancer while conceding that "not having a familiar partner could be a disadvantage" against the likes of Burke, Max and other fan fave pro dancers such as Derek Hough and Kym Johnson.
In the end, though, it's just a spangly made-for-TV dance-fest, not the Olympics, Super Bowl or World Series. So Monaco will assume the positions, don some revealing costumes and hope for a decent showing more than seven years after raising the first
DWTS
trophy on high.
"I'm up for the journey. I'm up for the challenge," she says. "I just want to go out there and have a good time. I'm not in it to persuade anyone to vote for me. I won once. If I don't win again, it's OK."
UNCLE BARKY'S VELVET SMOKING JACKET PICKS TO BE THE THREE ALL-STAR FINALISTS
Apolo Anton Ohno
Shawn Johnson
Emmitt Smith
And the winner is . . . Oh yes, Ohno.