Lifetime's Steel Magnolias is both distinctly different, faithful to original
10/04/12 01:58 PM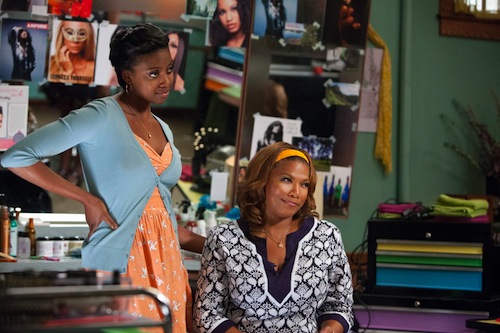 Condola Rashad & Queen Latifah of Steel Magnolias. Lifetime photo
By ED BARK
@unclebarkycom
Anything of any import will be remade at some point.
In fact, CBS got to
Steel Magnolias
first, trying to springboard off the 1989 star-drenched feature film with a would-be 1990 TV series starring Cindy Williams, Sally Kirkland, Polly Bergen, Elaine Stritch and Sheila McCarthy. It wasn't picked up, but the pilot aired during the summer of that year.
Lifetime is on much firmer ground with its affecting and amusing re-do, which premieres on
Sunday, Oct. 7th at 8 p.m. (central)
. The gimmick, if you can call it that, finds an all-black cast stepping into the small town Louisiana roles played a generation ago by the likes of Sally Field, Julia Roberts, Shirley MacLaine, Dolly Parton, Olympia Dukakis, Daryl Hannah, Tom Skerritt, Sam Shepard and Dylan McDermott.
This film can't match that wattage. Still, the new
Steel Magnolias
is well-fortified with accomplished actresses such as Queen Latifah, Alfre Woodard and Phylicia Rashad. The latter's daughter, Condola Rashad, follows in the Oscar-nominated footsteps of Julia Roberts with an Emmy caliber performance as newlywed Shelby. It's a pivotal role, and she nails it.
Steel Magnolia's
story line is well-known to many. But not to the point where we're going to ruin it for those without a clue. Then as now, a good deal of the dialogue and character interaction takes place in Truvy's Beauty Salon, with Jill Scott succeeding Parton as its proprietor.
Shelby, a diabetic with a chronic kidney condition, is the only daughter of M'Lynn (Queen Latifah/Field).
Magnolias
begins on the eve of her marriage to Jackson (Tory Kittles/McDermott), a sensitive lawyer who remains steadfastly in love with headstrong Shelby after learning that having any children might well be dangerous to her well-being.
M'Lynn spends a good deal of time getting dolled up at Truvy's, where their other two close friends, cranky "Ouiser" (Woodard/MacLaine) and the recently widowed Clairee (Phylicia Rashad), likewise are very regular customers. Young Annelle (Adepero Oduye/Hannah), newly hired by Truvy, also becomes part of their mix.
Woodard's Ouiser -- "I'm not crazy. I've been in a bad mood for 40 years" -- is serviceable in the role but no match for MacLaine's oft-hysterical grousing. But Queen Latifah, Scott and particularly Condola Rashad are more than equal to the roles they've inherited from Field, Parton and Roberts.
Kenny Leon, director of ABC's terrific 2008 remake of
Raisin in the Sun
, is back in that capacity for
Magnolias
. And executive producers Craig Zadan and Neil Meron have a long list of worthy feature films and made-for-TV movies on their resumes, including
Hairspray, Chicago, Raisin in the Sun
and
Gypsy
.
Lifetime still targets women viewers, but males won't be immune to handkerchiefs as this remake hits its stride. Not many tearjerkers can hold a candle to
Magnolias
, which also has an abundance of feel-good moments. References to Beyonce and Michelle Obama are worked in without reaching too hard. And the "black experience," although hardly monolithic, resonates in ways that make this version quite special and different.
Some of the supporting characters aren't fleshed out as well as they might be. The original
Magnolias
had a running time of almost two hours while Lifetime's version is just 90 minutes interrupted by a half-hour of commercial breaks.
Queen Latifah carries much of the load down the homestretch -- and she likely has never been better. It all makes for a Lifetime movie of distinction in times when ABC, CBS and NBC have all but abandoned this once thriving genre.
Not that long ago, this would have been a heavily promoted ratings sweeps attraction on "free" TV. Viewers now have to pay for such fare via monthly cable or satellite bills. And in this case, your money is well-spent.
GRADE:
A-minus
unclebarky@verizon.net