CBS' Harper's Island may just be a killer ap
04/09/09 11:04 AM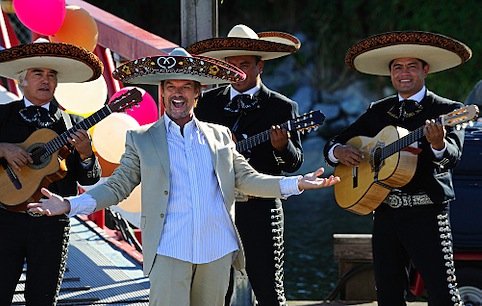 Have fun while you can: Harry Hamlin as good time Uncle Marty.
Premiering:
Thursday, April 9th at 9 p.m. (central) on CBS
Starring:
Elaine Cassidy, Christopher Gorham, Katie Cassidy, Richard Burgi, Harry Hamlin, Cassandra Sawtell, Cameron Richardson and a host of other potential corpses
Produced by:
Jon Turteltaub, Ari Schlossberg
By ED BARK
Settle back, park your brain in neutral and watch a bunch of human playthings die week-by-week in gruesome ways.
There are worse things. CBS' heavily promoted
Harper's Island
, getting a cushy, post-
CSI: Crime Scene Investigation
slot all the way through July 2nd, has a way of gripping you with its basic idiocy and unanswerable overriding question. Namely, why would anyone continue with a week-long wedding bash when the guests start dropping like flies on an island with a history of mass murder?
It's best not to think too hard about that basic impossibility.
Harper's Island
isn't overly concerned with making any sense or adding up to much more than a ghoulish guessing game. It's basically a reality series without any grand prize but with a script. Elimination rounds abound, though, with at least one character getting knocked off each week until the climactic Episode 13 purportedly answers all questions, reveals the killer and leaves just a handful of characters still standing.
Clue
comes quickly to mind.
Thursday's premiere begins with a big gang of celebrants gathered on a yacht headed 27 miles off the coast of Seattle to the posh Candlewick Inn on Harper's Island. Principal among them are groom Henry Dunn (Christopher Gorham) and bride Trish Wellington (Katie Cassidy), whose rich, imperious daddy (Richard Burgi) is financing this big splurge.
The first corpse turns up in tandem with the yacht's launch. An unaccountably tardy guest who shall not be named is tied to the vessel's underside, strategically positioned to lose his head when the propellers fire up.
Harper's Island
otherwise is sauteed with little mini-scares until another character is subtracted near episode's end. A siren goes off, making some of the women eek. A seagull lands in the midst of revelers, triggering a few more squeals. A dockworker slices fish heads; the boyfriend of a nubile semi-skinny dipper gets a big chill.
The cast is affordable as well as disposable. The most recognizable faces are Burgi, who's logged ample time on
Desperate Housewives
, and Harry Hamlin as besotted, fun-loving "Uncle Marty."
Mysterious text messaging abounds, and there's ample skin, too. The groom's childhood best friend, Abby Mills (Elaine Cassidy), whose mother was murdered seven years ago on Harper's Island, is adept at deep-bending to showcase her ample wares. Oddly enough, the bride doesn't seem bothered in the least by all the time her husband-to-be spends with Abby. But as we said, a lot of this doesn't make sense.
What
Harper's Island
does do pretty well is whet whistles for mayhem in a picturesque setting populated by pretty people. It's got all the trappings, save for a butler. There's even a spooky kid named Madison (Cassandra Sawtell) who seems to be either possessed or related to
Lost
's diabolical Benjamin Linus. The groom's tattooed brother, J.D. (Dean Chekvala), is pretty creepy, too, although surely misunderstood.
None of this will tax anyone's intellect. But if enough viewers get sucked in, then CBS has a cost-efficient "franchise" that can travel just about anywhere in future TV seasons. Carnage Cove anyone? Just make it simple, and by all means keep the heads rolling.
GRADE:
B