Take the bait? Add Mistresses to complete ABC's "Man Candy Monday"
06/03/13 01:09 PM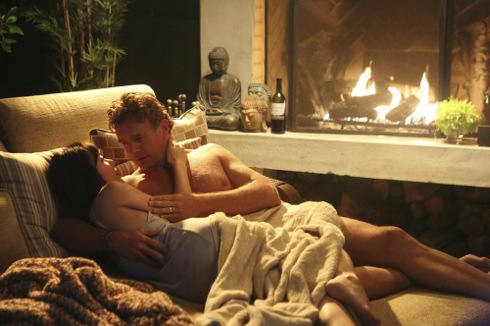 Yunjin Kim and guest star John Schneider get cuddly. ABC photo
Premiering:
Monday, June 3rd at 9 p.m. (central) on ABC
Starring:
Alyssa Milano, Yunjin Kim, Rochelle Aytes, Jess Macallan, Brett Tucker, Jason George, Erik Stocklin
Produced by:
Rina Mimoun, K.J. Steinberg, Robert Sertner, Douglas Rae
By ED BARK
@unclebarkycom
The imminent arrival of ABC's heavily teased "Man Candy Monday" dangles hopes for eventual Sonofabitch Sundays or Wanton Women Wednesdays.
For now, though, the Disney-owned network is teasing an adult-strength pairing of
The Bachelorette
and
Mistresses
, which joins the party on June 3rd. So lap it up, gents, even if both heavy-breathing attractions almost assuredly will be watched mostly by women.
Mistresses
, yet another adaptation of a U.K. series, begins with a bevy of sex scenes before calming down considerably and becoming the latest prime-time ABC serial drama in which women drive most of the action.
None of the four featured females are prostitutes. Or high-paid escorts. Or even present-tense mistresses for that matter. Most network series at least service their titles in the early going before in some cases becoming nothing of the sort. Two ongoing examples:
Cougar Town
and
48 Hours
. Not so with
Mistresses
, which flat-out misses the mark but could care less from a promotional standpoint.
Alyssa Milano (
Charmed
) heads the cast as married Savannah "Savi" Davis, who has ambitions of becoming a full partner at a big-time law firm. Her British hubby Harry (Brett Tucker) is a restaurateur who's likewise obsessed with his work. Further complications ensue when they learn that his sperm are not very good swimmers. This complicates plans to start a family.
Another familiar TV face, Yunjin Kim of
Lost
, plays psychiatrist Karen Kim, who in fact was a mistress for a while after succumbing to longtime patient Thomas Grey (John Schneider) during his dying days. She also agreed to help him expire -- via heavy-duty drugs -- when that "mass on my lung" became too painful. It didn't quite work out that way, even though Thomas did follow through by dying. Alas it was in the arms of his wife, Elizabeth (the recurring Penelope Ann Miller), prompting Dr. Kim to feel a little used. The Greys also had a 20-year-old son, Sam (Erik Stocklin), who figures prominently in the three episodes made available for review.
Mistresses
also houses Savi's freewheeling, sleep-around realtor sister Joss (Jes Macallan), whose constant changing of partners doesn't afford her time to be a mistress. Meanwhile, interior decorator April Malloy (Rochelle Aytes) is still mourning the death of her husband -- and hasn't dated since.
A variety of complications quickly kick in. A frustrated Savi succumbs to a one-night workplace stand with colleague Dominic Taylor (Jason George) before getting some bad cases of the weeps. Karen finds it harder to hide her secrets, which include medical malpractice. April learns some startling apparent truths about her deceased husband while trying to date a sports writer named Richard (the recurring Cameron Bender). And Joss seems to be moving ever closer to a little fling-a-ding with one of her lesbian clients.
Some of the storylines solidify rather than congeal, making
Mistresses
at least a bit better by the hour. The series also scores points by making race irrelevant in matters of love and lust. April is a black woman newly interested in a white man. Savi's impulsive dalliance is with a black man. Karen and Thomas respectively are Asian and Caucasian.
The scripts are serviceable, although some lines land with a Richter Scale thud. As when Richard tells April, "I've made a career out of getting sucked into the vortex of pretty women. I just can't right now."
This one is largely offset by an exchange between Savi's husband and Joss, who showcases an eclectic, so far unsellable property by throwing a big party in hopes of hooking a buyer.
"The night's still young. Buck up," he tells her.
Oh buck off," she retorts.
April also gets in the game with a howler tied to a night-long crying jag. "I'm puffy and my husband was a lying sack of s!", she tells her gal pals.
Mistresses
is a fair bit better than a sack of s. Sometimes it even gives off a pleasant
Desperate Housewives
fragrance (before that series went bad in later seasons). So thanks for small favors and never mind the title or ABC's even dopier "Man Candy Monday" gambit. If either gets you in the tent, you might find yourself wanting to camp out a while.
GRADE:
C+
Email comments or questions to:
unclebarky@verizon.net