ABC's big batch of midseason changes includes Texas Rangers drama Killer Women
11/19/13 05:23 PM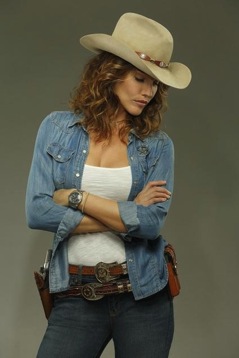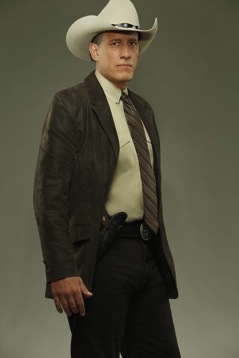 Tricia Helfer and Alex Fernandez are Texas Rangers in Killer Women.
ABC photo
By ED BARK
@unclebarkycom on Twitter
ABC's midseason schedule will have sweeping changes, including a new cowboy-hatted drama series about modern-day Texas Rangers.
Not that you'd know from the title.
Killer Women
, premiering Tuesday, Jan. 7th in place of the long-canceled
Lucky 7
, stars Tricia Helfer as "ballsy and badass" Molly Parker. As one of the first women to join the Rangers, she's also of a mind to fire up an affair with a "sexy, dangerously handsome DEA agent" while her divorce from a "narcissistic" husband is still pending but supposedly imminent. Sofia Vergara of
Modern Family
is a co-executive producer.
Four other new series and a trio of returnees also are coming before spring. Here are the freshmen:
The Assets
-- Set in 1985 and drawn from real-life events, it's an eight episode limited-run series that will fill in for
Scandal
on Thursday nights. Jodie Whitaker and Harriet Walter play CIA agents in search of "the mole who would turn out to be the most notorious traitor in U.S. history."
Mixology
-- Ten singles mingle at Mix, a "high-end bar in Manhattan's trendy meat-picking district." Hearts flutter and get crushed in a comedy co-produced by Ryan Seacrest. It'll replace
Super Fun Night
on Wednesdays following
Modern Family
.
Resurrection
-- Decease loved ones begin reappearing in dinky Arcadia, Missouri. Omar Epps, formerly of Fox's
House
, heads the cast. It'll be swapping time slots with
Revenge
on Sunday nights, which means the end of the line for
Betrayal
.
Mind Games
-- Two brothers played by Christian Slater and Steve Zahn make their clients' dreams come true via a "little bit of science, a dash of con artistry, plus a smattering of Jedi mind tricks." Yeah, right. It's scheduled to get
Killer Women
's Tuesdays slot on March 11th.
ABC also will be returning
The Taste
in a two-hour version that supplants
Once Upon a Time in Wonderland
and
Grey's Anatomy
on Thursday nights.
Grey's
will come back but
Wonderland
probably won't.
The Bachelor
begins anew on Monday, January 6th in place of
Dancing with the Stars
, which is getting just one cycle this season. Juan Pablo Galavis of Miami is the new resident rose dispenser.
Finally,
Suburgatory
will be back on Wednesday, Jan. 15th, punching out
Back In the Game
. Which is a shame.
Here's the complete replacement schedule announced Tuesday by ABC, with all times central.
Thursday, Jan. 2nd
The Taste
(7 to 9 p.m.)
The Assets
(9 to 10 p.m.)
Monday, Jan. 6th
The Bachelor
(7 to 9 p.m.)
Tuesday, Jan. 7th
Killer Women
(9 to 10 p.m.)
Wednesday, Jan. 15th
Suburgatory
(7:30 to 8 p.m.)
Wednesday, Feb. 26th
Mixology
(8:30 to 9 p.m.)
Sunday, March 9th
Resurrection
(8 to 9 p.m.)
Revenge
(9 to 10 p.m.)
Tuesday, March 11th
Mind Games
(9 to 10 p.m.)
Email comments or questions to:
unclebarky@verizon.net