Forgive me for I have sinned by saying, "Bring back Paula"
08/05/09 04:09 PM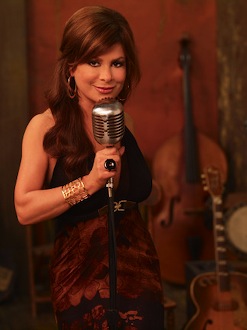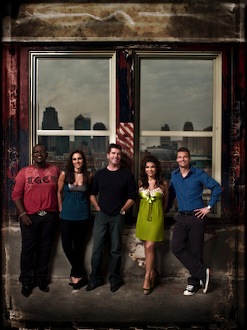 Paula Abdul and that old gang of hers. Fox photos
By ED BARK
Paula Abdul's alleged
American Idol
swan song, announced by her in a tweet not a huff, threatens to leave the Fox mega-hit with a decided dearth of ditz.
But is that a problem? Yeah, it is.
Abdul, angling for more money and not feeling the love, had the TV world all atwitter after she
announced Tuesday night
, "With sadness in my heart, I've decided not to return to
Idol
. I'll miss nurturing all the new talent, but most of all being a part of a show that I helped from day 1 become an international phenomenon."
She tweeted this on the day after Fox issued a conventional publicity release announcing the return of judge Kara DioGuardi for a second season. Mike Darnell, the network's president of alternative entertainment, said that her "spitfire personality and sharp musical sensibility infused
American Idol
with a new energy last year."
No, it didn't. Four judges clearly were one too many. And as the season wore on, it was Abdul who actually seemed to grow more lucid. Meanwhile, DioGuardi became less interesting, gratingly predictable and no match for the charter judge that Simon Cowell initially loved to hate but lately seemed to enjoy. On the other hand, DioGuardi clearly bored him. Eight seasons with Abdul can do that to a man.
Idol
remained the most popular show in prime-time last season, but its ratings have gradually descended from Mount Olympus to Pike's Peak. Unlike CBS' incredibly resilient
NCIS
, it's growing demonstrably weaker with age. And letting Abdul go, which Fox seems very prepared to do, will only hasten the decline at this point.
The network's official statement, released after Abdul's tweet, judged her "an important part of the
American Idol
family over the last eight seasons, and we are saddened that she has decided not to return to the show. While Paula will not be continuing with us, she's a tremendous talent and we wish her the best."
The other principals are still locked in. Host Ryan Seacrest recently signed a new three-year contract, and judges Cowell and Randy Jackson each have a year to go on theirs. Cowell in particular expects to cash in hugely, as he should. Abdul in the end apparently wanted bigger money than Fox wanted to give her.
For several years running, I've lobbied for Cher as a replacement for Abdul. High-definition wouldn't do her any particular favors. But she obviously knows the business and would have been a prickly porcupine if Cowell dared to get in her grill.
Not gonna happen, though. We're getting the comparatively bland DioGuardi instead, unless Fox and Abdul somehow reconvene.
Never thought I'd lament Paula's passing, but Fox and
Idol
are making a big mistake by jettisoning her instead of DioGuardi. The so-called "spitfire" will be hard-pressed to be more than a marshmallow roast in the coming Season 9 of
Idol
. Better to savor the prospect of another Abdul meltdown, even if she showed flashes of actually making sense last season.