TBS' Are We There Yet? has a not surprising destination
06/01/10 03:04 PM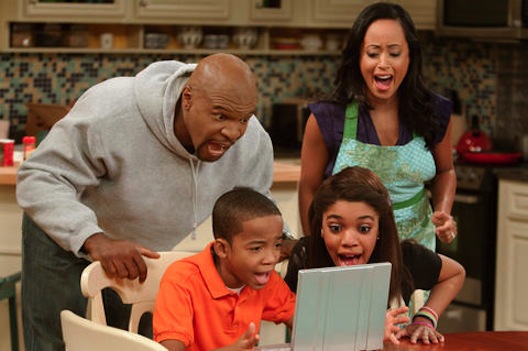 Terry Crews, Essence Atkins star in TBS' Are We There Yet? TBS photo
Premiering:
Wednesday, March 2nd with back-to-back episodes at 8 p.m. (central) on TBS
Starring:
Terry Crews, Essence Atkins, Teala Dunn, Coy Stewart, Telma Hopkins, Keesha Sharp, Christian Finnegan
Produced by:
Ice Cube, Joe Roth, Vince Totino, Matt Alvarez, Ali LeRoi
By ED BARK
The two principal stars of TBS'
Are We There Yet?
first came to prime-time prominence -- or a facsimile thereof -- in two sitcoms originally telecast on a now defunct network.
UPN, which merged with The WB to become The CW in 2006, birthed both
Everybody Hates Chris
(with Terry Crews) and
Half and Half
(with Essence Atkins).
Crews and Atkins now are paired as oft-combative newlyweds in times when the interest in so-called "urban," predominantly black comedies is dormant if not yet defunct on rival broadcast and cable networks.
TBS, also home to Tyler Perry's
House of Payne
and
Meet the Browns
, makes it a threesome Wednesday night with the first two episodes of
Are We There Yet?
. No other network can say as much. In fact, no other network can boast of even one such first-run comedy series, unless one counts Fox's animated
The Cleveland Show
. But its principal black characters are voiced by whites.
UPN, The WB and Fox all had an ample supply of urban comedies in their formative years. But they almost inevitably cut most of them loose as time wore on. The CW had no comedies of color -- or any comedies at all -- this past season. And next fall's lineup will continue that strategy.
TBS is hardly a startup network. But it's drawn ample and mostly younger audiences for its two Tyler Perry-produced comedies, both of which also are shot on old-school videotape and affixed with a laugh track. So here comes
Are We There Yet?
, a continuation of the 2005 feature film (and its sequel,
Are We Done Yet ?
) that starred Ice Cube and Nia Long as eventual newlyweds Nick Persons and Suzanne Kingston.
Ice Cube remains involved as co-executive producer and an occasional on-camera drop-in as Suzanne's gruff SWAT officer brother, Terrence. Unfortunately one of his appearances afflicts Wednesday's premiere episode (
8 p.m. central
), to be followed by a second half-hour that wasn't sent for review. Simply put, as an actor Ice Cube should stay completely out of the picture. His new character on
Are We There Yet?
makes no sense anyway.
The series itself is passable and not nearly as loud or bawdy as the two Perry efforts. That's in part due to a muted laugh track and Crews' restrained portrayal of the nevertheless chauvinistic Nick. In the opener, he's insistent that Suzanne change her last name to his. In one of next week's episodes, he's upset with 10-year-old stepson Kevin's (Coy Stewart) fondness for soccer (Nick calls it "fruitball") instead of football. There's also a 14-year-old stepdaughter named Lindsey (Teala Dunn).
Atkins is only three years younger than Crews, but at times almost looks like his daughter. That can be a little disconcerting, particularly when Nick wonders why she comes to bed in cover-ups instead of revealing negligees.
"During the day you look like Halle Berry," he laments. "But at bedtime you turn into Tyler Perry."
This is not the case with either Telma Hopkins or Keesha Sharp, respectively cast as Nick's mother and Suzanne's best friend. During her brief scene in the premiere episode, Hopkins spills out of a low-cut top while telling her son to never mind the particulars of her week in New York with a new boyfriend. Sharp is similarly free-spirited -- and cleavage-flaunting -- during her restaurant scene with Suzanne.
References to other TBS/TNT properties are fairly abundant. We've already noted the Tyler Perry name drop. Kevin also has a bobblehead of TNT commentator Charles Barkley in his garage/rec room. In an upcoming episode he talks to it. And the kids want money to see a big new, unnamed movie starring Will Smith, who is a co-executive producer of TNT's
HawthoRNe
hospital series, starring his wife, Jada Pinkett Smith.
Nick and Suzanne spend a good part of the first episode sniping at one another, prompting the question of why they got married in the first place. But things calm down next week. And it's fairly funny to see the soccer-hating Nick get his comeuppance from stepson Kevin, who predictably scores at will when put to the test.
Are We There Yet?
has the potential to be a watchable although certainly not exceptional mom, dad and the kids comedy. As with the two Perry sitcoms, TBS has ordered an initial 10 episodes with an option to pick up 90 more.
Those are done deals with both
House of Payne
and
Meet the Browns
. This looks like another one in the making on the only network where predominantly black comedies are still an ongoing proposition.
GRADE:
C