Acorn TV's Loch Ness trades in above-ground monstrosities
06/15/17 01:26 PM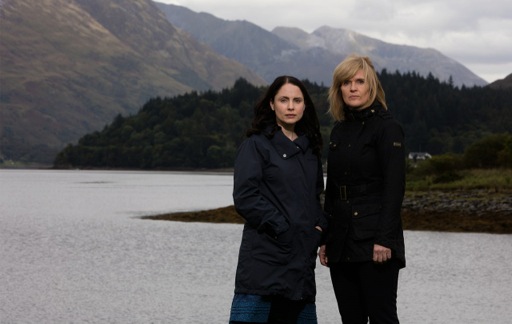 Laura Fraser and Siobhan Finneran are puzzler solvers in Loch Ness.
Acorn TV photo
Premiering:
Begins streaming weekly Monday, June 19th on Acorn TV
Starring:
Laura Fraser, Siobhan Finneran Alastair Mackenzie, Shona McHugh, Jack Bannon, John Sessions, John Heffernan, Don Gilet, Gray O'Brien
Produced by:
Ross McKenzie, Tim Haines, Natalie Usher
By ED BARK
@unclebarkycom on Twitter
It launched earlier this month as
The Loch
on the United Kingdom's ITV network.
Oh, but that's just too drab for American audiences. So how about a little extra marketing punch?
Acorn TV
, steadily gaining momentum as a streamer of all things British, gives it the old monster mesh with
Loch Ness
. And the serial murder mystery indeed is serpentine, even without any extra added sightings of Scotland's fabled "Nessie."
The six-episode entanglement begins unwinding weekly on Monday, June 19th, with the entire miniseries made available to TV critics for review. Some giant leaps are taken en route to the climactic unveiling of the killer. But you're unlikely to say, "Aha, I knew it!" Because
Loch Ness
is anything but a telegraphed punch after the hook is set in Episode 1's opening credits. Hmm, who is that dead man anchored in the same down-below where a tourist-enticing monster supposedly also lurks? You'll know in due time, but first there are other corpses to dissect.
"You have a cold-blooded predator in your town," deduces DCI Lauren Quigley (Siobhan Finneran), who's all business after blowing in from Glasgow to take command from Lochnafoy's finest. Her principal assistant is local detective Annie Redford (Laura Fraser), whose husband, Alan (Gray O'Brien), makes his living as a Nessie-spouting tour boat owner. Their 18-year-old daughter, Evie (Shona McHugh), constantly grates on her mom -- and vice-versa. But might this rebellious teen know more than she lets on? Well, of course she does.
Loch Ness
sorts through this chamber of horrors (and chamber of commerce nightmare) in ways that can be both gripping and more than a little far-fetched at times. Suspects abound and confound. The overall detective work remains competent enough, although in one case the companion editing is rather amazingly sloppy. It'll be hard to miss in Episode 3, when Annie brings in the suspicious Dr. Simon Marr (John Heffernan) for questioning.
He ends up stalking out of the cop shop after telling her, "Your manner is really hostile and aggressive."
Within just a few seconds, Annie and Lauren are shown reviewing the videotape. Marr's retort is magically edited to, "Your manner is hostile and aggressive." A small point, perhaps, but still attention-getting because the two scenes are played so very closely together.
Also in the law enforcement mix is visiting forensic psychologist Blake Albrighton (Don Gilet), a headstrong naysayer who apparently once had a thing with Lauren, even though it's not really fleshed out. The prototypically gruff, elderly chief inspector is Frank Smilie (John Sessions), who wants Blake off the case after a clash over proper procedure.
There are elements of ITV's acclaimed
Broadchurch
, which is returning for a final go-around later this month (June 28th) on BBC America. But that series' ad hoc detective duo of haunted Alec Hardy (David Tennant) and plucky Ellie Miller (Olivia Colman) far surpasses the crime teams of
Loch Ness
. The strongest performance is by Finneran, whose terse jabs and counter-punches are well-delivered throughout.
Be assured that answers will be forthcoming before
Loch Ness
comes to a halt. Still, there are several too many side trips and attendant altercations before the big reveals. I did watch it all, though, eyes rolling at times. And the vistas remain distinctive and eye-catching even when the story loses focus.
GRADE:
B-minus
Email comments or questions to:
unclebarky@verizon.net