Leno re-takes Tonight, knowing that this time NBC will keep its hands off
03/02/10 10:50 AM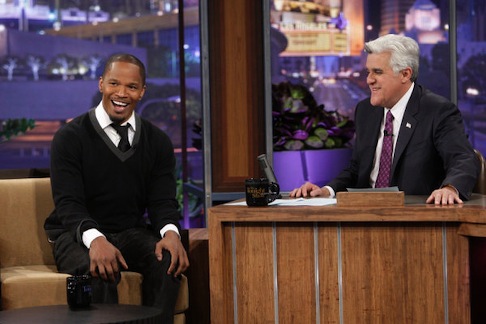 Sporting a new desk but sticking to the same format, Jay Leno welcomed Jamie Foxx on his first Tonight do-over Monday. NBC photo
By ED BARK
Like it or not, he's back. And judging from
Monday's D-FW Nielsen ratings
, Jay Leno at least initially hasn't missed a beat in thumping David Letterman's CBS
Late Show
.
Leno alluded to his prime-time nightmare during an opening sepia-toned bit in which he awoke in a daze to repeat, "There's no place like home." Ross the Intern, announcer John Melendez and bandleader Kevin Eubanks (who reportedly plans to
leave the show soon
) gathered around his bed before Betty White popped in to say, "Look at this ratty ass barn. I can't believe you're doing your show from here."
NBC's lantern-jawed, nose-to-the-grindstone everyman then quickly emerged on a remodeled
Tonight
set that still made room for the same old mosh pit of delirious, high-fiving fans.
"It's good to be home. I'm Jay Leno, your host -- for at least a while," he said.
The prime-time
Jay Leno Show
seemed to stretch for an eternity but in fact only ran from Sept. 14th until shortly before the start of NBC's Olympics telecasts. Conan O'Brien, who went unmentioned Monday, helmed
Tonight
from June 1st until all hell broke loose in early January. I think you know the story by now.
Leno worked in one dig at his home network after noting that Olympic skier Lindsey Vonn would be one of his guests. "When it comes to going downhill, nobody's faster -- except NBC," he said to general amusement.
The show then came up with a genuinely inspired taped comedy bit tied to Leno's search for a new desk. (He awkwardly sat in a stuffed chair for his prime-time show's interviews.) The host popped in on nearby Burbank residents, asked them if they had a desk he could try out, and then proceeded to do so. Adam Carolla and Randy Jackson dropped in as guests, with their impromptu audiences looking realistically blown away by the
Tonight
visitations. Funny stuff.
Leno's featured guest, Jamie Foxx, proved to be hyper-caffeinated from start to stop, leading the audience in Jay Leno chants, popping open a champagne bottle and eventually knocking the host's liquid-filled cup from his desk.
"Why don't you take an Ambien? We'll be right back," Leno finally ad libbed.
Leno's often not terrific with his facts, and he laid down another obvious misstatement Monday.
"Tomorrow night Sarah Palin will be here," he crowed. "She's never been on a late night show."
Yeah, except for her impromptu December appearance on O'Brien's
Tonight
, during which she mockingly read excerpts from one of William Shatner's books after he mockingly read excerpts from her
Going Rogue
.
Palin also appeared on NBC's
Saturday Night Live
during the height of Tina Fey's impressions of her. Guess that didn't count either.
Leno no doubt will score big with Palin anyway, while one of her principal antagonists, David Letterman, weakly counters with Mitt Romney Tuesday night. But will Jay bring up Dave with her? Or are they really pals again after
Leno's surprise appearance
with Letterman and Oprah Winfrey on Super Bowl XLIV's most memorable commercial?
Whatever happens, Leno is comfortably "home" again while O'Brien is left to plot his revenge via an eventual offer from a rival network. On Monday night, he effortlessly got back on his
Tonight
bike and resumed riding it. Critics can shoot all the arrows they want into his tires. Leno will roll on.