Tom Clancy's Jack Ryan gives Amazon a money-on-the-screen gripper
08/29/18 12:34 PM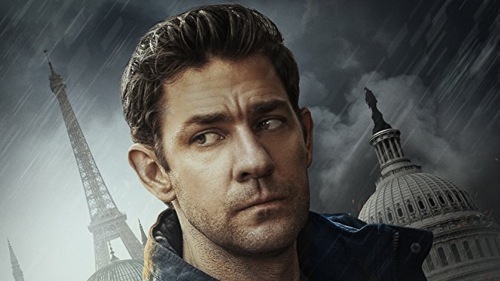 Serious business for John Krasinski as latest Jack Ryan. Amazon photo
Premiering:
All 8 Season One episodes begin streaming Friday, Aug. 31st on Amazon
Starring:
John Krasinski, Wendell Pierce, Abbie Cornish, Ali Suliman, Dina Shibabi, Timothy Hutton, John Magaro, John Hoogenakker, Peter Fonda
Produced by:
Carlton Cuse, Graham Roland, John Krasinski, Michael Bay, Mace Neufeld, Brad Fuller, Andrew Form, David Ellison, Dana Goldberg, Marcy Rose, Lindsey Springer
By ED BARK
@unclebarkycom on Twitter
The money quote for
Tom Clancy's Jack Ryan
comes at the pivotal midpoint of an eventually high voltage Episode 1.
It's a variation on the original
Star Trek
's "Dammit, Jim, I'm a doctor" (which he actually never said in so many words). "I'm an analyst. I don't interrogate people. I write reports," Ryan protests to his no-nonsense CIA superior.
"Get on the (f***in') plane," he's told in turn. We've achieved liftoff.
Judging from its big-screen look and feel, Amazon has spent freely on
Jack Ryan
while also already renewing it for a Season Two (both will run for eight episodes). The streaming service also feels it has its man in John Krasinski, best known for his comic turn as Jim Halpert in NBC's version of
The Office
.
Krasinki likewise is initially behind a desk as Ryan, who toils in the CIA's Terror Finance and Arms Division after being battle-scarred as a U.S. Marine. It's the fifth film incarnation of the late Clancy's most famous character, with Alec Baldwin, Harrison Ford, Ben Affleck and Chris Pine preceding in that order.
While Showtime's
Homeland
winds down with an eighth and final season scheduled for next summer,
Jack Ryan
winds up with a powerful opening tale of the CIA versus an Islamic terrorist whose wounds run deep. Ryan has been tracking some suspicious financial transactions before sounding an alarm to his unit's new group chief, taciturn James Greer (Wendell Pierce). In the words of an office mate, Greer "went all Colonel Kurtz in the desert" before being given a last chance in a "backwater post" by deputy chief of ops Nate Singer (the recurring Timothy Hutton).
Not surprisingly, Pierce (
The Wire, Treme
) is instantly terrific in this role while Krasinski gradually comes into his own as Greer's initially reluctant partner in arms. Their mutual adversary is Mousa Bin Suleiman (Ali Suliman), who has both a beauteous wife named Hanin (Dina Shihabi) and three children by her. "My precious diamond," he calls Hanin until a breech between them turns all of that to dust.
Amazon made six of Season One's eight episodes available for review. The opener climaxes with a prolonged and riveting action sequence that of course finds Ryan in the thick of things. Wherever he goes, carnage ensues. But
Jack Ryan
likewise has some intensely human stories to tell. They include flashbacks to Suleiman's traumatic, life-shaping experiences and an up-close look at a guilt-ridden, Nevada-based drone bomber named Victor Polizzi (John Magaro).
There also are two women in Ryan's life. Dr. Cathy Muller (Abbie Cornish) is renowned for her knowledge of infectious diseases. They meet at a party where her power-broking father, Joe (Peter Fonda in a recurring role), wants intel that Ryan refuses to provide. She goes out with him anyway, and things begin clicking during those increasingly rare periods when he's not abroad and in danger.
In Episode 4, Ryan also encounters a hardbitten French police woman who chain-smokes and has been married four times. Their repartee is very nicely played, and perhaps might have led to more than that if certain events hadn't conspired against them. The end of this hour and the start of Episode 5 depict an unspeakable mass crime whose origins can be traced back to Episode 2.
Jack Ryan
does a very deft job of stitching these threads together.
One of the principal executive producers of
Jack Ryan
is Carlton Cuse, who previously teamed with Damon Lindelof on ABC's twisting, turning
Lost
. Lindelof continued on his what-the-hell-is-going-on-here bent with HBO's
The Leftovers
while Cuse seems to be turning to a more straight ahead brand of storytelling.
This doesn't mean that
Jack Ryan
is a simplistic vehicle for blowing things up. It does mean, however, that viewers are likely to get a more easily deciphered, close-ended story before this series moves on to an entirely new action-adventure in Season Two.
Krasinski is good enough in the title role to establish both a presence and some empathy for his character. Pierce's gruff Greer is a force from the start, even when stuck with the occasional boilerplate line such as, "Sometimes you have to break a few rules just to get the job done."
Jack Ryan
goes above and beyond the pro forma basics of getting the job done. This is a thrilling and energetic enterprise replete with well-drawn characters and propulsive action. Binge-watchers, start your engines.
GRADE:
B+
Email comments or questions to:
unclebarky@verizon.net