HBO's The Pacific joins its already vast collection of finest hours
03/12/10 10:58 AM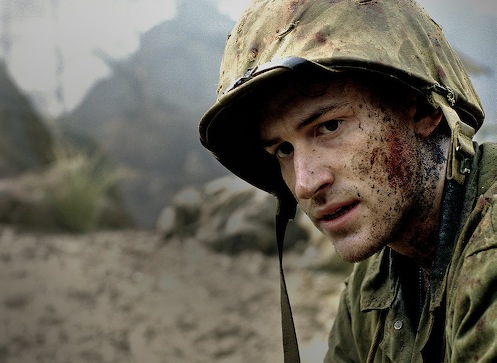 Face of war: Joe Mazello as Marine Eugene Sledge. HBO photos
Premiering:
Sunday, March 14th at 8 p.m. (central) and continuing for 10 consecutive Sundays through May 16th on HBO
Starring:
Joe Mazzello, James Badge Dale, Jon Seda, Ashton Holmes, Rami Malek, Scott Gibson, Annie Parisse, William Sadler, Claire Van Der Boom and many more
Produced by:
Steven Spielberg, Tom Hanks, Gary Goetzman
By ED BARK
The fighting is fierce, the terrain sub-desolate and the cause never in question.
Body counts take a numbing toll while the elements conspire to make some Marines cry out for their own merciful deaths.
Whatever the technology or the battlefield, all war is hell. But never more so than on the killing fields of Guadalcanal, Peleliu, Iwo Jima and Okinawa.
HBO's 10-hour, 10-part
The Pacific
, sequel to its 2001
Band of Brothers
, is almost a make-good commemoration of the mostly U.S. Marines who fought the entrenched Japanese in the unrelenting antonym of comparatively picturesque Europe.
There have been many more depictions,
Band of Brothers
included, of the war to defeat Hitler's Nazi Germany. That campaign had scenic beauty and a series of rousing welcomes for the liberating Allied forces. Little of that is included in the war to stop the Japanese from "taking the world," as legendary Marine Col. Lewis "Chesty" Puller (William Sadler) puts it early in Sunday's opening hour.
Puller is only sporadically seen in
The Pacific
, which telescopes its tale through the real-life travails of three young combatants.
Joe Mazzello is Eugene Sledge, the kid-faced Southerner whose prosperous family employs black servants and whose doctor father diagnoses him with a heart murmur that initially keeps him from enlisting.
James Badge Dale is Robert Leckie, an Easterner who leaves his post as a newspaper sports reporter to ship out to points unknown.
Jon Seda is John Basilone, whose almost deranged demolition of the Japanese both saves his Marine company and wins him a trip back home to sell war bonds as a Congressional Medal of Honor winner.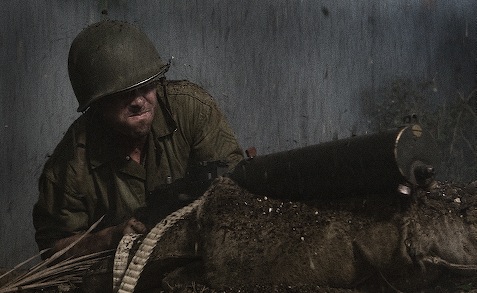 John Basilone (Jon Seda) in the fever-heat of battle on Guadalcanal.
The scene-setting opening chapter offers only a relatively small taste of the carnage to come.
Episode 9 -- and I've seen all 10 -- is the one single hour that nightmarishly encapsulates the horrors of what these men experienced before many returned home dazed and mute. It's one of the most powerful viewing experiences in the history of the medium, including an indelibly noble act of mercy by one of the three featured Marines.
By this time, another real-life Marine -- Rami Malek as Merriell "Snafu" Shelton -- has come into full focus as a cynical, almost depraved combatant who in Episode 7 amuses himself by tossing pebbles into a dead Japanese soldier's partially remaining skull. Snafu is color-drained throughout, but much more than a black-and-white character. And Malek plays him brilliantly.
Also making his mark is Marine Capt. Andrew Haldane (Scott Gibson), a stalwart, moral leader who speaks irrefutably blunt truths.
"You can't dwell on it. You can't dwell on
any
of it," he tells an on-the-edge Sledge after another day and night of unimaginable horrors.
The Pacific
does offer some respites. Episodes 3, 8 and 10 are largely out of the war zone. The third hour, arguably the weakest, is mostly set in Melbourne, Australia, where the battle-scarred Marines of Guadalcanal get some very welcome R&R. It's here that Leckie meets Stella (Clair Van Der Boom), whose parents quickly embrace him as a surrogate son. It gets a little sappy down the stretch before Leckie experiences both heartbreak and a return to combat that pushes him to a precipice.
The Pacific
draws on memoirs by both Leckie (
Helmet for My Pillow
) and Sledge (
With the Old Breed
) to retell what they and their fellow Marines went through. Little is left to the imagination and nothing seems sugar-coated. Producers Steven Spielberg, Tom Hanks and Gary Goetzman, who also joined forces on
Band of Brothers
, know that any obvious air-brushing would be a disservice to their service. So we see the racism as well as the heroism, the battlefield breakdowns as well as the almost super-human perseverance in the face of debilitating heat, mud, disease, death and mutilation.
Mazzello's PFC Sledge eventually emerges as the face of
The Pacific
. It wouldn't hurt to cut down a bit on his closeups. But on a week-to-week basis, sorting out men in the same uniforms can be an ongoing challenge. And Sledge's eventual homecoming -- along with the problems it causes for him -- must be underscored by the terrible damage inflicted on his psyche.
The final chapter brings it all home by bringing the surviving Marines back to the places where they used to fit right in. Sledge and Leckie are the focuses, but the most moving moments come from another source that won't be revealed because it would ruin the impact. The climactic scene at first might seem a little abrupt. But upon further reflection, it's a symbolically perfect ending.
By all means remain tuned for the still-picture parade of the real-life Marines depicted in
The Pacific
. Finding out what became of them is the final cathartic payoff in a drama that might well keep its grip on you for hours and days thereafter.
HBO of course deserves another salute for having the will and the finances to make this followup to
Band of Brothers
a reality. It's an incredible investment in every respect. And it's hard to imagine anyone else doing it even remotely as well.
GRADE:
A