Fox's The Following returns -- for those still trying to follow (or fathom)
01/16/14 02:48 PM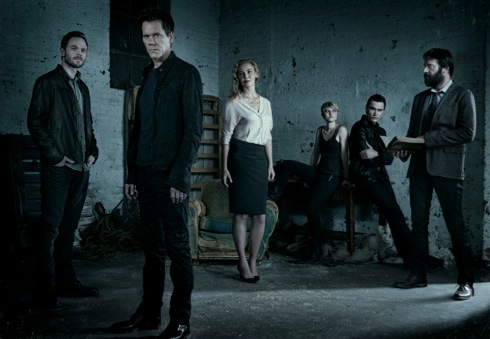 Still dark: The Following's back Sunday after NFC title game. Fox photo
By ED BARK
@unclebarkycom on Twitter
Fox's review DVD of
The Following
's Season 2 premiere includes the usual warnings about not revealing the "most surprising plot points" so as not to "diminish the viewing experience for the audience."
But since actor James Purefoy attended this week's official Fox interview session for
The Following
and since the actor also is shown in the above Fox photo, it's probably safe to say that this particular cat is fully out of the bag. Namely that killer cult leader Joe Carroll (played by Purefoy) did not die after all in the fiery explosion that ended Season 1.
Instead he's back to again bedevil Kevin Bacon's still haunted Ryan Hardy, beginning with a special re-launch on
Sunday, Jan. 19th immediately following the 5 p.m. (central)-starting NFC Championship Game between the Seattle Seahawks and San Francisco 49ers.
The Following
then moves to its regular Monday, 8 p.m. slot on Jan. 27th (following an "encore" of Sunday's preview).
The story resumes one year later after a brief sum-up of previous events and an official requiem for one of last season's main characters. Bacon, at age 55, retains the most ageless, vertical face in show biz. And he's certainly not retaining any water because there's nary an ounce of middle age bloat on him. His diet and workout regimen must be fanatical. Either that or Ryan Hardy is related to Joe Hardy, who famously made a pact with the devil in
Damn Yankees
.
Whatever the case, Ryan Hardy is now mended from last season's climactic stabbing. He's also off the bottle for now and teaching at New York City's New York College of Criminal Justice. Students are treated to grisly death scene photos as part of the course curriculum. And
The Following
makes the new season's first excursion into supremely bad taste by having a female student joke about a blood-soaked female victim having "lousy taste.What's with the leopard pattern" (of her panties)?"
Executive producer Kevin Williamson (
Dawson's Creek, The Vampire Diaries
) can be a sick puppy when he wants to be. Later in the hour, the corpse of a murdered, largely disrobed blonde is toyed with --
Weekend at Bernie's
style -- by one of Carroll's bare-chested, pretty boy male disciples. It's a loathsome, disgusting and prolonged sequence during which the killer says at one point, "Hey, Heather, I can make an egg white omelet with some spinach."
There's also a subway car murder spree, during which the killers wear Joe Carroll masks while chanting, "Ryan Hardy can't stop us. The resurrection is coming."
So will Hardy just sit idly by after supposedly starting a new life as a detached civilian? Hah!
Other than Hardy and Carroll, the principal returning character is Mike Weston (Shawn Ashmore), who remains with the FBI and implores his old partner to get back in the game. Additions this season include Lily Gray (Connie Nielsen) as a surviving subway car victim and Max Hardy (Jessica Stroup), who's Ryan's niece and also a New York cop.
The Following
impressed in the early going last season before unraveling in large part with too many preposterous plot twists. This season instantly ratchets up the sadism with the aforementioned treatment of a comely corpse as a living doll. Unlike the first time around, that's pretty much doused my interest in playing along any further.
GRADE:
C
Email comments or questions to:
unclebarky@verizon.net