FALL TV PREVIEW: New series -- Cavemen
10/08/07 02:24 PM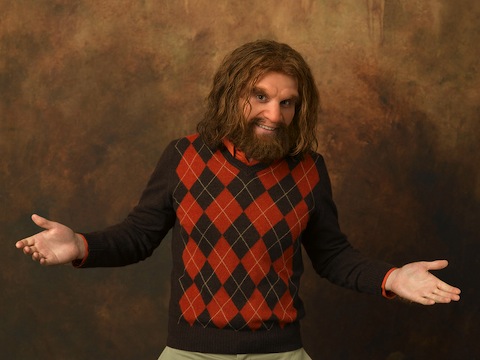 What, him worry? Joel's got the hot Homo Sapien on ABC's Cavemen.
Airing:
Tuesdays at 7 p.m. (central) on ABC
Starring:
Bill English, Sam Huntington, Nick Kroll, Kaitlin Doubleday
Produced by:
Josh Gordon, Will Speck, Daniel Rappaport, Guymon Casady
By ED BARK
All three of them walk upright and one's pretty uptight. So was ABC when it withheld its revamped
Cavemen
series from review last Tuesday.
Spun from Geico's car insurance commercials, the new comedy seemed like a sub-stupid idea on paper. In execution, though, it rises to the level of dumb fun. Or at least the first episode pretty much did. The opening night Nielsen ratings were decent enough, too.
One of
Cavemen
's central characters, sardonic Nick (Nick Kroll), may end up being among the new season's bigger breakout scene-stealers. His 'tude sparked the premiere episode, which mixed smidgens of social commentary with an overall Three Stooges ambience.
Nick's the one who still distrusts the majority-ruling Homo Sapiens of San Diego.
"Remember the rule," he reminded roommates Joel (Bill English) and Andy (Sam Huntington), who also are brothers. "Stick to your kind. Crave the cave."
Joel, the uptight one, works at an Ikea-like furniture and accessory store. He's also dating a knockout blonde HS named Kate (Kaitlin Doubleday) while younger bro Andy still pines for a woman of unknown species.
Nick, terminally working on his dissertation, finds putdowns easier to come by.
"It's so fun to play with you when you're impotent with rage," he told Joel during a squash match. He'd already scored points for his side by nearly persuading Joel that Kate was ashamed to be seen in public with him.
The Joel-Kate pairing will continue, though, since the actress playing her is listed as a series regular.
Cavemen
might hang in there a while, too. Paired with the not so bad
Carpoolers
as part of ABC's "Man Date" night, it's visually hairy without being demonstrably harebrained. So you might want to consider joining their club, which by the way none of them carries.
Grade:
C+