Struggling Fox hopes to regroup with five fall newcomers amid its season-long "Portfolio of Content"
05/12/14 10:00 AM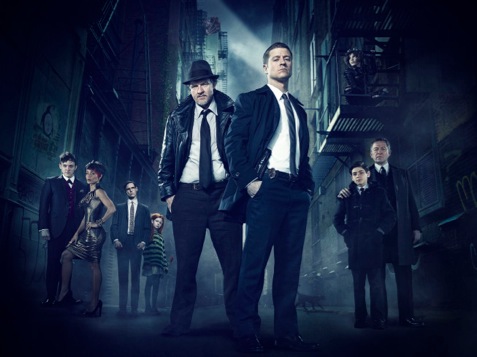 Presenting the pre-Batman top cops of Gotham. Fox photo
By ED BARK
@unclebarkycom on Twitter
Reeling from a sinking season that yielded the cancelation of
The X Factor
and the deepening dimunition of
American Idol
, Fox is adding five new series this fall as part of a "Portfolio of Content" aimed at pumping long-term new life into the ailing network.
One of the newcomers, the reality series
Utopia
, initially will do double duty on Tuesday and Friday nights.
Fox has had just one significant new ratings success this season, the otherworldly drama
Sleepy Hollow
.
Brooklyn Nine-Nine
also will be back, but now lumped within Sunday's "Animation Domination" lineup along with another non-cartoon entry, the new
Mulaney
.
Sleepy Hollow, Brooklyn Nine-Nine
and the latest Gordon Ramsay entree,
Masterchef Junior
, are the three freshman series getting sophomore years. Canceled after one season or less are
Dads, Almost Human, Rake, Enlisted
and
Surviving Jack
.
The X Factor
got three seasons before being dropped. Another casualty,
Raising Hope
, endured for four seasons before the ax swung.
American Dad
hasn't been invited back after 10 seasons on Fox, but will have new episodes on TBS, starting this July.
A previously announced midseason entry,
Gang Related
, now will premiere on Thursday, May 22nd. That's the day after the end of the "regular" season's closing act, the May sweeps ratings period. Two other alleged midseason series,
Murder Police
and
Us & Them
, never got on the air at all.
Wayward Pines
, billed by Fox in last May's midseason announcements as an "intense new mind-bending event thriller" from M. Night Shyamalan (
The Sixth Sense
), now supposedly will premiere sometime in 2015 instead. It's usually not a good sign when you're pushed back a full year.
American Idol, Glee
and
The Following
also are slated for midseason returns.
Idol
could be reduced to just one night a week after the city-by-city audition rounds are done.
Here are Fox's five new fall series:
Gotham
(drama) -- A Batman prequel charting the rise to power of crime-fighting Commissioner James Gordon (
Southland
's Benjamin McKenzie). The cast also includes Jada Pinkett Smith as gang boss Fish Mooney and Donal Logue as "police legend" Harvey Bullock. Alfred the Butler, a 12-year-old Bruce Wayne, The Penguin and Catwoman also will be characterized.
Red Band Society
(drama) -- A gaggle of teens meet as patients of Ocean Park Hospital's pediatric ward. They bond and create problems for head nurse Jackson (Octavia Spencer). Produced by Steven Spielberg, the series is adapted from the Spanish language series
Polseres Vermelles
.
Gracepoint
(drama) -- This is Fox's 10-episode version of the much-lauded British murder mystery
Broadchurch
, with David Tennant returning to head the cast as detective Emmett Carver. Anna Gunn from
Breaking Bad
co-stars, with Nick Nolte also included in the ensemble.
Mulaney
(comedy) -- Comedian John Mulaney plays himself in this tale of a blossoming standup comic looking for his first big break. Martin Short plays comedy legend/game show host Lou Cannon while Nasim Pedrad from
Saturday Night Live
is Mulaney's best friend and roommate, Jane. This is yet another TV entry from Lorne Michaels, who also controls NBC's entire late night block of programming.
Utopia
(reality) -- A hit Dutch series has spawned this Americanized "social experiment" in which 15 humanoids are left to fend for themselves for a year in an "isolated, undeveloped location." Among the questions asked in Fox publicity materials: "Will they choose fidelity or free love?" That's likely to be paramount as all-seeing cameras take the 24/7 approach used each summer on CBS'
Big Brother
.
Here is Fox's night-by-night new fall lineup:
Monday
Gotham
Sleepy Hollow
Tuesday
Utopia
New Girl
The Mindy Project
Wednesday
Hell's Kitchen
Red Band Society
Thursday
Bones
Gracepoint
Friday
Masterchef Junior
Utopia
Saturday
College football
Sunday
NFL on Fox
The OT/Bob's Burgers
The Simpsons
Brooklyn Nine-Nine
Family Guy
Mulaney
Here are Fox's scheduled new midseason series:
Backstrom
(drama) -- Irascible but brilliant detective Everett Backstrom (Rainn Wilson from
The Office
) is brought out of exile to run Portland's Special Crimes Unit. Dennis Haysbert (
The Unit
, All-State Insurance commercials) co-stars as a veteran cop who doesn't like Backstrom's methods.
Empire
(drama) -- Lee Daniels (
Lee Daniels' The Butler
) is the executive producer of this "sexy and powerful" look at the music industry. Terrence Howard heads the cast as Lucious Lyon, the "king of hip-hop."
Hieroglyph
(drama) -- Say hello to the world of ancient Egypt, billed as a "time of magic, Pharaohs, gods and thieves." One of the thieves is released from the "darkest of pits" after the treasured but dangerous Book of Thresholds is stolen. Max Brown (
MI-5
) stars as the man who learns that his prison cell "might be safer than the dangerous new world in which he finds himself."
Bordertown
(comedy) -- A new cartoon series spotlighting two families living in a desert town on the U.S.-Mexico border. Fox promises an exploration of "family, politics and everything in between with a cross-cultural wink." Alex Borstein heads the voice cast.
The Last Man on Earth
(comedy) -- It's 2022, and only Phil Miller (Will forte) is left standing. Which means he can do what he wants while also journeying the U.S. in his RV in hopes of finding other survivors. No one else is cast yet, so good luck with that.
Weird Loners
(comedy) -- Fox really seems to have a thing about isolation. This one's about a quartet of "relationship-phobic, quasi-underdog 30-somethings" who unexpectedly are thrust together in a Queens, NY townhouse. The cast includes Becki Newton from
Ugly Betty
.
Email comments or questions to:
unclebarky@verizon.net