Philip Roth's life is something of an open book in new American Masters film
03/26/13 03:12 PM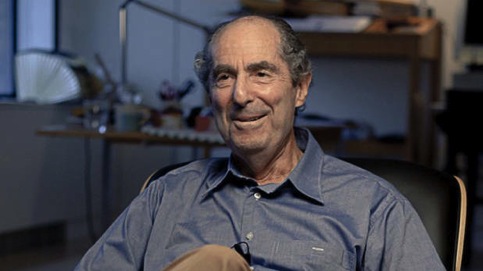 Author Philip Roth is an open book in new film bio. PBS photo
By ED BARK
@unclebarkycom
A literary giant sizes himself up -- and seemingly could go on and on -- in PBS'
Philip Roth: Unmasked
.
Generally perceived as a recluse with an aversion to being interviewed, the recently turned 80-year-old man of letters shows no signs of being reticent during this verbiage-heavy 90-minute film under the
American Masters
banner. It premieres on Friday, March 29th (
at 9 p.m. central on KERA13 in D-FW
).
Italian literary journalist Livia Manera and French filmmaker William Karel interviewed the famed and much-decorated author (
Goodbye, Columbus, Portnoy's Complaint, Sabbath's Theater, The Human Stain
among his 31 books) for 12 hours during a 10-day period, according to publicity materials.
"Mostly, we let him talk," says Manera.
There's a lot of that going around. Increasingly the reins of biographical films basically are being put in the subject's own hands. Earlier this month, Showtime's
The World According to Dick Cheney
failed to fill in many of the obvious blanks. In
Unmasked
, Roth does roughly 80 percent of the talking, with occasional praises sung by eight supporting and very supportive players.
They include actress and friend Mia Farrow and the almost worshipful Claudia Roth Pierpont, critic and staff writer for
The New Yorker
.
Still, having Roth on the record to this extent is the film's overall redeeming quality. He's very interesting on a number of topics, ranging from his formative years to how he crafts a novel to the inescapable indignities of getting old.
On the other hand, no mention at all is made of his four books turned into feature films -- and what that experience was like. Or what he thought of late peers such as Norman Mailer, John Updike and Gore Vidal. Or even how he comes up with the titles for his books -- and whether he particularly loves or loathes any of them. Also unmentioned is his brief marriage to actress Claire Bloom, who detailed Roth's alleged shortcomings as a husband in a 1996 memoir titled
Leaving a Doll's House
. (Roth's 1998 novel,
I Married a Communist
, is perceived by some as a rebuttal to Bloom's account.)
Perhaps those questions were asked, and the answers deemed unworthy of the final cut. Or maybe there were some ground rules? It's impossible to know when the only narrator is Roth himself while his interviewers are neither seen nor heard.
Roth notes at the outset that he has "two great calamities left to face" -- death and a biography. "Let's hope the first comes first," he says, before noting that he's never been fond of being termed an "American Jewish writer."
"I don't write in Jewish. I write in American," says Roth, who was born in Newark, NJ.
There's now an official bus tour of his old neighborhood, including stops at the home he grew up in and the schools he attended. Roth says he headed off to strict Bucknell University in Pennsylvania after "my father became a terrible pain in the ass . . . He feared my adult independence. He didn't know what to do about it."
He wrote
Goodbye, Columbus
in 1959. It won the National Book Award for fiction and a decade later became a film starring Richard Benjamin and Ali MacGraw. Roth says he then "wrote crap" between 1961 and '67 before turning out the book for which he's still best known,
Portnoy's Complaint
, in 1969.
"It was a sensation," Roth doesn't mind saying. And it was, with its starkly graphic sexual passages and hands-on narrator, Alexander Portnoy. He's never revisited the character, instead making Nathan Zuckerman his recurring alter ego, beginning with 1974's
My Life As A Man
.
As a No. 1 bestseller,
Portnoy's
made Roth a man of means for the first time in his life. He recalls being able to afford a nice New York apartment, a new car and a trip around the world with his girlfriend at the time. He's been churning out books ever since, many of them in solitude at his rural Connecticut home.
"I need lots of quiet. I need lots of hours. I needs lots of regularity," Roth says. And although he invents his characters "as I go along . . . I need some reality. I gotta rub two sticks of reality together to get a fire of reality."
His overall approach to a new book is the same as ever, Roth says. "Shame isn't for writers. You have to be shameless. You can't worry about being decorous."
He hastens to add that this doesn't mean one has to be "obscene" or "smear your pages with feces." But timidity or adherence to a tried-and-true formula have never been for him.
Roth also reads from a number of his books, including 2000's
The Human Stain
and its not so oblique references to the Bill Clinton-Monica Lewinsky scandal. He selects this passage: "It was the summer when a president's penis was on everyone's mind. And life in all its shameless impurity once again confounded America."
He's now trying to re-read books by his favorite authors before death departs him. Ernest Hemingway is still very much among them, as is James Joyce.
Unmasked
certainly appears to have the full cooperation of its esteemed subject, even if some topics beg to be addressed but aren't. But the overall talky nature of this 90-minute film makes it seem more than long enough. It's good that Philip Roth finally let others in during the waning years of an extraordinary writing life.
"The poor guy's gonna die. Let that be the end, OK?" he says with a laugh. From his lips directly to the closing credits.
GRADE:
B+
Email comments or questions to:
unclebarky@verizon.net