Primetime Emmys again will get tackled by Sunday Night Football, but here are my picks anyway
09/16/11 03:59 PM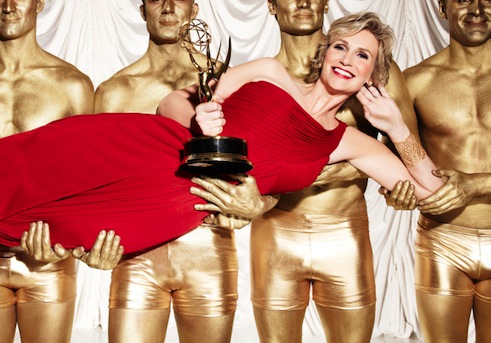 Jane Lynch of Glee is the latest Emmy host. Fox photo
By ED BARK
The 63rd annual Primetime Emmy Awards are coming, and it's a pretty safe bet that no one has an office pool going or a big dress-up party planned.
These aren't the Oscars, after all. They're just the Emmys, which will be soundly whipped opposite NBC's
Sunday Night Football
game in which Philadelphia Eagles QB Michael Vick returns to Atlanta to play his former team.
But for the record, Sunday's scheduled three-hour ceremony
(7 to 10 p.m. central on Fox)
will be hosted by
Glee
's Jane Lynch and produced by Mark (
Survivor
) Burnett. Here are the nominees in major categories, and my picks of who should win.
COMEDY SERIES
The Big Bang Theory (CBS)
Glee (Fox)
Modern Family (ABC)
The Office (NBC)
Parks and Recreation (NBC)
30 Rock (NBC)
Modern Family merits a second straight trip to the winner's circle.
DRAMA SERIES
Friday Night Lights (NBC)
Boardwalk Empire (HBO)
Game of Thrones (HBO)
Dexter (Showtime)
The Good Wife (CBS)
Mad Men (AMC
Gotta root for the home state team in what will be FNL's first and last chance to win an Emmy. Realistically, though, I think Boardwalk Empire has the inside track, although The Good Wife could surprise and Mad Men hasn't lost yet in its first three seasons of eligibility.
MINISERIES OR MOVIE
Mildred Pierce (HBO)
Cinema Verite (HBO)
Downton Abbey (PBS)
The Kennedys (ReelzChannel)
Too Big to Fail (HBO)
The Pillars of the Earth (Starz)
I'm picking Downton Abbey in an upset, although I'd rather see Mildred Pierce win.
VARIETY, MUSIC OR COMEDY SERIES
The Colbert Report (Comedy Central)
The Daily Show (Comedy Central)
Real Time with Bill Maher (HBO)
Late Night with Jimmy Fallon (NBC)
Saturday Night Live (NBC)
Conan (TBS)
Fallon is very well-liked in the industry and really makes an effort to involve his guests in creative skits. So this would be another upset, but I kind of think his time has come. Notice that neither David Letterman or Jay Leno is nominated. And it's about time they weren't.
REALITY-COMPETITION PROGRAM
The Amazing Race (CBS)
American Idol (Fox)
Dancing with the Stars (ABC)
Project Runway (Lifetime)
So You Think You Can Dance (Fox)
Top Chef (Bravo)
Amazing Race had never been beaten in this category until last year, when Top Chef won. That leaves Idol still Emmy-less. So I'm going to go with the highest-rated series in all of television, if only to see the look on Simon Cowell's face if the show wins in its first season without him.
LEAD ACTOR, DRAMA SERIES
Steve Buscemi, Boardwalk Empire
Michael C. Hall, Dexter
Kyle Chandler, Friday Night Lights
Hugh Laurie, House (Fox)
Timothy Olyphant, Justified (FX)
Jon Hamm, Mad Men
Hamm still hasn't won an Emmy. That's ridiculous. C'mon, people! He's long overdue.
LEAD ACTRESS, DRAMA SERIES
Connie Britton, Friday Night Lights
Julianna Margulies, The Good Wife
Kathy Bates, Harry's Law (NBC)
Mireille Enos, The Killing (AMC)
Mariska Hargitay, Law & Order: Special Victims Unit (NBC)
Elisabeth Moss, Mad Men
I'd like to see Britton win, and Moss likewise would be a great choice. But you know what? I think they're going to give it to Bates, who's 0 for 8 so far and really is the sole reason to watch Harry's Law.
LEAD ACTOR, COMEDY SERIES
Jim Parsons, The Big Bang Theory
Johnny Galecki, The Big Bang Theory
Matt LeBlanc, Episodes (Showime)
Louis C.K., Louie (FX)
Steve Carell, The Office
Alec Baldwin, 30 Rock
Hard to believe, but Carell has never won and this is his last chance for The Office. You've just got to give it to him.
LEAD ACTRESS, COMEDY SERIES
Edie Falco, Nurse Jackie (Showtime)
Tina Fey, 30 Rock
Laura Linney, The Big C (Showtime)
Melissa McCarthy, Mike & Molly (CBS)
Martha Plimpton, Raising Hope (Fox)
Amy Poehler, Parks and Recreation
Linney undoubtedly should win. But if not, Poehler would be a good fallback choice.
LEAD ACTOR, MINISERIES OR MOVIE
Idris Elba, Luther (BBC America)
Laurence Fishburne, Thurgood (HBO)
William Hurt, Too Big to Fail
Greg Kinnear, The Kennedys
Barry Pepper, The Kennedys
Edgar Ramirez, Carlos (Sundance Channel)
I'm going to go with Elba.
LEAD ACTRESS, MINISERIES OR MOVIE
Taraji P. Henson, Taken From Me; The Tiffany Rubin Story (Lifetime)
Diane Lane, Cinema Verite
Jean Marsh, Upstairs Downstairs (PBS)
Elizabeth McGovern, Downton Abbey
Kate Winslet, Mildred Pierce
Winslet should have this one safely in hand.
As for the supporting categories, I'm going to make my picks in lightning round fashion.
Supporting actress comedy series -- Julie Bowen, Modern Family
Supporting actor, comedy series -- Ed O'Neill, Modern Family
Supporting actress, drama series -- Kelly Macdonald, Boardwalk Empire
Supporting actor, drama series -- Andre Braugher, Men of a Certain Age (TNT)
Supporting actress, miniseries or movie -- Melissa Leo, Mildred Pierce
Supporting actor, miniseries or movie -- Tom Wilkinson, The Kennedys
And if I'm wrong, so what? There'll be far more viewers deeply involved in Fantasy Football Sunday.