Mr. Robinson we assume: NBC's Crusoe a truly great escape
10/16/08 03:36 PM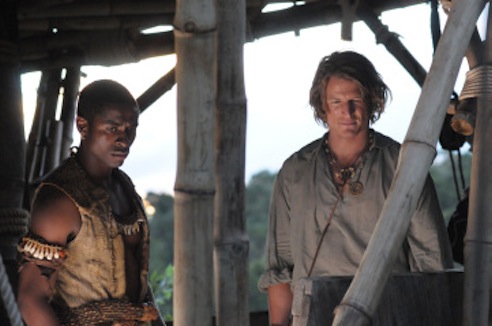 An outnumbered Friday and Crusoe prepare to defend their Alamo.
Premiering:
Friday, Oct. 17th at 7 p.m. (central) on NBC before moving next week to regular 8 p.m. slot
Starring:
Philip Winchester, Tongayi Chirisa, Sam Neill, Anna Walton
Produced by:
Justin Bodle, Jeff Hayes, Michael Prupas, Genevieve Hofmeyr, Phillip Key
By ED BARK
Filmed in England and South Africa, NBC's new
Crusoe
looks like anything but a nickel-and-dime backlot production.
It's a visually rich and rousing adventure with vivid, colorful characters to match. You won't see a more purely entertaining new series this fall.
Crusoe
is stimulating without making your head hurt.
Unlike fellow newcomers
Fringe, Life on Mars
and most especially the Peacock's own
My Own Worst Enemy
, you'll comprehend
Crusoe
from the very start -- flashbacks and all. It's been updated for a "21st century audience" without turning one of literature's most famous exiles into an enigmatic mad scientist, double agent or benumbed time-traveler.
Friday's two-hour premiere quickly makes its presence felt. Title character Robinson Crusoe, well-played by Philip Winchester (
Flyboys
), is the lone survivor of a shipwreck that left his shipmates strewn near the shore line. He has a dog for company, but his best and only human buddy is the resourceful, formidable Friday (Tongayi Chirisa).
They're quickly put to the test when a band of cutthroat pirates hits the beach in search of buried gold. A cleavage-brandishing wench named Judy (guest star Georgina Rylance) also is one of their kind.
Crusoe's
producers aren't above providing a little eye candy. But Judy also proves to be quite a character, expertly wielding both a sword and a sharp tongue. So welcome aboard.
Crusoe and Friday alternately are captives and escapees before making a stand in their very well-fortified tree house. By that time, a group of no-good Spaniards likewise has dropped anchor to go for the gold. But Howie Mandel doesn't show up with a bevy of briefcase-holders. So despite all this incoming traffic, the story still holds together remarkably well.
There's also ample action and numerous contraptions on the island. Crusoe and Friday haven't whiled away their days playing beach volleyball. An elaborate pulley system enables Crusoe to move at a pace rivaling Tarzan's vine-propelled travels. And a variety of traps have been pre-set in preparation for any dangers afoot.
Crusoe
also includes flashbacks to its namesake's days as an impressionable boy, young lover and eventual husband and father. He yearns to return to wife Susannah (Anna Walton), although their all too brief life together "seems ever more like a fading dream."
Look for a smaller taste of the younger Crusoe's mentor and patron. His name is Jeremiah Blackthorne and he's played by durable Sam Neill, last seen as scheming Cardinal Wolsey in Season 1 of Showtime's
The Tudors
.
Humor has its place, too, but not to the point of over-diluting the jeopardy at hand. Crusoe and Friday aren't above a little banter. And the pirates' sinister bossman has a little wry bred in him.
NBC's press materials say that
Crusoe
has a pre-set, 13-episode lifespan. More hours could be ordered, of course, if the series finds an appreciable audience on a night not known for attracting viewers in droves.
Crusoe
is the last of just 13 new series being launched this fall by the Big Four networks. As such, though, it's hardly the least. This is a highly engaging adventure yarn that also sports the look of a big-screen feature. Your time will be well-spent and your brain won't be taxed to the breaking point in trying to figure out who's who, what's what -- or where this show might be going.
GRADE:
A-minus