WE tv's Mary Mary turns out to be merry merry
04/01/12 10:55 PM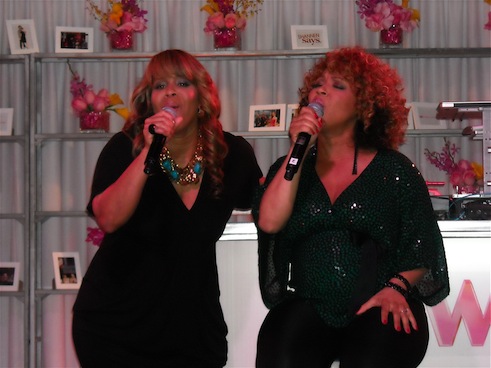 Mary Mary's Tina and Erica Campbell at the TV critics "press tour."
Photo: Ed Bark
Premiering:
Thursday, March 29th at 9 p.m. (central) on WE tv -- with future one-hour episodes at 8 p.m.

Starring:
Erica and Tiny Campbell, their families and a manager named Mitchell

Produced by:
Tara Long, John Morayniss, Eric Hoberman, Mitchell Solarek


By ED BARK

The "drama" comes in fits and spurts, much of it transparently purloined from the dog-eared "reality" playbook.

Will pregnant Erica Campbell's dress arrive on time for a
Mary Mary
concert with her younger sister, Tina?

Are they destined to miss a supposedly all-important red carpet appearance after another bout with chronic lateness?

Will manager Mitchell Solarek (known only as Mitchell for these purposes) ever stop carping, whining, griping?

And above all, how will the Grammy Award-winning gospel duo cope with spending Thanksgiving away from home at a Christmas tree-lighting extravaganza in Atlanta?

What's next? The onset of a medium-sized pimple on the eve of a major major Mary Mary photo shoot? Perhaps.

Still,
WE tv's Mary Mary
is appealingly upbeat and probably at least halfway genuine in its depictions of two married show biz sisters with six children between them and another en route. For abject phoniness, try the Kardashians or Paris Hilton. For a huggable feast peppered with a-w-w-w-ws, this is a reality series with a feel good flow to it.

Manager Mitchell, one of the 10-episode series' executive producers, makes himself the designated taskmaster in hopes of ramping up a little friction. One of his foils is Erica's and Tina's younger sister, Goo Goo, the flighty resident stylist for Mary Mary.

"To be quite honest with you, I probably wouldn't have hired her," Mitchell proclaims. Says Goo Goo: "Mitchell likes to freak out and have panic attacks."

Tina's and Erica's respective hubbies, Teddy and Warryn, also figure in these proceedings. Both seem to be congenial, patient guys, with Teddy currently the Tonight Show's drummer while Warren produces Mary Mary's studio recordings.

The stated intention, on everyone's part, is to be good parents first and then professional singers. This is put to the test when Mitchell ramrods Mary Mary into that aforementioned away-from-home Thanksgiving Day gig, which he portrays as a titanic event in the career of the duo.

But this means that Tina must miss little daughter Laiah's big "glee" performance. And while Erica will have her brood with her on the road, it looks as though Tina is destined to feel "a little broken inside." Just you wait, though.

Mary Mary also showcases the duo's singing talents, which are formidable. And it exudes a top-of-the-marquee positivity that wears well overall, even after Tina baits a little hook in the early going by telling the camera, "I love my sister, but sometimes I wanna punch her in the face."

There are no Jerry Springer moments, though. And as this stuff goes, Mary Mary for the most part overcomes its contrivances and settles into a pleasant little groove.


GRADE:
B-minus