Roseanne Barr's racist tweet triggers ABC's abrupt cancellation of her hit reboot
05/29/18 12:59 PM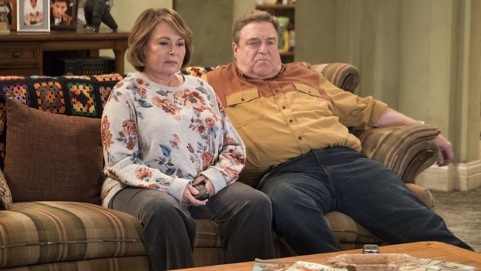 Roseanne Barr and John Goodman in the suddenly defunct Roseanne.
ABC photo
By ED BARK
@unclebarkycom on Twitter
In a jarring development, ABC has canceled
Roseanne
after the star of the show, Roseanne Barr, authored a since deleted tweet disparaging Valerie Jarrett, a former advisor to President Barack Obama.
"Roseanne's Twitter statement is abhorrent, repugnant and inconsistent with your values, and we have decided to cancel her show," ABC entertainment president Channing Dungey said in a statement issued early Tuesday afternoon.
Barr, well-accomplished at being her own worst enemy, fired off a Memorial Day morning tweet that said, "Muslin brotherhood & planet of the apes had a baby=vj." This came in response to an online allegation that Obama had spied on French presidential candidates, with Jarrett helping him to "hide a lot."
Barr, whose
Roseanne
reboot had been a breakout hit for ABC after launching in midseason, later tried to make amends.
"I apologize to Valerie Jarrett and to all Americans," she tweeted. "I am truly sorry for making a bad joke about her politics and her looks. I should have known better. Forgive me -- my joke was in bad taste." Barr also said she is "now leaving Twitter."
Both Jarrett and Dungey are African-American, with Dungey being the first woman of color ever to head a broadcast network entertainment division.
Roseanne
had been set to return next fall in the same Tuesday 7 p.m. (central) slot it occupied this season. Before ABC axed her show, consulting producer Wanda Sykes said she would not be returning to
Roseanne
following Barr's latest outburst.
Sara Gilbert, who plays Roseanne and Dan Conner's daughter, Darlene, and has been a co-executive producer of the reboot, tweeted that Barr's comments about Jarrett are "abhorrent and do not reflect the beliefs of our cast and crew or anyone associated with our show." Gilbert also said, "This is incredibly sad and difficult for all of us, as we've created a show that we believe in, are proud of, and that audiences love -- one that is separate and apart from the opinions and words of one cast member."
Barr is an outspoken supporter of President Trump, both in real-life and on her show. In times of reboot mania on the part of broadcast networks and the streaming service Netflix,
Roseanne
by far had been the most successful second coming.
On the original
Roseanne
, Barr became known for creating extreme divisiveness on the set with her demands and demeanor. The show left ABC in May 1997 after nine seasons.
Email comments or questions to:
unclebarky@verizon.net