ABC's The Neighbors an alien intruder in every way, shape and form
09/21/12 03:00 PM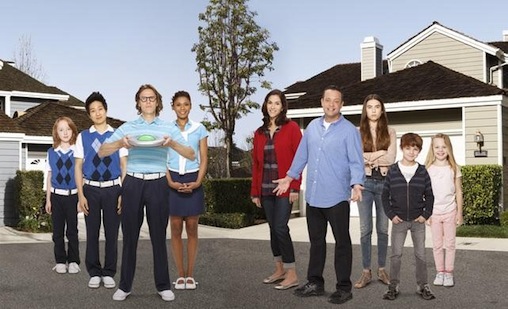 Earthlings are on the right in The Neighbors. ABC photo
Premiering:
Wednesday, Sept. 26th at 8:30 p.m. (central) on ABC. Then moves to regular 7:30 p.m. slot on the following Wednesday
Starring:
Jamie Gertz, Lenny Venito, Simon Templeman, Toks Olagundoye, Clara Mamet, Tim Jo, Ian Patrick, Max Charles, Isabella Cramp
Produced by:
Dan Fogelman, Aaron Kaplan, Jeff Morton, Chris Koch
By ED BARK
@unclebarkycom
This is the one that no one thinks will work. And if you hooked them up to lie detectors, this would include ABC's top programming executives.
Might as well get it out of the way, though. So
The Neighbors
is ABC's first new fall series premiere, starting with an optimum berth after
Modern Family
before moving to an hour earlier on Wednesday, Oct. 3rd.
It's true that
3rd Rock From the Sun
had some legs. And
ALF
hung around a while, too. But this latest aliens-meet-earthlings sitcom is just too dopily executed for any long-term stay on this planet. Perhaps it could be a hit on Uranus, though.
The Neighbors
doesn't look or feel like a "smart" single cam comedy without a laugh track. But ABC has chosen to present it in this fashion, forcing viewers to be amused under their own power. That's asking way too much.
An opening "back story" finds denizens from the planet Zabvron landing on earth in the year 2001. They quickly buy all the available units in suburban New Jersey's new Hidden Hills Townhouse Development. Ten years later, one of the units becomes vacant when an alien couple vaporize themselves or something. Fast forward to "Yesterday" and here come the garden variety Weavers, whose principal breadwinner, Marty (Lenny Venito), considers himself a loser after three years of pay cuts. Plus, the Weavers have been living in cramped quarters at too high a cost. Wah wah wah.
Marty, who looks very much like a dumpier Vince Vaughn, has an understanding wife named Debbie (Jami Gertz). Their three three kids are insolent teen Amber (Clara Mamet), lively Max (Max Charles) and little sis Abby (the rather unfortunately named Isabella Cramp).
Hilarity is supposed to bust out when they're greeted by a Zabvronian family of four -- all of whom have taken the names of prominent athletes who perhaps will be able to collect at least a few residual checks.
Larry Bird (Simon Templeman) is the self-appointed head of the house.
"Please pumpkin. Leave the leading to me," he tells wife Jackie Joyner-Kersee (Toks Olagundoye). Their two sons are Reggie Jackson (Tim Jo), who's the older one, and Dick Butkus (Ian Patrick). It's an interracial brood, and they all speak in semblances of British accents to make the "guttural" speech patterns of Americans seem more "sophisticated."
The scripts are flat in any diction.
Neighbors
dulls the senses with both its Wednesday night opener and a very marginally improved second episode in which everyone journeys to the mall in pursuit of new clothes and some product placement for Macy's.
By that time the aliens have been exposed to the Weavers as ooze-prone green horny toad-like creatures with exposed rib cages. But they lose their human forms only when loudly clapping their hands.
"Shouldn't Obama know about this?" Debbie wonders. But they're not about to tell anybody and he's not about to watch.
Templeman's droll Larry Bird might be worth a half-grin or two. But Venito's Marty Weaver balances those scales by being completely unfunny while Gertz looks worn out and embarrassed.
Neighbors
does make a little history, though, by actually shooting an over-sized family of three from the waist up while they devour junk food at the mall. There also are two references to "the fat Kardashian," who presumably is the one married to Dallas Mavericks washout Lamar Kardashian.
This likely won't be the first fall cancellation, though. Fox's
The Mob Doctor
already appears to have that dubious achievement pretty much locked up.
But
The Neighbors
does prove to be an even dumber idea than
Mob Doctor
. And it shows.
GRADE:
D