Fox's Glee yearns for you to join its club
09/09/09 09:05 AM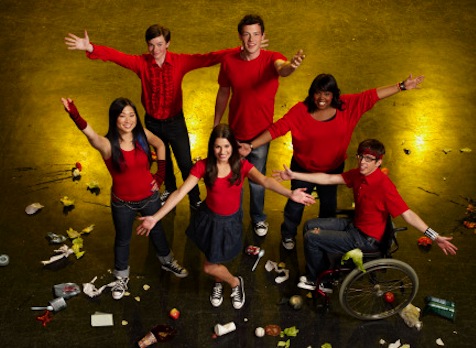 Glee: Gotta sing, gotta dance, gotta get off to a good start.
By ED BARK
Sing it loud. Fox has done just about all it can for
Glee
, beginning with a saturation promotional campaign for May's sneak preview episode after the final performance edition of
American Idol
.
There's since been a national "Gleek Tour" of shopping malls, multiple gimmicky reprises -- including this month's "tweet-peat" -- and an abundance of sweepstakes and give-aways.
Now the network is hoping for a little extra icing -- an overrun of President Obama's Wednesday night speech to Congress and its Republican response. Fox again is the only major broadcast network opting out, instead sticking to its schedule of
So You Think You Can Dance
's first fall season premiere and
Glee
's
re-launch at 8 p.m. (central)
.
The speech and its trimmings have been allotted an hour, from 7 to 8 p.m. But any bleed-over past 8 p.m. would give
Glee
a jump-start against NBC's very potent
America's Got Talent
results edition. The competition otherwise is either junk -- ABC's
Crash Course
-- or a bloody old
Criminal Minds
rerun on CBS.
Still,
Glee
's a tough sell, even if Disney Channel's
High School Musical
movies say otherwise. But it's also the most vibrant series on Fox's schedule, a crime-free, over-the-top romp through the not-so-hallowed halls of William McKinley High School.
Again at odds are idealistic Glee Club maestro Will Schuester (Matthew Morrison) and carnivorous cheerleader coach Sue Sylvester (Jane Lynch). She vows to put a stop to "your island of misfit toys," which so far numbers just five singin', dancin' outcasts plus popular football jock Finn Hudson (Cory Monteith).
Will also is beset by his high maintenance, pregnancy-feigning wife, Terri (Jessalyn Gilsig), and sweetcakes teacher Emma Pillsbury (Jayma Mays), who's never relinquished her crush on him. His Glee Club sextet plots against him, too, substituting a sexed-up version of Chic's "Le Freak" rather than do it his way at a high school assembly where six new recruits are sought.
Glee
's standout kid character is Rachel Berry, played in fine woe-is-me form by Lea Michele. She longs to be accepted, lusts after Finn and sings the stuffing out of her big closing solo. She's talented, funny and worthy of a rooting section. But head cheerleader Quinn Fabray (Dianna Agron) is intent on torpedoing Rachel while at the same time sinking her claws deeper into the somewhat lunk-ish Finn.
Two young North Texans also are
Glee
regulars, although neither figures very prominently in the season opener. Kevin McHale is Glee club member Artie Abrams, who gets around in a wheelchair. Mark Salling plays sinister footballer Puck, who's ever-willing to accompany Finn back to the dark side.
In Wednesday's "Showmance" episode, Will preps his charges for a make-or-break regional competition while also taking on an extra job as the school's nighttime janitor. This is so his wife can have her dream home after making "my very own
Sophie's Choice
" between two extra-charge add-ons, a sun nook or a grand foyer.
The episode also includes an "Immaculate Affection" test involving balloons and opposite sexes, and continued plotting by the nefarious Sue Sylvester, whose strong-armed put-downs are a major selling point in the show's promotional push.
All of this and more make
Glee
a standout, take-notice series with an uphill climb toward audience acceptance. Last spring's audience drop-off from
Idol
was rather chilling. But word of mouth and widespread Facebook alerts can work wonders, it's hoped.
Wednesday's fall season launch vibrantly re-sets the stage. Tickets anyone?
GRADE:
A-minus