NEW SEASON: Imperioli's performance spikes ABC's Detroit 1-8-7 cop drama, but who will want to be put through its wringer?
09/20/10 01:03 PM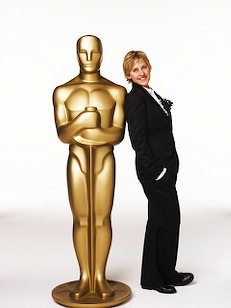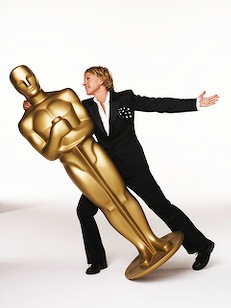 By ED BARK
Coming soon to an Oscar pool near you -- the 79th annual Academy Awards with first-time host
Ellen DeGeneres
.
Assisted by ABC and Nielsen Media Research, we're going to warm you up with some fun facts and figures. But first the particulars.
The annual
Barbara Walters
warmup show is on Sunday, Feb. 25 at 6 p.m. (central time), with Babs welcoming DeGeneres,
Eddie Murphy, Helen Mirren
and
Jennifer Hudson
. Then comes the sycophantic red carpet arrival show at 7 p.m., followed by the marathon ceremony itself at 7:30 p.m. It's all on ABC.
For a tidy, printable list of this year's many and varied nominees, go
here.
For a list of who won last year -- because of course you've already largely forgotten -- go
here.
And for Uncle Barky's review, return to this space on Monday. Otherwise here's some finger food guaranteed to please your palate.
***
Last year's Oscar-cast, hosted by
Jon Stewart
, drew 38.9 million viewers. That's a very nice-sized audience, but it also was one of the smallest in the last two decades.
The all-time low, since Nielsen Media Research began tabulating total viewers in 1974, came in 2003 when
Chicago
was voted Best Picture. But the 2003 Oscars (33 million viewers) shared the stage with
Peter Jennings
' periodic break-ins for Iraq war updates. Clearly the country had other things on its mind than Hollywood glitz and glamor.
***
Oscar's biggest audience -- 55.2 million -- was in 1998, when
Titanic
won. Other than the
Chicago
shortfall, last year's ceremony had the lowest viewer turnout since 1987, when 37.2 million watched
Platoon
win for Best Picture.
***
Sample Stewart joke from last year: "A lot of people say that this town is too liberal, out of touch with mainstream America, an atheistic pleasure dome, a modern-day, beachfront Sodom and Gomorrah, a moral black hole where innocence is obliterated in an endless orgy of sexual gratification and greed. I don't really have a joke here. I just thought you should know a lot of people are saying that."
***
The cost of a 30-second commercial on Sunday's Oscars is an estimate $1.7 million, up a bit from Nielsen's official average of $1,646,800
for last year's show. The Super Bowl is the annual league leader, with a half-minute spot costing $2.6 million for the Feb. 4 game between the Indianapolis Colts and Chicago Bears. A decade ago, you could buy an Oscar ad for a measly $850 grand.
***
Does a big advertising campaign help a film's Oscar chances? Maybe yes, maybe no. From January to November of last year, $40.26 million was spent promoting
The Departed
, one of the five Best Picture nominees. But no money at all was spent during that period on
Letters From Iwo Jima
, which also is nominated. According to Nielsen, the three other Best Picture hopefuls spent this much:
Babel
($16.4 million);
Queen
($14.6 million);
Little Miss Sunshine
($11.9 million).
***
Finally, announced presenters Sunday night include
Tom Cruise
and ex-wife
Nicole Kidman
(separately);
Ben Affleck
and ex-fiancee
Jennifer Lopez
(separately);
Steve Carell, George Clooney, Cameron Diaz, Will Ferrell, Tom Hanks, Diane Keaton, Tobey Maguire, Gwyneth Paltrow, Kate Winslet
and
Reese Witherspoon
.
How many of them will run afoul of
Joan
and
Missy Rivers
? Then again, how many of you have the TV Guide Channel?