FALL TV PREVIEW: New series -- Nashville (Fox)
09/13/07 02:08 PM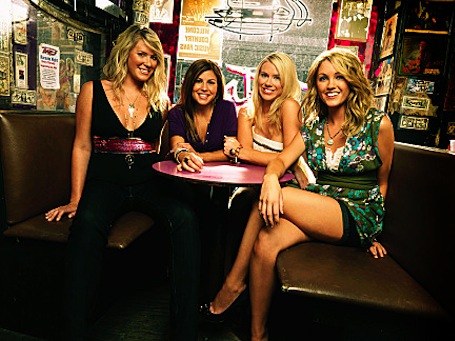 Girls of Nashville: 3rd from left is Terry Bradshaw's daughter, Rachel.
Premiering:
Friday night, Sept. 14 at 8 (central) on Fox
Starring:
Rachel Bradshaw, Chuck Wicks, Mika Combs, Clint Moseley, Sarah Gunsolus, Matt Jenkins, Lindsey Hager, Jeff Allen, Monty Powell
Produced by:
Gary and Julie Auerbach, Liz Bronstein, Tina Gazzerro, Hans Tobeason
By ED BARK
Country cute and rarin' to lasso themselves some stardom, the boys and girls of Fox's
Nashville
are way too young to really remember Robert Altman's
Nashville
.
His groundbreaking 1975 film mostly didn't follow a script, but worked within the confines of a basic storyline. The new TV reality series, from the "creative minds behind" MTV's
Laguna Beach: the Real Orange County
, is similarly programmed within pre-set parameters. Its key characters aren't actors, but certainly are part of the act.
So if you hear it once, you hear it a half-dozen times during Friday's one-hour premiere. Nashville's a make or break place that breaks all but a few of its big-dreamin' young denizens. Ya got that? Stardom is rare and failure is common. Just so ya know what you're gettin' into.
Some don't, or at least that's the built-in storyline for Rachel Bradshaw, daughter of Hall of Fame quarterback and star Fox football gabber Terry Bradshaw.
"I wanna be a star" with all the trappings, she tells daddy back in Dallas.
"Be careful what you wish for," he warns before sending her off to Nashville to absorb a few hard knocks.
Better situated is Chuck Wicks, of whom his young manager says, "You just have everything. The voice, the look. Everything about you is right."
He's pretty much got that right. Chuck lands a recording deal after impressing some record label wheeler/dealers at a Nashville "Showcase" of his talents. Meanwhile, Rachel sacks her back-home boyfriend and takes up with rich, duplicitous Clint Moseley, whose father makes a killing selling jet planes. He throws a big party, invites her and then spends much of the night wrapping his arms around other fetching creatures.
"It's sleazy and it's disrespectful," says Rachel, who can be a tease herself. Still, you'd like to see her old man stiff-arm Clint into the next county.
There's also an apprentice Loretta Lynn named Mika Combs. She's a real-life coal miner's daughter from Kentucky who hopes to rise and shine in "the biggest small town in America." Well-meanin' Matt Jenkins takes an immediate likin' to her. But he's down on his luck after making it all the way to the Grand Ole Opry stage and then havin' his recordin' contract kicked out from under him.
Wouldn't ya know it, though, they manage to sneak into the Opry, take the stage and find a mike in workin' order. She sings like an angel and he moons over her before Clint makes his inevitable move at Chuck's goin' away party. This, of course, leaves Rachel feelin' hurt, too, and just after she and Clint had patched things up.
All of this is pretty much telegraphed but also decently executed. The venue at least is different, and the star players are mostly digestible. What's more, Terry Bradshaw can make this a regular bit during Fox's Sunday NFL pre-game show. Show a clip of his daughter getting screwed -- not literally -- and then have Terry threaten to go down there and pound some sense into the perpetrator(s).
Then again,
Nashville
is scheduled on Friday nights, where Fox hasn't had a hit since Bradshaw was still playing quarterback.
Well, it hasn't been quite that long, but the point is made. So he'd best get down to Nashville in a hurry.
Grade:
C+