Starz shines in an unusual way with Dancing on the Edge
10/17/13 12:02 PM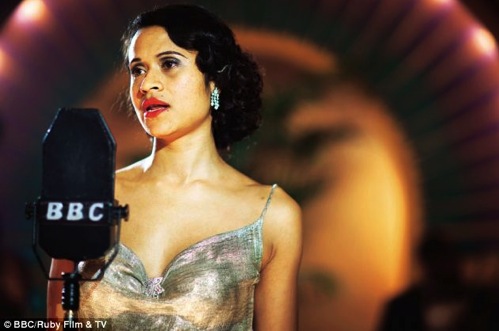 Angel Coulby enchants as a jazz singer named Jessie. BBC America photo
Premiering:
Saturday, Oct. 19th at 9 p.m. (central) on Starz and continuing on consecutive Saturdays through Nov. 16th at 8 p.m. (central)
Starring:
Chiwetel Ejiofor, Matthew Goode, John Goodman, Jacqueline Bisset, Angel Coulby, Janet Montgomery, Wunmi Mosaku, Tom Hughes, Joanna Vanderham, Anthony Head
Directed and written by:
Stephen Poliakoff, who also serves as co-executive producer with Alison Owen, Paul Trijbits, James D. Stern, Douglas E. Hansen, Colin Callender
By ED BARK
@unclebarkycom on Twitter
Stylish, substantive and sometimes just a bit slow of foot, the jazz-themed, BBC-produced
Dancing on the Edge
swings into view Saturday on an unlikely network.
Starz so far is best known as home to the blood-soaked
Spartacus
series and other sword 'n' cloak concoctions such as
Camelot, DaVinci's Demons, The Pillars of The Earth
and
The White Queen
, whose concluding episode precedes the premiere of
Dancing on the Edge
.
The premium pay network, which someday hopes to challenge HBO and Showtime, also has gone for more modern-day crime/corruption in
Boss
and
Magic City
, both since canceled.
Dancing on the Edge
, whose formal wear and 1930s London setting seem more suited to the BBC America network or
Masterpiece Theater
, runs a good risk of getting lost and never found on Starz. But quality is where you find it. And this is well worth your while.
Airing in five parts on successive Saturdays,
Dancing on the Edge
stretches to more than six hours on commercial-free Starz. The premiere episode runs for just over 90 minutes, as does the Nov. 16th finale. Episodes 2 through 4 are each slightly more than an hour.
A little trimming around the edges wouldn't hurt, but don't be put off by the early leisurely pace. Things pick up plot-wise, with
Dancing on the Edge
really starting to hum along by the end of Episode 2. A bloody assault on a lead character, who's left for dead by an unknown perpetrator, adds a mystery element and an overall sense of foreboding to what otherwise has been the slow rise to fame of an all-black jazz band.
Its leader is Louis Lester (Chiwetel Ejiofor), a Londoner by birth whose mother worked as a servant to the wealthy. After traveling the world (and also developing his musical talents) as a merchant seaman, Louis returns to his native land and puts together a jazz band. They play in relative obscurity at a small club until being discovered one night by upwardly striving Stanley Mitchell (Matthew Goode). He's a virtual one man band himself as the prolific deputy editor/chief writer of
The Music Express
magazine.
Stanley delights in finding and showcasing new talent in hopes that his struggling magazine likewise will profit. So he lands The Louis Lester Band a tryout at the stuffy Imperial Hotel, whose clientele is mostly old, stuffy and dwindling.
Both the hotel manager and Stanley quickly advise Louis to "get yourself a singer." He does and then some. Jessie (Angel Coulby) and her lifelong friend, Carla (Wunmi Mosaku), are a package deal. And yes, they proceed to sing up a storm while also lighting a fire under
Dancing on the Edge
. The musical performances in this miniseries are first-rate throughout. Never more so than when Jessie blows hot through "Dead of Night Express" while the Prince of Wales and the Duke of Kent have their socks knocked off. (In a winning earlier scene, the Duke gleefully tests his non-existent skills as a jazz drummer after Louis and his band perform for him at a private garden party.)
Dancing on the Edge
is also about race, privilege and the barriers between them. Its ominous Mr. Moneybags is Walter Masterson (John Goodman), a multi-millionaire American abroad who buys and sells both merchandise and underlings. For quite a while, Masterson is a mute, but imposing presence whose wishes are others' commands. But Goodman later takes the role to voluble heights during the course of orchestrating the downfalls of some while protecting others.
Jaqueline Bisset, the other best-known name in the cast, co-stars as the reclusive Lady Lavinia Cremone. She understandably remains melancholy after losing all three of her sons in World War I. But her interest in music is rekindled by the enterprising Stanley, who becomes a surrogate son to boot.
Another key character, a willowy photographer named Sarah (Janet Montgomery), documents the band's travels and performances while also falling for Louis. Also part of the entourage: brother and sister Julian and Pamela Luscombe (Tom Hughes, Joanna Vanderham). She's more than a little smitten with Stanley and he's become accustomed to both the perks and pitfalls involved in working as Masterson's head assistant. Julian and Pamela have been parented by upper-crust bigots, a breed of Londoner still in heavy supply during 1933.
Director Stephen Poliakoff (BBC's Emmy-winning
The Lost Prince
) also wrote the screenplay for
Dancing on the Edge
. It's solid, although the dialogue doesn't jump off the page in the sometimes showy manner of
Downton Abbey
. But Poliakoff very ably keeps a lot of balls in the air, juggling and intertwining the hopes and schemes of his principal characters without losing a grip on either.
Louis and Stanley drive much of the action as fast friends thrust into the limelight they seek and the darkness they inherit because of it. The idea of an all-black band living in an upper crust hotel is grudgingly embraced by management after business begins soaring. But then a brutal unsolved crime and its after-effects begin to peel away the veneer. They never should have been allowed to stay here in the first place. You know how these people are. Something bad was bound to happen. And so on.
Dancing on the Edge
's distinctive and original soundtrack is available on Decca Records. Those who stay the course -- and it's highly recommended that you do -- might well want to make this additional investment. The story has ample pulling power. But the music is its driving force -- all day and all of the night.
GRADE:
A-minus
Email comments or questions to:
unclebarky@verizon.net