Ken Burns' Jackie Robinson takes his full measure
04/11/16 08:51 AM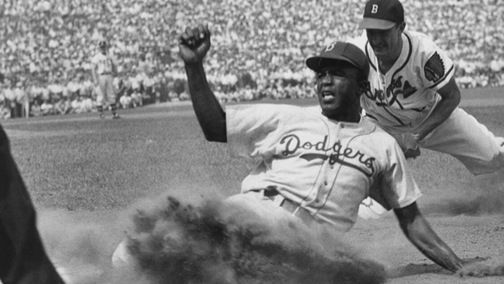 Jackie Robinson takes an extra base against the old Boston Braves.
PBS photo
By ED BARK
@unclebarkycom on Twitter
We now live in times where fewer and fewer American-born blacks are playing major league baseball. After a high of 18.7 percent in 1981, the percentage had slumped to 7.8 by last season.
But whatever a young player's color, many may still be largely ignorant of Jackie Robinson, even though his number 42 was retired nationally in 1997. It's now been 69 years since he broke baseball's "color line" in 1947 and 44 years since his death at age 53 in 1972. No current major league player was even alive when Robinson died.
Against that backdrop comes the two-part Ken Burns film
Jackie Robinson
, which premieres
Monday, April 11th at 8 p.m. (central) and concludes on Tuesday
at the same time. It will qualify as somewhat ancient history to a majority of potential viewers, although not to his widow, Rachel Robinson. She's now 93, and a very active participant in this four-hour film. "It was us against the world," Rachel says of the days when her husband was being groomed by the Brooklyn Dodgers and pioneering president/general manager Branch Rickey to become the major leagues' first black player. "And we enjoyed that and kind of laughed about it."
When Robinson officially became a Dodger, Rachel went to all of her husband's Ebbets Field home games. They again kept his on-field travails at arm's length. "The fight was outside," she reasons all these years later. "It wasn't in our house. And neither of us wanted it to be in there."
Jackie Robinson
takes the usual Burns approach: a wealth of talking heads, a period sound track (with some original music by Wynton Marsalis) and a sober-minded view of the stakes at hand and the tenor of the times. Those offering their input via new interviews include President Barack Obama and First Lady Michelle Obama, Harry Belafonte, George Will, Carly Simon (whose parents once temporarily housed the Robinson family), Tom Brokaw, Vin Scully and surviving Dodger teammates Don Newcombe and Carl Erskine. Actor Jamie Foxx is used sparingly to voice some of Robinson's words and the narrator, as usual, is Keith David.
The final hour of the film deals exclusively and instructively with Robinson's life after the Dodgers. Slowed by chronic injuries and embittered by the team's decision to trade him to the rival New York Giants, he retired at age 37 after Brooklyn lost the 1956 World Series to the imperial New York Yankees. Robinson immediately became a vice president with the Chock full o' Nuts coffee company while also speaking out for integration and civil rights. His political alliances cut against the grain. He supported Richard Nixon's 1960 presidential campaign against John F. Kennedy until Nixon eventually disappointed him. Robinson then embraced Republican Nelson D. Rockefeller, who unsuccessfully sought the 1964 GOP presidential nomination against arch-conservative Barry Goldwater. His alliance with Rockefeller continued when he was re-elected governor of New York. But by 1968, Robinson had switched parties and sided with Democratic nominee Hubert Humphrey rather than his old pal Nixon.
Although a pathfinder on the baseball diamond, the film shows Robinson to be something of a rigid traditionalist during the turbulent 1960s. The man who endured countless taunts of "nigger" in his early years with the Dodgers ended up being branded as Rockefeller's "good nigger" by a Harlem magazine. Robinson also had little use for Muhammad Ali, terming him "ungrateful" for refusing to join the military and continuing to call him "Cassius" after he changed his name.
Robinson was steadfast, however, in his belief that major league baseball had a moral duty to hire a black manager. Frank Robinson finally became the first, but only after Robinson's death.
On the homefront, Robinson's troubled oldest son, Jackie Jr., battled demons, fought in Vietnam and then became a drug addict who disassociated himself from the family before seemingly turning his life around at a rehab center. But he died in a car wreck (alcohol or drugs reportedly weren't involved) the year before his father's death. The Robinsons' two other children, Sharon and David, are both interviewed in the Burns film.
Jackie Robinson
connects all of these dots and gives a far fuller picture of the man than the pedestrian 2013 feature film
42
or 1950's
The Jackie Robinson Story
, in which Jackie played himself opposite Ruby Dee as Rachel.
His wife, as the film shows, had an independent spirit throughout their life together. She pursued her passion for nursing despite his objections and went on to become director of nursing at the Connecticut Mental Health Center. Rachel remembers her husband as a "trusted friend" and soulmate throughout all the trials they experienced together. "He was very, very expressive and loving. And I miss that a lot."
Robinson's tombstone has the inscription, "A life is not important. Except in the impact it has on other lives."
As
Jackie Robinson
shows, his impact was enormous. But most of all it remains thrilling to see Robinson taking off with the crack of his bat and dashing toward first base with an eye toward stretching a single into a double or eventually stealing a base or two, including home. He played with a fiery passion from within while absorbing all the indignities aimed his way. Robinson's emotions weren't officially turned loose until later in his career. And then some had the temerity to brand him "uppity" for arguing with umpires like everyone else -- or speaking out off the field as well.
As a kid baseball was my game. I loved it, played it, watched it, listened to it, read about it. And so with every passing year, I appreciate all the more that my Jan. 31st birthday also is shared by three towering Hall of Famers -- Jackie Robinson, Ernie Banks and Nolan Ryan. The latter two played on comparative fields of dreams after Robinson first took one for the team.
GRADE:
B+
Email comments or questions to:
unclebarky@verizon.net