Cowboy Colby and friends (and enemies) go back to the bush for Survivor: Heroes vs. Villains
02/11/10 08:14 AM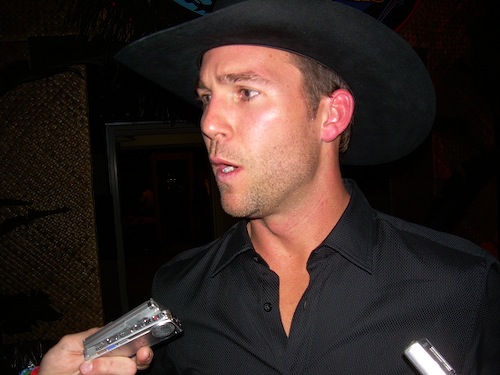 Cowboy Colby Donaldson at Survivor anniversary party. Photos: Ed Bark
By ED BARK
TELEVISION CITY, Calif. -- Colby Donaldson apparently didn't get the memo. Although cast as a good guy in CBS' 20th edition of
Survivor
, he arrives looking a little villain-esque in a black cowboy hat and matching shirt.
"I did have to get comfortable tonight," he says amid more than 200 former castaways gathered at a 10-year anniversary party thrown by CBS. "And my comfort zone is my hat."
Donaldson, a native of Christoval, Texas, had been running a car customizing shop in Dallas when
Survivor: The Australian Outback
roped him in nine years ago. He finished second during the course of becoming the second edition's seemingly most marketable star.
Heading west to Hollywood, Donaldson took acting lessons and popped up as a guest star on a few prime-time TV series before signing on with 2004's
Survivor: All-Stars
. Now he's back for a third rodeo with
Survivor: Heroes vs. Villains
, which launches with a two-hour episode on Thursday, Feb. 11th (
7 p.m. central
). Instead of "Outwit, Outplay, Outlast," its companion taglines are "Return, Revenge, Redemption."
Donaldson, who will turn 36 on April Fool's Day, lately has holstered his acting ambitions and become a host/correspondent. His principal venue is
The Rachael Ray Show
, where he plays both himself and her "content buddy." He also presides over The Speed Channel's
American Thunder
series.
"So there've been these little bitty hosting victories," Donaldson says. "I haven't gone out on an acting audition in three-and-a-half years. I still would, but the hosting thing kind of took precedence."
Survivor
host Jeff Probst, who's also been a friend of Donaldson's since the
Outback
edition, says that an acting career is "vibrant as long as it's vibrant in your heart. Colby could land a sitcom tomorrow afternoon. You never know. But you get reminded, even with all the fanfare that Colby got, that it's still a struggle. That's the lottery of Hollywood."
Donaldson says he's recently been spending roughly half his time on the long-held family cattle ranch, located between Christoval and Sonora. He still builds cars, too, during his dual existence in Los Angeles.
"My entire life has changed because of
Survivor
," he says. "That being said, I'm not any different as a person. But most of the things around me are very different."
Survivor: All-Stars
pretty much knocked him for a loop. He was the fifth competitor voted off and the seventh eliminated after both Jenna Morasca and Susan Hawk quit ahead of him.
Probst "really talked me into doing that series," he contends. "I didn't want to go. I shouldn't have gone, and the results spoke for themselves. I did horribly. My head wasn't in it. I wasn't prepared. It was just a bad time in my life."
The
Heroes vs. Villains
edition is an opportunity for redemption -- or so Donaldson says. "I wanted to go back and prove that I can still compete with the young bucks."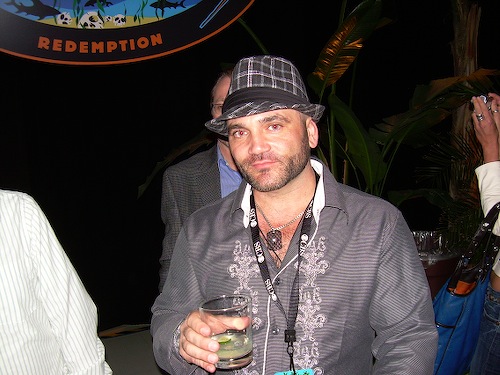 Dayton, TX oilman Russell Hantz was Survivor: Samoa's arch-villain.
Donaldson's 19 foes on
Heroes vs.Villains
include Dayton, Texas oilman Russell Hantz, one of the oiliest guys ever to play the game. He pocketed $100,000 after finishing second on last fall's 19th edition,
Survivor: Samoa
. But Hantz lost the $1 million grand prize by a lopsided 7-2 vote to Natalie White.
Donaldson says it's not enough to survive until the end. Those who expect to win also must curry favor with the show's previously evicted jurors.
"You've got a guy like Russell who talks a lot of smack and has the ability," Donaldson says. "He's an incredibly crafty player. But from what I've seen, nobody likes the guy."
Hantz in turn says that Donaldson "don't know how to get into the zone to play the game. If you're the 'hero,' you're lucky to get to the end. When you're the villain, you make yourself get to the end. I don't think he (Donaldson) is able to step outside his character to play the game. I am. I know what I have to do to make it further. And I'm gonna do that. Nobody knows my technique of playing. I didn't even know it. But I figured it out when I got there."
Hantz says it's all a pose, though. TV's dirtiest-dealing oilman since J.R. Ewing insists that "I'm not like that in real life. I have a successful business. I have employees. They love me. They love to work for me."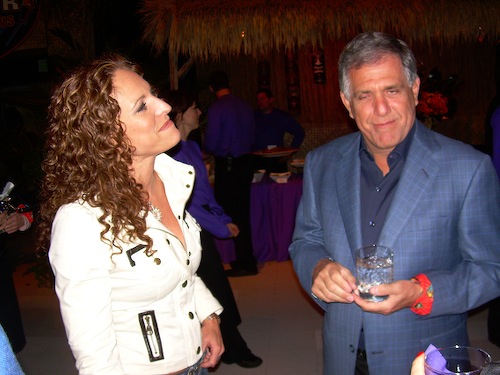 Veteran vixen Jerri Manthey with CBS pres./CEO Leslie Moonves.
The
Heroes vs. Villains
mix also includes flirty Jerri Manthey, who tried to play Delilah to Donaldson's Samson in
Australian Outback
before he eventually conspired to cut her loose.
Manthey earlier re-appeared in the
All-Stars
edition, where she outlasted Donaldson. But on the reunion show, she left in tears during a commercial break after the studio audience booed her. Manthey had been complaining about the ways in which reality show competitors are edited to suit the whims of producers. Well, duh.
"I didn't want that to be my exit," a buoyant and very good-humored Manthey says at the anniversary party. "I'm very happy I went back. I really am. I had a really bad taste in my mouth after the
All-Stars
."
She retains an appetite for Donaldson after fantasizing about licking chocolate off of him in the
Outback
edition.
"Oh, he's still got it. And I'm interested in what he's got. Oh yeah!" Manthey enthuses.
Other than that, "nothing's ever happened between us" off-camera or on-, she says. "I don't usually date 'reality' people, especially when it's
Survivor
. They're essentially my family already. You know what they say, 'Don't sleep where you crap.' "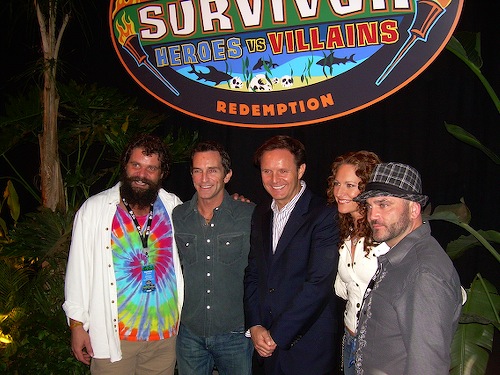 Competitors Rupert Boneham, Jerri Manthey and Russell Hantz flank host Jeff Probst and creator/executive producer Mark Burnett.
The 20th edition of
Survivor
, which also is tied to the 10th anniversary of the show, oddly is without anyone from the 2000 trailblazer, won by duplicitous Richard Hatch.
"I'm very surprised and really disappointed about that," says Manthey.
Creator/executive producer Mark Burnett says Hatch would have been included, but wasn't allowed to travel abroad after recently serving prison time for tax evasion. And cantankerous Rudy Boesch, a part of the
All-Stars
edition, was judged too old to risk his well-being.
"There's a level of responsibility" that works against putting an octogenarian in harm's way, says Burnett. But Boesch, who turned 82 last month, says he both wanted to be a part of
Heroes vs. Villains
and could have survived its rigors.
"They called me about it," he says. "Then they called me back and said, 'We've got somebody else. We don't need ya.' "
CBS has ordered two more editions of
Survivor
beyond this one, with Probst continuing as host.
"It changed the world," CBS president and CEO Leslie Moonves says. "Without
Survivor
your TV sets would be dark today."
He then eases off the throttle a bit. Shows such as
Project Runway, America's Top Model
and various cooking competitions basically owe their existence to the success of
Survivor
, Moonves says. "So the TV world definitely changed. It's had a profound effect."
Burnett, whose post-
Survivor
credits include
The Apprentice
and
Are You Smarter Than a 5th Grader?
, says
Survivor
proved that "reality TV can be as exciting and as classy as big expensive dramas.
Survivor
is shot with love, like a movie."
Except with a lot more sequels -- and no immediate end on anyone's horizon.