The Family gives ABC yet another multiple mystery drama with no resolution in sight
03/03/16 02:07 PM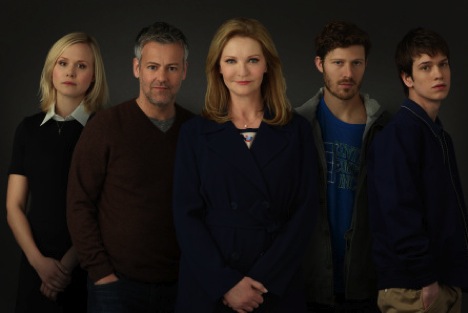 Three-time Oscar nominee Joan Allen heads the cast of The Family.
ABC photo
Premiering:
Thursday, March 3rd at 8 p.m. (central) before moving to regular 8 p.m. Sunday slot on ABC
Starring:
Joan Allen, Rupert Graves, Margot Bingham, Zach Gilford, Alison Pill, Andrew McCarthy, Liam James, Floriana Lima, Madeleine Arthur, Rarmian Newton, Michael Esperer
Produced by:
Jenna Bans, Paul McGuigan, Todd Lieberman, David Hoberman, Laurie Zaks
By ED BARK
@unclebarkycom on Twitter
Everyone's hiding or repressing something in ABC's latest string-along mystery series about layers of intrigue and people who aren't what they seem to be.
So if you've found something to like in recent kindred entries such as
Betrayal, Revenge, Secrets and Lies, Quantico, Resurrection, The Whispers
and
How to Get Away with Murder
, well . . . then you might be a redneck. No, actually, you might fall for
The Family
, which sneak-previews on Thursday, March 3rd before taking up its regular Sunday night residence on March 6th.
The estimable Joan Allen stars as ambitious politician Claire Warren, who was running for City Council 10 years ago when her youngest son disappeared in a park during "Candidates' Day." Ten years later, a scarred, scared and traumatized teen returns to Red Pines and says he's the missing and long presumed dead Adam (Liam James).
By this time, Claire is the mayor with visions of becoming governor. And as
The Family
toggles back and forth, we learn that husband John (Rupert Graves) has been unfaithful, daughter Willa (Alison Pill) has been duplicitous and oldest son Danny (Zach Gilford) is a drunk. While he stumbles around, Willa has stepped firmly into the role of mom's top advisor and image-maker.
Also included are detective Nina Meyer (Margot Bingham), who 10 years ago successfully pinned Adam's abduction on registered sex offender Hank Asher (Andrew McCarthy). He lived next door to the Warrens and for some reason was still allowed to show impressionable pre-teen Danny how to build ships in a bottle. Danny's re-emergence results in Hank being freed from jail and paid reparations while still being shunned by the community. Meanwhile, the real kidnapper must still out there and Nina is obsessed with tracking and catching him in atonement for her previous mistake.
The first two hours were made available for review. They're fairly involving and sprinkled with dibs and dabs of new information aimed at making viewers wonder if Danny's the real deal or something else entirely -- although presumably not an extraterrestrial.
Although Allen is the thrice Oscar-nominated principal star, McCarthy makes the strongest impression in the early going as fragile, haunted and embittered Hank, who's still battling his demons. McCarthy is especially effective in an Episode 1 grocery store exchange with Adam's father.
Gilford previously excelled on
Friday Night Lights
as vulnerable high school quarterback Matt Saracen. The many who remember him in that role might get a boot out of younger brother Adam asking, "Do you still play football? You used to be pretty good."
While in captivity, Adam also remembers his abductor having "holes in his face." This allows
The Family
to insert a mysterious character billed in the credits only as "Pock-Marked Man" (Michael Esperer).
And yes, there's the requisite nefarious media component, with an officious editor of the
Red Pines Tribune
ordering his troops to swarm all over the Warrens. Ethics-less reporter Bridey Cruz (Floriana Lima) finds barfly Danny to be an easy mark in this respect.
It's not always the case, but ABC dramas of this sort tend to peter out in fairly short order. ABC got considerable mileage out of
Revenge
, but
Betrayal, Resurrection
and
The Whispers
came up short on staying power while
How to Get Away with Murder
is already sagging ratings-wise in Season 2.
Secrets and Lies
has been renewed for an all-new whodunit, but ABC keeps dragging its feet on announcing a return date.
The Family
's chances of anything close to long-term survival seem iffy at best. Unlike
Secrets and Lies
, its cast of characters and premise are set in concrete. Or perhaps quicksand if recent history proves prophetic.
GRADE:
C+
Email comments or questions to:
unclebarky@verizon.net