Whodunnit? gives ABC a murder mystery most(ly) foul
06/19/13 04:06 PM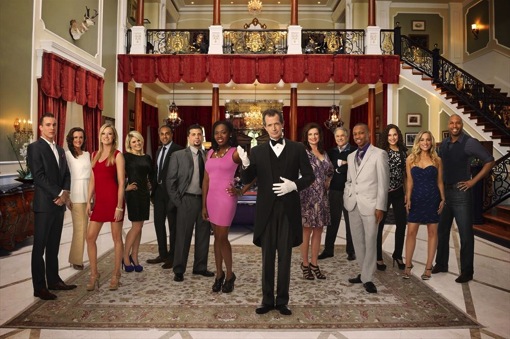 The butler presumably didn't do it on Whodunnit? ABC photo
Premiering:
Sunday, June 23rd at 8 p.m. (central) on ABC
Starring:
Gildart Jackson as the butler and 13 competitors for a $250,000 grand prize
Produced by:
Anthony E. Zuiker, Cris Abrego
By ED BARK
@unclebarkycom
Resemblances to the board game
Clue
and the series
Downton Abbey
are purely intentional. Anything in common with stupidity likely wasn't in the game plan.
The new "reality-competition" series
Whodunnit
also has the same name as a 1979 celebrity mystery quiz hosted by Ed McMahon. And it's similar in format to Fox's 2001
Murder In Small Town X
, which also had a $250,000 grand prize. Its winner, New York City firefighter Angel Juarbe Jr., perished in the World Trade Center on Sept. 11 of that year just a week after the last episode aired. Truth is always stranger than fiction.
In 2009, CBS killed off at least one cast member per episode in the scripted spring series
Harper's Island
, with viewers invited to play along online in the interests of fingering the culprit.
ABC's version of
Whodunnit
is set in fake Rue Manor, where a grandiose butler named Giles (British actor Gildart Jackson) has been in charge of "this cursed estate for only a few years now."
A group of 13 supposedly unsuspecting game players range from 40-year-old TV crime reporter Adrianna to 62-year-old ex-homicide detective Don (who's trying to masquerade as a high school football coach).
Since it happens in the very early going, it's probably not giving too much away to reveal that one of them, onetime pro cheerleader Sheri, is found "dead" after a big noise is heard in the dead of the night. She passes away picturesquely, sizzling from attached electrical wires while also bleeding atop a shattered aquarium tank. One of the 12 survivors is her "killer." But whom might that be? In the final episode of
Whodunnit?
, the most resourceful amateur detective will unmask the murderer and pocket a quarter mil before taxes.
Butler Giles makes his first big entrance after flight attendant Melina exclaims, "Dude, dude, dude, creepy man walking down the stairs."
The proceedings then proceed to be very talky and edited, with Melina and company all trying to puzzle out the best explanation of how Sheri died. In the end, two of them get a "Scared" card, which means they did the lamest job of putting clues together. One will die and the rest are "Saved" to solve that person's murder in the following week's episode. Everyone dresses up for dinner before the cards are distributed. Then one and all don their official
Whodunnit
jammies for a night in which the two "Scared" contestants find it very hard to sleep before one of them takes a pretend dirt nap at episode's end.
The mind behind
Whodunnit
is Anthony Zuiker, already fabulously wealthy as the creator of CBS'
CSI
franchise. But only the mothership,
CSI: Crime Scene Investigation
, remains on the network's fall schedule while
CSI: NY
and
CSI: Miami
have been canceled. So Zuiker perhaps could use a little extra pocket change these days.
Recurring
Downton Abbey
-esque establishing shots of Rue Manor remind viewers they're amid lavish Victorian surroundings. In fact, it's more fun to take in all the adornments than to absorb the contrived detective work. All of this is set to ridiculously overbearing music, with Giles popping in and out to proclaim various things. "We have finger sandwiches!" he announces at one point.
Giles rarely smiles, the better to inflict his over-the-top
gravitas
.
Whodunnit
should be much more fun and involving than it turns out to be. Murders most foul will continue to occur, but there are too many cooks in Episode 1 to plausibly explain the plusses and minuses of each contestant's sleuthing.
Maybe this will prove to be a bit more interesting as the contestants dwindle. But based on Sunday night's premiere, that seems like a long slog toward the show's eventual payoff. Think of all the Agatha Christie books you could read by then.
GRADE:
C-minus
Email comments or questions to:
unclebarky@verizon.net