TNT's Major Crimes emerges as committed, quality extension of The Closer
08/08/12 02:47 PM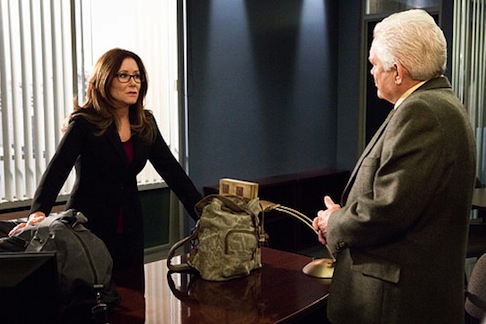 At odds: Capt. Sharon Raydor and Lt. Det. Louie Provenza. TNT photo
Premiering:
Monday, Aug. 13th at 9 p.m. (central) following the series finale of
The Closer
on TNT
Starring:
Mary McDonnell, G.W. Bailey, Tony Denison, Michael Paul Chan, Raymond Cruz, Phillip P. Keene, Graham Patrick Martin, Kearran Giovanni
Produced by:
James Duff, Greer Shephard, Michael M. Robin
By ED BARK
@unclebarkycom
Would it be a punishable offense, or a mere wrist-slappping misdemeanor, to say that the continuation of
The Closer
under a new title might be a better series
without
Kyra Sedgwick but with just about everyone else?
TNT's longest-running drama series ends its seven-season run Monday night. But not really, because here comes the immediately following
Major Crimes
, with Mary McDonnell continuing her role as taciturn, by-the-book Capt. Sharon Raydor.
McDonnell is so understatedly good in this role that she almost makes Sedgwick's deputy chief Brenda Johnson seem like a scenery-chewer in those times when she's not indulging her trademark sweet tooth.
TNT says it was Sedgwick's decision to leave the role. And the network sends her off in gripping style during a closing episode that re-confronts Brenda with serial killer Phillip Stroh (Billy Burke before segueing to the hero's role in NBC's new fall drama
Revolution
).
Their scenes together spur an hour that also introduces a new character, abandoned teenage street kid Rusty Beck (Graham Patrick Martin), who will be a regular cast member of
Major Crimes
.
Johnson's departure is well-handled in an emotional group goodbye before most of her seasoned L.A. detectives more or less rally around McDonnell's Capt. Raydor, who joined
The Closer
in 2009 as a recurring character. The notable exception is crusty Louie Provenza (G.W. Bailey), who considers himself her superior and is not at all on board with a new cost-saving measure that prioritizes plea bargaining over expensive court trials.
Bailey, the pride of Port Arthur, Texas
, has a coming out party of sorts in
Major Crimes
. He teams with McDonnell to drive the action during the first two episodes sent for review. It's similar to supporting player
Jonathan Banks'
big step forward during the ongoing new season of AMC's
Breaking Bad
. Both of these actors have been around the block more than they can count. And now their accumulated wisdom and expertise is coming to the fore with Emmy caliber performances in ramped-up roles.
Monday's Episode 1 of
Major Crimes
pivots on a band of young military veterans who have turned to robbery in their disenchanted civilian lives. The following Monday's hour begins with a bloody scene at a fitness club, whose proprietor has been found suspended upside down from an exercise apparatus, his head badly bashed in. His name was Chad, prompting Provenza to deadpan, "What do you know, hanging Chad." These jobs require a sense of humor.
Besides Bailey, the other
Closer
regulars returning to
Major Crimes
are Tony Denison (Lt. Andy Flynn); Michael Paul Chan (Lt. Michael Tao); Raymond Cruz (Det. Julio Sachez); and Phillip P. Keene (Buzz Watson). Slated to occasionally drop in are Jon Tenney (Special Agent Fritz Howard and Brenda's husband) and Robert Gossett (Commander Russell Taylor).
Besides newcomer Martin as the embittered Rusty,
Major Crimes
is adding a brown-nosing new detective named Amy Sykes (Kearran Giovanni). Provenza doesn't like her either, and Rusty continually chafes under the home rule of Capt. Raydor, who's taken him in and expects to be obeyed. Their newly induced relationship so far looks like another strong point, with McDonnell equally impressive showing glimpses of her character's off-duty personal side.
Major Crimes
has the makings of a very sturdy reboot outfitted with a built-in philosophical debate over how justice is served. Supporting characters are newly invigorated, particularly Bailey's Provenza. It just could be that very rare occasion when a spinoff equals or even exceeds the quality of the original, as
Frasier
did off a
Cheers
springboard. Can't ask for any better than that.
GRADE:
B+