FALL TV PREVIEW: New series -- Women's Murder Club (ABC)
10/11/07 01:34 PM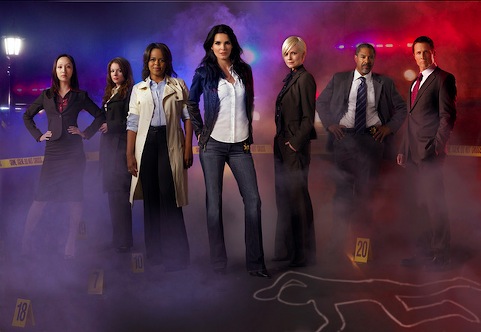 Angie Harmon (center) fronts the cast of Women's Murder Club.
Premiering:
Friday, Oct. 12, at 8 p.m. (central) on ABC
Starring:
Angie Harmon, Paula Newsome, Aubrey Dollar, Laura Harris, Tyrees Allen, Rob Estes, Linda Park
Produced by:
James Patterson, Scott Gimmel, Liz Craft
By ED BARK
Here's a night and a timeslot where ABC not so long ago accommodated the likes of
Step By Step
and
Sabrina the Teenage Witch
.
Now we're talkin'
Women's Murder Club
, a latter day
Charlie's Angels
without Charlie or "jiggle." Or much entertainment value.
Dallas-born Angie Harmon heads the cast as San Francisco homicide inspector Lindsay Boxer in a series drawn from novelist James Patterson's same-named batch of bestselling novels. The tone -- and the music -- are alternately gruesome and whimsical, with ABC seemingly undecided on whether
WMC
should be more like
Desperate Housewives
than
CSI
-- or vice-versa.
Friday's premiere begins with a bang. Not from a pistol, but from a female novelist who arrives from on high and then crash-lands on Boxer's car roof.
Her badly damaged dead body prompts assistant D.A. Jill Bernhardt (Laura Harris) to heave into a bag upon arrival. Still, she's an incumbent member of the Club. So is hardened medical examiner Claire Washburn (Paula Newsome).
Meanwhile, chipper newspaper reporter Cindy Thomas (Aubrey Dollar) is dying to make it a foursome. In a second episode sent for review, she even bugs Boxer in a restroom stall. The kid's got moxie.
Harmon is solid as ABC's
Club
leader, but the show never really gets rolling this week or next. Poor Kyle Secor, once a central character on NBC's former Friday night mainstay,
Homicide: Life on the Street
, has two fleeting appearances as a guest star. In the opener his public defender character, Hanson North, bags ex-girlfriend Bernhardt on her office desk top even though she's otherwise seriously involved with someone else.
Boxer has man problems, too. Tom Hogan (Rob Estes), her ex-husband of two years standing, suddenly becomes her cop shop's boss. Then he tells her he'll be marrying a kindergarten teacher. This has Boxer feeling a little blue. Her veteran partner and mentor, Warren Jacobi (good work by Tyrees Allen), shares that mood. He's just been passed over for the job that Hogan now has.
WMC
has an additional ongoing plot thread. A sadist who stitches his women victims' mouths shut after killing them remains at large despite Boxer's all-consuming efforts to apprehend him. The so-called "Kiss Me Not Killer" strikes again at the end of Friday's premiere and then is fleetingly referenced at the start of Episode 2 before other murders take precedence.
None of this resonates or grips. But
WMC
stands to make a killing anyway in a soft Friday night slot also occupied by CBS' sub-lame new
Moonlight
and NBC's criminally under-watched
Friday Night Lights
. Sometimes there's just no justice.
Grade:
C