Starz hits the spot with deliciously gory Ash vs Evil Dead
10/28/15 11:42 AM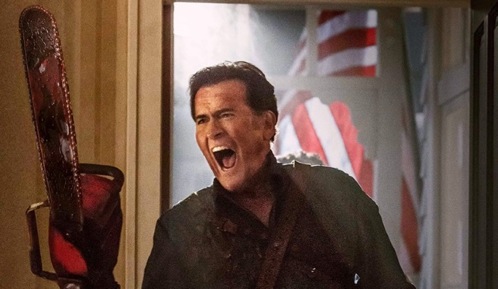 Bruce Campbell resumes the role that still fits him like a chainsaw.
Starz photo
Premiering:
Saturday, Oct. 31st at 8 p.m. (central) on Starz
Starring:
Bruce Campbell, Ray Santiago, Dana Delorenzo, Jill Marie Jones, Lucy Lawless
Produced by:
Sam Raimi, Robert Tapert, Bruce Campbell, Craig DiGregorio
By ED BARK
@unclebarkycom on Twitter
Despite the buckets of blood and gallons of gore, a viewer can die laughing while wallowing in
Ash vs Evil Dead
.
Continuing in the slap-happy tradition of 1981's
Evil Dead
, 1987's
Evil Dead II
and 1992's
Army of Darkness
, the 10-episode Starz series returns jocular Bruce Campbell to the role that devotees of this franchise just won't let him forget.
"The fans are responsible for every single bit of this," Campbell said during the past summer's Television Critics Association press tour. "They've been relentless for years. The last
Evil Dead
movie was 23 years ago. They haven't shut up since. So no matter what we say to them or what we give them, it will never be enough. And we're very grateful for that."
In that vein, Starz announced a Season 2 of
Ash vs Evil Dead
three days before Season 1 gets going.
Campbell will go with that flow. He's an actor who approaches life the way he plays the goofball hero of these Sam Raimi creations. Nothing is taken terribly seriously, whether Campbell is playing Ash Williams or previous characters such as Sam Axe in
Burn Notice
; the title character in Fox's lamentably short-lived
The Adventures of Brisco County Jr.
; Ray the mad brain surgeon in
Lunatics: A Love Story
; or the recurring character of Autolycus in
Xena: Warrior Princess
.
"I'm attracted to weird material," he explains. "I'm not attracted to normal, generic stuff. I find it too boring. And I don't mind being in cheese ball exploitation movies. It doesn't bother me in the least. Because B movies can do things that are way more interesting sometimes than A movies because you don't have the restrictions. You don't have to please 100 million people. If your movie only costs half a million dollars, you only have to please, like, eight people . . . This is not a cop show, a doctor show, a lawyer show. Those shows make me want to hang myself as the viewer."
One could listen to him all day and into the night. But on to the review of
Ash vs Evil Dead
, which fittingly launches on Halloween night while intentionally coming off as only slightly scarier than a five-year-old dressed as Darth Vader. The extended 45 minute premiere -- future episodes are a half-hour -- begins with a vainglorious Ash laboriously strapping on a corset, executing a few kick dance moves, clicking on his wooden right hand and heading off from the Mossy Haven trailer park to the Woodsman bar.
A well-worn woman quickly succumbs to his B.S. But their restroom Cialis moment is dampened by Ash's vision of a "Deadite" rebirth. They first surfaced when Ash and four friends accidentally activated the Book of the Dead while spending spring break in a dumpy cabin in the Tennessee hills. Only Ash lived to keep fighting them off. Along the way he lost his right hand and developed a chainsaw attachment that snaps on when needed. And it's going to be needed anew.
Campbell's co-stars eventually will include his old
Xena
running mate, Lucy Lawless, as Ruby Cross. But she's not in the first two episodes made available for review. Instead meet Pablo Simon Bolivar (Ray Santiago) and Kelly Maxwell (Dana Delorenzo), both of whom toil with Ash at the Value Stop convenience store.
Another regular character, Michigan state trooper Amanda Fisher (Jill Marie Jones), is first seen at a murder scene with her uniformed male partner. This doesn't end well for him. And Ash soon finds that he can't hide out anymore. The Deadites are just about everywhere.
Resultant fight scenes are a riotous blend of spurting bodily fluids and aging body mechanics, with Ash struggling to regain his touch. "My heart is jack-hammering like a quarterback on prom night," he says at one point.
Episode 2, with a guest appearance by Mimi Rogers, includes two crowd-pleasing battles with Deadites who've been in disguise. Ash continues to look good with blood coating his face. For better or mostly worse, it's become his pancake makeup.
Ash's lexicon also includes "Catch you on the flip-flop" and "C'mon, let's dance, bitch." This is a franchise where the "mythology" is paint-by-the-numbers and the jeopardy is a smiley face.
Those repulsed by "slasher" movies can rest assured that
Ash vs Evil Dead
is much closer to a plastic picnic knife. The blood regularly spurts like a geyser or oozes like the Karo syrup it really is. But this is not
The Walking Dead, American Horror Story
or the former Starz series
Spartacus
. Campbell's grandiose body language and throwaway lines instead evoke the knucklehead goings-on in a Three Stooges short. Not that he's ever quite as clumsy as Moe, Larry, Curly or Shemp.
Ash vs Evil Dead
succeeds by merrily and seemingly effortlessly making a mess of things. The biggest budget consideration might be the cleanup bills. But the mayhem is never cringe-worthy and the heroics can be a riot.
"Oh good, I was starting to feel like a real dick," Ash says after learning he was right to punch out an outwardly kindly mom that he'd tabbed as a Deadite.
You're gonna have a blast.
GRADE:
A-minus
Email comments or questions to:
unclebarky@verizon.net